printer friendly version
Shopping with your face
March 2019 Retail (Industry), Access Control & Identity Management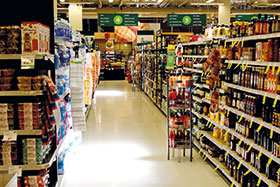 Customer service has really changed throughout the years and technology is a big player in this regard. How you approach a client/customer can influence whether they will buy from you again.
Today, technology has created different levels which businesses can thrive on. Ever imagined not having to carry your banking or accounts cards with you whenever you go to the stores and making use of your beautiful or handsome face to make payments. Well reality is this technology is available as we speak. Yes, biometrics has really changed the way we do things today, from our own homes to our work places and now shopping malls and centres have taken it to the next level.
Facial recognition is being used in many businesses today. As strange as it sounds, our physical appearances can now verify payments, grant access and improve existing security systems. Protecting physical and digital possessions is a universal concern which benefits everyone, unless you're a cybercriminal or a kleptomaniac, of course.
Facial recognition systems are gradually being applied to more industries including manufacturing, construction, law enforcement and healthcare. Looking at the retail industry, this technology has given marketers the opportunity to turn stores into living and responsive places – talk about client/customer services upgraded.
Each day billions of shoppers take to physical stores and, for the most part, retailers have little-to-no intelligence about who those consumers are, much less their needs or preferences. This can and has been changed, a growing number of retailers and technology giants are aiming to change this by turning stores into physical interactive spaces that measure every consumer footfall, action and reaction within a store using facial recognition devices.
The ability to collect and collate masses of personal data has given marketers and advertisers the chance to get closer than ever to their target markets. It doesn't take a genius to work out why businesses want payments to be easy. Online shopping and contactless cards are just two examples that demonstrate the seamlessness of postmodern purchases. With facial recognition platforms, however, customers wouldn't even need their cards. Customers can register themselves onto a store's facial recognition platform and make use of the specific app to confirm a payment using their camera, and that's that.
As well as verifying a payment, facial recognition technology can be integrated with physical devices and objects. Instead of using passcodes, mobile phones and other consumer electronics will be accessed via the owners' facial features.
The future is facial recognition technology – as consumers we will be able to get into our cars, houses, and other secure physical locations simply by looking at them. Although one might argue and say that this technology is still being tested out on various platforms, some companies are already working on improving this system. The technological incapability of facial recognition has been exposed along with the increasing usage in our daily life, mainly in the ability of anti-spoofing, threshold of processing power, environmental restriction on light source and pose of angle.
Enhanced visible light facial recognition is the latest technology of ZKTeco, aimed to overcome shortcomings of previous facial recognition in capabilities and achieve an all-rounded upgrade on whatever performance and reliability by using deep learning. This is precisely what the enhanced visible light facial recognition is developed for and the key to this breakthrough would be incorporating deep learning technology. Deep learning is adapted to fill up those three technological capabilities above and has been passing through a continuous training to keep enhancing its performance.
It is no doubt at all that facial recognition has been considered as one of the rising biometric technologies and many are optimistic about its development in the future.
For more information, contact ZKTeco (SA), +27 12 259 1047, sales@zkteco.co.za, www.zkteco.co.za
Credit(s)
Further reading:
Shaping today's smart cities
Issue 5 2020, ZKTeco , Integrated Solutions
As our physical and digital worlds become intertwined, the absorption of new technologies in smart cities is inevitable.
Read more...
---
Providing peace of mind
Residential Estate Security Handbook 2020, ZKTeco , Access Control & Identity Management
Touchless technology embedded with face and palm recognition sensors provide 100% touchless user authentication for a variety of applications.
Read more...
---
Wireless access control technology
Residential Estate Security Handbook 2020, Salto Systems Africa , Products, Access Control & Identity Management
SALTO has released the NEO Cylinder for doors where fitting an electronic escutcheon is not possible or required.
Read more...
---
Secure touchless access
Residential Estate Security Handbook 2020, Suprema , Products, Access Control & Identity Management
Suprema's facial biometric terminals bring no-touch access into secure residential estates, high-rise apartments and luxury homes. Secure touchless access.
Read more...
---
Frictionless fingerprint access
Residential Estate Security Handbook 2020, IDEMIA , Products, Access Control & Identity Management
The MorphoWave Compact acquires four fingers in 3D for maximum accuracy, with one pass of the hand over the sensor.
Read more...
---
New products from Boomgate
Residential Estate Security Handbook 2020, BoomGate Systems , Products, Access Control & Identity Management
Boomgate Systems has capitalised on its 21 years of design and manufacturing experience and come up with a range of new products.
Read more...
---
Facial and palm verification terminal
Residential Estate Security Handbook 2020 , Products, Access Control & Identity Management
Upgraded touchless terminal supports both facial and palm verification with large capacity and speedy recognition, as well as improved performance.
Read more...
---
Outdoor access terminals
Residential Estate Security Handbook 2020, Suprema , Products, Access Control & Identity Management
Most residential estates require rugged, dust- and weather-proof access control solutions that provide exceptional durability and superior performance in extreme conditions.
Read more...
---
ZKTeco offers touchless access for people and vehicles
Issue 4 2020, ZKTeco , Asset Management, EAS, RFID
ZKTeco sports a range of touchless entrance control solutions from licence plate recognition cameras through to facial recognition and multi-modal access solutions.
Read more...
---
32-inch touchscreen for facial recognition
Issue 4 2020, ZKTeco , Access Control & Identity Management
FaceKiosk-V43 is ZKTeco's multipurpose facial recognition smart device running on Android with a 32-inch touch screen to provide a friendly and interactive user experience.
Read more...
---