printer friendly version
Shopping with your face
March 2019 Retail (Industry), Access Control & Identity Management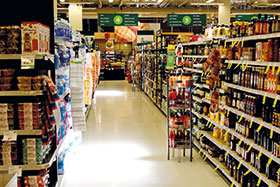 Customer service has really changed throughout the years and technology is a big player in this regard. How you approach a client/customer can influence whether they will buy from you again.
Today, technology has created different levels which businesses can thrive on. Ever imagined not having to carry your banking or accounts cards with you whenever you go to the stores and making use of your beautiful or handsome face to make payments. Well reality is this technology is available as we speak. Yes, biometrics has really changed the way we do things today, from our own homes to our work places and now shopping malls and centres have taken it to the next level.
Facial recognition is being used in many businesses today. As strange as it sounds, our physical appearances can now verify payments, grant access and improve existing security systems. Protecting physical and digital possessions is a universal concern which benefits everyone, unless you're a cybercriminal or a kleptomaniac, of course.
Facial recognition systems are gradually being applied to more industries including manufacturing, construction, law enforcement and healthcare. Looking at the retail industry, this technology has given marketers the opportunity to turn stores into living and responsive places – talk about client/customer services upgraded.
Each day billions of shoppers take to physical stores and, for the most part, retailers have little-to-no intelligence about who those consumers are, much less their needs or preferences. This can and has been changed, a growing number of retailers and technology giants are aiming to change this by turning stores into physical interactive spaces that measure every consumer footfall, action and reaction within a store using facial recognition devices.
The ability to collect and collate masses of personal data has given marketers and advertisers the chance to get closer than ever to their target markets. It doesn't take a genius to work out why businesses want payments to be easy. Online shopping and contactless cards are just two examples that demonstrate the seamlessness of postmodern purchases. With facial recognition platforms, however, customers wouldn't even need their cards. Customers can register themselves onto a store's facial recognition platform and make use of the specific app to confirm a payment using their camera, and that's that.
As well as verifying a payment, facial recognition technology can be integrated with physical devices and objects. Instead of using passcodes, mobile phones and other consumer electronics will be accessed via the owners' facial features.
The future is facial recognition technology – as consumers we will be able to get into our cars, houses, and other secure physical locations simply by looking at them. Although one might argue and say that this technology is still being tested out on various platforms, some companies are already working on improving this system. The technological incapability of facial recognition has been exposed along with the increasing usage in our daily life, mainly in the ability of anti-spoofing, threshold of processing power, environmental restriction on light source and pose of angle.
Enhanced visible light facial recognition is the latest technology of ZKTeco, aimed to overcome shortcomings of previous facial recognition in capabilities and achieve an all-rounded upgrade on whatever performance and reliability by using deep learning. This is precisely what the enhanced visible light facial recognition is developed for and the key to this breakthrough would be incorporating deep learning technology. Deep learning is adapted to fill up those three technological capabilities above and has been passing through a continuous training to keep enhancing its performance.
It is no doubt at all that facial recognition has been considered as one of the rising biometric technologies and many are optimistic about its development in the future.
For more information, contact ZKTeco (SA), +27 12 259 1047, [email protected], www.zkteco.co.za
Credit(s)
Further reading:
Be aware of privacy and cybercrimes issues
Security Services & Risk Management Cyber Security Retail (Industry)
Artificial intelligence (AI) is being deployed to help shoppers make better choices, but retailers must be aware of their obligations under personal privacy and cybercrimes laws.
Read more...
---
Gallagher launches Tech Talk
Gallagher News Access Control & Identity Management Perimeter Security, Alarms & Intruder Detection
Gallagher has announced the launch of its new Security in Focus podcast series called Tech Talk, hosted by chief technology officer Steve Bell.
Read more...
---
IDEMIA and Ideco demonstrate their value stacks
Technews Publishing Ideco Biometrics IDEMIA Conferences & Events Access Control & Identity Management News
Ideco and IDEMIA recently hosted a travelling show where attendees were given an update on the companies, as well as the full value stack they offer.
Read more...
---
Have biometrics changed the way mines operate?
ZKTeco Mining (Industry) Access Control & Identity Management
The mining industry continues to improve conditions for mine workers, striving for zero harm, however, innovations which improve worker safety and increase operational efficiency are still needed.
Read more...
---
Next generation boom gate
ZKTeco Products
The BG1000 series barrier gates adopt ZKTeco's interactive LED chassis design, programmable control panel, and a high-efficiency brushless DC motor.
Read more...
---
Identity management in a factory environment
ZKTeco Industrial (Industry)
Combining access control, video surveillance and intrusion systems for protecting people and assets may not provide a complete security solution for industrial companies.
Read more...
---
CathexisVision integrated with Suprema's BioStar2
Technews Publishing News Access Control & Identity Management Integrated Solutions
This integration uses BioStar2 access control events to trigger automated actions on the CathexisVision system, including alerts, recording a camera and commands such as locking and unlocking doors, and clearing an alarm.
Read more...
---
Linux-based biometric access control
ZKTeco Products Access Control & Identity Management
The SpeedFace M4 is a Linux-based multi-biometric access control and time attendance terminal with visible light facial recognition and palm verification.
Read more...
---
Paxton promotes Dan Drayton
News Access Control & Identity Management Integrated Solutions
Dan Drayton has been promoted to divisional director – EMEA Sales Region for Paxton, the international security technology manufacturer.
Read more...
---
Heat mapping for retail optimisation
LD Africa CCTV, Surveillance & Remote Monitoring Retail (Industry)
With built-in statistical behaviour analysis, the objective of Milesight Heat Map is to introduce advanced technology that empowers beyond security.
Read more...
---