printer friendly version
Countering the threats of retail ­terrorist vehicle attacks
March 2019 Editor's Choice, Access Control & Identity Management, Security Services & Risk Management, Retail (Industry)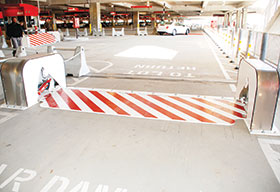 On December 19, 2016, the news exploded with information about a vehicle attack on a Christmas market in Berlin that killed at least 12 and injured more than 50. Less than a month before, the US State Department had warned about such attacks in public places, saying that extremist groups, including the Islamic State and Al Qaeda, were planning to focus on such locales during the holiday season.
Indeed, both terrorist groups have called on followers to use trucks in particular to attack crowds. On July 14, a truck ploughed into Bastille Day vacationers in Nice, France, killing 86 people. Then, an intoxicated driver injured at least 28 people when smashing into the Krewe of Endymion parade, the largest at Mardi Gras in New Orleans, at a yet unprotected intersection. Finally, four people were killed in Stockholm by a terrorist who had stolen a truck to run them down.
To stop such attacks, security professionals need to be cognisant of two different types of vehicle access points for such massive, cowardly incidents to occur. The first would be in a location where the primary use is pedestrian, but, frequently, vehicles need to pass through. An example could be a square in which the maintenance truck comes through to clean the square periodically.
Other areas could be those locations with restricted parking. At a hospital, it may be the entrance to the emergency unit. Such access points are well served by bollards, some moveable, that go up and down to let vehicles through and others fixed or stationary.
The other access points are those that are temporary. At an event, traffic may need rerouting. A store might be having an open house. In either case, sections normally open to traffic will be closed to create pedestrian paths and gathering points. However, these areas still have a need for delivery trucks and certain other authorised vehicles to enter. These locations are best protected with crash-rated portable barriers that erect in 15 minutes and are then removed once the event is over.
Bollards, the most used permanent solutions
Bollards are aesthetically pleasing and let pedestrians move between them in non-roadway applications. Bollard systems operate individually or in groups. They are used for intermediate level security applications. Individual bollards are up to 32 cm in diameter, up to 88,9 cm high and are usually mounted on 0,9–1,5 m centres. They are tested to stop and destroy an attacking vehicle weighing 4536 kg moving at 104 kmph, or a 9072 kg vehicle moving at 74 kmph. Typically kept in the 'up' position to stop traffic, moveable bollards lower to allow vehicles through.
Ranging from faceted, fluted, tapered, rings and ripples, colours, pillars, to shields, emblems and logos, bollards look nice and are versatile. Buyers can specify ornamental steel trim attached directly to the bollard, or select cast aluminium sleeves, which slip right over the crash tube. Bollards can be galvanised for corrosion resistance, fitted with an internal warning light for increased visibility and engineered to suit high traffic volume. If damaged, simply slip off the old and slip on the new.
Fixed post bollards are available to secure the sides of roadways with the same crash rating and appearance as their moveable cousins. Versus cement barriers such as posts and pots, many campuses prefer fixed post bollards for several reasons. First of all, when hit, cement posts and pots can explode, literally spreading shrapnel throughout the crowd, potentially creating numerous injuries. Shallow foundation bollards can be installed within sidewalks or on top of concrete deck truss bridges as well as conform to the inclines and turns of a locale. Think of the attack in London. They would be a perfect solution for such sites.
Temporary barriers are especially popular
By their very nature, terrorist attacks are unpredictable and predicated on surprise. Staying one step ahead by identifying vulnerable areas, and securing them, is critical to staving off vehicular attacks. That means being able to deploy security equipment in tough conditions, at a moment's notice. Such equipment has existed for several years in the forms of portable temporary barriers.
Terrorists typically don't go where they see barricades, so placing them wherever possible attacks can happen reduces security risks dramatically. Temporary barriers are often used to protect facilities while permanent ones are being built. Plus, they've even been effective for the long-term where physical conditions preclude permanent solutions.
Moveable self-contained barricades can be towed into position to control vehicle access within 15 minutes to answer the need of organisations that quickly require a temporary barricade system to address a specific threat or secure a facility during special events. These mobile deployable vehicle crash barriers carry a M40 rating, stopping 13 608 kg vehicles travelling at 64 kmph. No excavation or sub-surface preparation is required. Once towed into position, the portable barricade uses DC-powered hydraulic pumps to unpack and raise and lower itself off its wheels. There is no hand cranking. Wheels are stored along the sides and the vehicle ramps fold out, completing the implementation. To move the barrier from that spot to another, the procedures are just reversed.
Differing from the 'hard stop,' wanted with anti-terrorist barricades, the Soft Stop technology of the portable barrier decelerates and stops the vehicle over a short distance. This is important because, in many cases, the tragedies that the portables negate are accidents. Authorities want the vehicle stopped but they also want to minimise injury to the driver.
No application too large or small
Protecting people from vehicle attack is no small responsibility; it's becoming mandatory. Knowing that you've got the right equipment in place to secure the campus from vehicle threat and prevent what is becoming all too common human tragedy brings a peace of mind that no amount of money can buy. Carefully researching available options and consulting with experts will ultimately lead to the right solution in helping you protect your campus from vehicle-based terrorism.
For more information go to www.deltascientific.com
Further reading:
Stolen credentials on the Dark Web
October 2019 , Cyber Security, Security Services & Risk Management
Over 21 million credentials belonging to Fortune 500 companies, 16 million of which were compromised during the last 12 months, are up for sale.
Read more...
---
Stolen credentials on the Dark Web
October 2019 , Cyber Security, Security Services & Risk Management
Over 21 million credentials belonging to Fortune 500 companies, 16 million of which were compromised during the last 12 months, are up for sale.
Read more...
---
Enterprise security must change
October 2019 , Cyber Security, Security Services & Risk Management
The recent wave of cyberattacks against local banks has highlighted the importance of protecting data against malicious users.
Read more...
---
Body-worn cameras transforming security
October 2019 , CCTV, Surveillance & Remote Monitoring, Security Services & Risk Management
Police Service Northern Ireland now has over 7 000 officers using 2 500 cameras covering approximately 173 000 incidents each year.
Read more...
---
Protecting your customers' data
October 2019 , Training & Education, Security Services & Risk Management
Simon Murrell, head of development and executive director at BrandQuantum says companies need to protect their customers from identity theft and data breaches.
Read more...
---
2020 Residential Estate Security Conference in KZN
November 2019, Technews Publishing , Editor's Choice
Meeting the residential security challenges in 2020 and beyond: Hi-Tech Security Solutions will host the Residential Estate Security Conference 2020 in Durban on 12 March 2020.
Read more...
---
Sentian secures funding from Imfezeko
November 2019, Sentian , Editor's Choice
Cape Town based smart security technology developer Sentian has recently secured a round of funding from Imfezeko Investment Holdings.
Read more...
---
A brighter future
November 2019, NEC XON, Technews Publishing , Editor's Choice
NEC XON hosted its annual summit in October 2019 at Sun City under the banner of 'Orchestrating a Brighter World'.
Read more...
---
What are the cybersecurity issues in video surveillance?
November 2019, Axis Communications SA , Editor's Choice, CCTV, Surveillance & Remote Monitoring, Cyber Security
he importance of the data captured by surveillance cameras – and what can be done with it – has led to a new breed of cybercriminals, looking for insights to steal and sell.
Read more...
---
Big data operational and management requirements
November 2019, Leaderware , Editor's Choice
Big data offers huge advantages in enhancing or augmenting data, giving it added meaning and context, creating a broader perspective in which to view things, and adding to the value of data.
Read more...
---