printer friendly version
A multifaceted approach to security
March 2019 Retail (Industry), Integrated Solutions, Security Services & Risk Management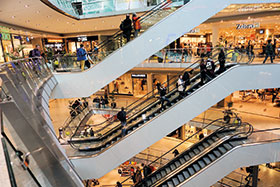 The modern shopping centre has significant focus on the shoppers' experience and offers more than a functional shopping space. It serves as a source of entertainment, education, community outreach and relaxation. It is therefore paramount to ensure the safety of the patrons, tenants and built environment. This can only be achieved through a multifaceted approach to the security solutions deployed at shopping centres.
The ever present threat of well-co-ordinated syndicated attacks or even protest action, means that accurate management information and intelligence must be generated from both the technical systems and manned guards deployed. Only through an optimally engineered solution and deployment can this be achieved.
Optimal security solutions
A key facet of an optimal security solution is the implementation of robust surveillance systems which uses advanced video analytics and artificial intelligence to detect suspicious behaviour, loitering, movement in restricted areas, theft detection, stock shrinkage and pilfering, and unattended packages. The surveillance system mitigates potential incidents through early detection.
A further enhancement to the safety and security of the site is performed through CCTV virtual patrols which are conducted by a specialist CCTV operator based in the control room. This remote targeted surveillance function replaces the labour intensive patrolling guard and provides simultaneous and extensive coverage of high-risk areas within a complex environment. This reduction in physical guards contributes to the reduction of operating costs and mitigates the impact of the National Minimum Wage Act 9 of 2018 (NMWA) in certain areas.
Intruder detection systems are another fundamental aspect of the total solution for the retail environment. These systems are capable of not only monitoring a potential after-hours intrusion, but also monitor high value or sensitive areas such as store rooms and cold storage facilities. Integrated panic buttons can be activated at any time to raise an alarm and call for assistance from the armed response or centre security.
False alarm elimination
In order to eliminate the number of false alarms and the dispatch of armed response to nuisance activations, intruder verification is deployed. The visual verification is a short video clip of the area in which the activation occurred. The control room operator is then able to confirm a positive incident and take the immediate and swift action through the deployment of on- site security or armed response.
Intelligence hub
The central control room serves as the intelligence hub where armed response is dispatched and the site specific standard operating procedures are executed. Bidvest Protea Coin has a dedicated retail-specific National Operations Centre at its SAIDSA approved national operations centre based in Centurion. Highly trained surveillance operators monitor alarms and footage generated by the security solutions installed at the client's facilities 24x7x365.
The Bidvest Protea Coin National Operations Centre makes use of a physical security information management platform (PSIM), which receives alerts, alarms, footage and information from the various systems and consolidates the data on a single platform. The system has embedded rules and leaves nothing to chance as all operators are automatically guided through the correct and approved standard operating procedures based on the nature of the incident/alert or task.
Worforce optimisation
The efficacy of these solutions is enhanced through the implementation of physical perimeter protection in the form of electric fencing or physical fencing and providing a lock down of the site when possible. The control of access to the site through the deployment of SACO Workforce Optimisation solutions provides the authorised permissions to restricted areas and the control of movement of centre management, guard force, car guards and cleaning staff.
Transcends technology
Having an intimate knowledge of the retail and shopping centre environment and associated risks, allows Bidvest Protea Coin to deliver scalable, integrated and complete security solutions tailored to the retail sector's requirements. The Technical Security division of Bidvest Protea Coin delivers solutions grounded in delivering true business value to its customers. This is achieved through the application of a solution design philosophy which transcends technology and delivers the fundamental imperative of risk mitigation, providing the customer with tangible management information.
Credit(s)
Further reading:
The evolution of security in residential estates
Residential Estate Security Handbook 2020 , Editor's Choice, Integrated Solutions, Security Services & Risk Management
Two large estates discuss their security processes and the ever-expanding scope of responsibilities they need to fulfil.
Read more...
---
Home-grown, cloud-based safety and security solutions
Residential Estate Security Handbook 2020 , IT infrastructure, Integrated Solutions
BeSecure has taken security and communications technologies and turned them into what is best described as care and safety solutions for the estate community in South Africa.
Read more...
---
Bang for your security buck(s)
Residential Estate Security Handbook 2020, Alwinco , Editor's Choice, Security Services & Risk Management
Hi-Tech Security Solutions asks how estates can maintain a good security posture in the time of the ever-shrinking budget.
Read more...
---
Cost effective without compromising security
Residential Estate Security Handbook 2020, Bidvest Protea Coin , Access Control & Identity Management
Bidvest Protea Coin offers a range of services, all integrated to offer a future-proof and cost-effective security solution for estates.
Read more...
---
Range of grid-independent power systems
Residential Estate Security Handbook 2020, Specialised Battery Systems , Products, Security Services & Risk Management
SBS Solar has a range of solutions to provide power, save on costs and above all provide peace of mind.
Read more...
---
Integrated security management system
Residential Estate Security Handbook 2020, Protoclea Advanced Image Engineering , Products, CCTV, Surveillance & Remote Monitoring, Integrated Solutions
Phorcas is a security information system developed by Protoclea designed to integrate multiple sub-systems into a powerful crime fighting solution.
Read more...
---
Integrated, intelligence-driven
Issue 2 2020, Bidvest Protea Coin , Security Services & Risk Management
Serving the market with integrated, intelligence-driven security solutions.
Read more...
---
Looking ahead with mobile access technologies
Access & Identity Management Handbook 2020, Technews Publishing, HID Global, dormakaba South Africa, Salto Systems Africa, Suprema, Gallagher , Access Control & Identity Management, Integrated Solutions
Given the broad use of smartphones around the world and the numerous technologies packed into these devices, it was only a matter of time before the access control industry developed technology that would ...
Read more...
---
From physical security to cybersecurity
Access & Identity Management Handbook 2020, Genetec , Cyber Security, Security Services & Risk Management
Genetec discusses the security-of-security concept as a means to protect cameras, door controllers and other physical security devices and systems against cybercriminal activity.
Read more...
---
Scalable access solution
Access & Identity Management Handbook 2020 , Access Control & Identity Management, Integrated Solutions
Bosch Building Technologies makes access management simple, scalable and always available with Access Management System 2.0.
Read more...
---