printer friendly version
Keeping your guard up in retail
March 2019 Retail (Industry), Security Services & Risk Management, Products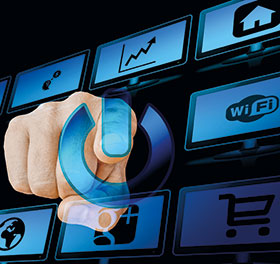 A security officer patrols the perimeter of a local shopping centre throughout the night, every night. During these patrols, the perimeter fence is checked, and the security officer keeps a look-out for suspicious behaviour with the intention of reporting any strange events via radio to his control room.
However, the security officer can be left powerless and extremely vulnerable if multiple persons, or an armed individual were to arrive onsite intent on threatening property or life. Last month, Active Track received a report from a customer where these events played out. The key difference, though, was that the officer, in last month's incident, was armed with an Active Track device.
The security officer was carrying out a patrol early in the morning, scanning RFID clocking points with an Active Track device, when an unknown number of suspects appeared on site. The officer pressed the panic button on the Active Track device to alert his call centre to call him immediately via the device, which it did.
As part of its procedure, the call centre had accessed the live GPS location of the device to pin-point the officer and all his future movements until the potential danger had passed.
During his discussion with the call centre, the officer was spotted by the mob who started to chase him offsite, wielding what appeared to the officer to be sticks, knives and a handgun. As he ran, the officer dropped the Active Track and fled to safety to the nearby police station.
The Active Track's shock sensor was triggered when the device hit the ground, alerting the call centre of a duress situation, and prompting the security company's armed response team via SMS and an automated call to attend at site right away. On arrival at site, the reaction officers located the mob in a store that it had gained access to and arrested all assailants onsite before the mob could damage or remove any property. Shortly thereafter, the police arrived after having spoken to the stricken officer at the station, and the mob was remanded into custody.
The property management company for the shopping centre was glad that arrests had been made but was reluctant to believe that the officer had been diligently carrying out his duties leading up to the arrival of the mob, and was concerned that he may have been sleeping instead. The security company was quick to assure its client that all duties were carried out and on time, by logging on to the Active Track online portal and emailing the automated patrol report and GPS map to the client.
The report showed the location and time-stamp of each scanning event on the officer's patrol route thereby demonstrating to the client that no RFID points were missed or scanned late, as well as of the panic button and shock sensor activations. The GPS map depicted the exact route taken from the start of the shift up until the device was dropped and abandoned onsite.
Credit(s)
Further reading:
Putting secondary storage to work
September 2019 , IT infrastructure, Security Services & Risk Management
By 2022, more than 80% of enterprise data will be stored in scale-out storage systems in enterprise and cloud data centres, up from 40% in 2018.
Read more...
---
ContinuitySA offers Complete Continuity Practitioner in October
September 2019, ContinuitySA , Training & Education, Security Services & Risk Management
ContinuitySA is offering its popular five-day Complete Continuity Practitioner Programme on 21-25 October 2019 at its offices in Midrand.
Read more...
---
Shorten your checkout lines to enhance customer experience
September 2019, Hikvision South Africa , Retail (Industry), CCTV, Surveillance & Remote Monitoring
Hikvision's queue detection technology is purpose-built to offer cutting-edge flow analysis to retail outlets and any situation where waiting to pay is required.
Read more...
---
Security workforce compliance tool
September 2019 , Security Services & Risk Management
To maintain service excellence across a security workforce is impossible without the help of information systems and technology.
Read more...
---
Call back the past
September 2019, SCAN RF Projects , Security Services & Risk Management
Two-way radios are still very relevant in the security world and have gone through significant advances over the past few years to enable them to keep up with the expectations of people in today?s connected world.
Read more...
---
LanDynamix helps secure Michael Mount campus
September 2019 , IT infrastructure, Products
LanDynamix has implemented Fortigate, Fortinet's firewall appliance, at Michael Mount Waldorf School in Bryanston, Johannesburg.
Read more...
---
New AlproMAX7 secures maximum rating
September 2019 , Access Control & Identity Management, Products
Alpro has launched a new range of ultra-secure mechanical mortice deadlocks, the AlproMAX7 which comply with BS EN 12209.
Read more...
---
ViRDI UBio Tab 5
September 2019 , Access Control & Identity Management, Products
ViRDI Distribution SA (ViRDI Africa) has announced the release of its long-awaited UBio Tablet to the South African market.
Read more...
---
Accurate guard tracking and management
September 2019, Secutel Technologies , Security Services & Risk Management, Products
There are many challenges when it comes to effectively managing and tracking a guarding workforce in real time.
Read more...
---
X-rays in 3D
September 2019, XPro Security Solutions , Editor's Choice, Security Services & Risk Management
Hi-Tech Security Solutions asked Greg Dixon, director of XPro, for some insights into X-ray scanning and its pros and cons in today?s volatile world.
Read more...
---