printer friendly version
Keeping your guard up in retail
March 2019 Retail (Industry), Security Services & Risk Management, Products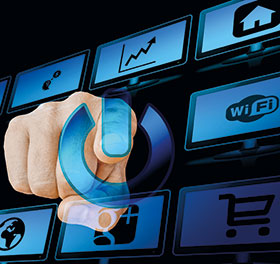 A security officer patrols the perimeter of a local shopping centre throughout the night, every night. During these patrols, the perimeter fence is checked, and the security officer keeps a look-out for suspicious behaviour with the intention of reporting any strange events via radio to his control room.
However, the security officer can be left powerless and extremely vulnerable if multiple persons, or an armed individual were to arrive onsite intent on threatening property or life. Last month, Active Track received a report from a customer where these events played out. The key difference, though, was that the officer, in last month's incident, was armed with an Active Track device.
The security officer was carrying out a patrol early in the morning, scanning RFID clocking points with an Active Track device, when an unknown number of suspects appeared on site. The officer pressed the panic button on the Active Track device to alert his call centre to call him immediately via the device, which it did.
As part of its procedure, the call centre had accessed the live GPS location of the device to pin-point the officer and all his future movements until the potential danger had passed.
During his discussion with the call centre, the officer was spotted by the mob who started to chase him offsite, wielding what appeared to the officer to be sticks, knives and a handgun. As he ran, the officer dropped the Active Track and fled to safety to the nearby police station.
The Active Track's shock sensor was triggered when the device hit the ground, alerting the call centre of a duress situation, and prompting the security company's armed response team via SMS and an automated call to attend at site right away. On arrival at site, the reaction officers located the mob in a store that it had gained access to and arrested all assailants onsite before the mob could damage or remove any property. Shortly thereafter, the police arrived after having spoken to the stricken officer at the station, and the mob was remanded into custody.
The property management company for the shopping centre was glad that arrests had been made but was reluctant to believe that the officer had been diligently carrying out his duties leading up to the arrival of the mob, and was concerned that he may have been sleeping instead. The security company was quick to assure its client that all duties were carried out and on time, by logging on to the Active Track online portal and emailing the automated patrol report and GPS map to the client.
The report showed the location and time-stamp of each scanning event on the officer's patrol route thereby demonstrating to the client that no RFID points were missed or scanned late, as well as of the panic button and shock sensor activations. The GPS map depicted the exact route taken from the start of the shift up until the device was dropped and abandoned onsite.
Credit(s)
Further reading:
Look before you leap into a back-up power solution
Editor's Choice Security Services & Risk Management
Before you rush into purchasing a back-up power solution, you need to take a considered and long-term view of how to get yourself as close to grid independence as possible.
Read more...
---
All-mobile people management solution with facial recognition
Editor's Choice Integrated Solutions Security Services & Risk Management Products
The new mobile Incident Desk People Management platform with facial recognition combines identification data on suppliers, staff, sub-contractors and even people on watch lists, for less than the cost of traditional service management tools.
Read more...
---
Passion, drive and hard work
Technews Publishing Editor's Choice CCTV, Surveillance & Remote Monitoring Security Services & Risk Management
Colleen Glaeser is a leader in the security market, having made her mark in the male-dominated security industry through determination and hard work, along with a vision of making the world a safer place.
Read more...
---
Are you your insider threat?
Technews Publishing Editor's Choice Security Services & Risk Management Commercial (Industry)
Insider threats are a critical aspect of risk management today, but what happens when it is the owner of the company acting fraudulently and making sure none of his staff can catch him?
Read more...
---
Gallagher releases Command Centre v8.70
Gallagher News Integrated Solutions Products
Command Centre v8.70 introduces a range of features and enhancements to create operational efficiencies and improved site security, including a next-generation integration with HALO Smart Sensors.
Read more...
---
Trackforce Valiant acquires TrackTik Software
News Integrated Solutions Security Services & Risk Management
Trackforce Valiant, a provider of security workforce management solutions, announced the acquisition of TrackTik Software, a cloud-based security workforce management provider.
Read more...
---
GJD launches the GEM external curtain detector
Perimeter Security, Alarms & Intruder Detection Products
The GEM is a wired outdoor PIR curtain detector with up to 12 m selectable detection range and a narrow invisible curtain beam, making it highly effective in protecting properties against crime.
Read more...
---
Four cameras in one
Duxbury Networking CCTV, Surveillance & Remote Monitoring Products
The new M5000 multidirectional 15 MP camera from Axis features three 5 MP sensors and one PTZ camera with 10x optical zoom and HDTV 1080p, delivers sweeping overviews and zoomed-in details.
Read more...
---
Surveillance for net zero container showroom
CCTV, Surveillance & Remote Monitoring Products
VIVOTEK tailored a surveillance solution specifically for a net zero showroom by addressing the most critical part of access control as well as corner-to-corner indoor and outdoor surveillance.
Read more...
---
Significant increase in fraud in a risk-heavy environment
News Security Services & Risk Management
The Southern African Fraud Prevention Service reports a significantly increased risk of becoming a victim of fraud as compared to 2021.
Read more...
---