printer friendly version
Keeping your guard up in retail
March 2019 Retail (Industry), Security Services & Risk Management, Products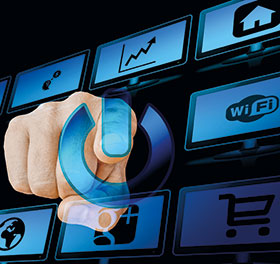 A security officer patrols the perimeter of a local shopping centre throughout the night, every night. During these patrols, the perimeter fence is checked, and the security officer keeps a look-out for suspicious behaviour with the intention of reporting any strange events via radio to his control room.
However, the security officer can be left powerless and extremely vulnerable if multiple persons, or an armed individual were to arrive onsite intent on threatening property or life. Last month, Active Track received a report from a customer where these events played out. The key difference, though, was that the officer, in last month's incident, was armed with an Active Track device.
The security officer was carrying out a patrol early in the morning, scanning RFID clocking points with an Active Track device, when an unknown number of suspects appeared on site. The officer pressed the panic button on the Active Track device to alert his call centre to call him immediately via the device, which it did.
As part of its procedure, the call centre had accessed the live GPS location of the device to pin-point the officer and all his future movements until the potential danger had passed.
During his discussion with the call centre, the officer was spotted by the mob who started to chase him offsite, wielding what appeared to the officer to be sticks, knives and a handgun. As he ran, the officer dropped the Active Track and fled to safety to the nearby police station.
The Active Track's shock sensor was triggered when the device hit the ground, alerting the call centre of a duress situation, and prompting the security company's armed response team via SMS and an automated call to attend at site right away. On arrival at site, the reaction officers located the mob in a store that it had gained access to and arrested all assailants onsite before the mob could damage or remove any property. Shortly thereafter, the police arrived after having spoken to the stricken officer at the station, and the mob was remanded into custody.
The property management company for the shopping centre was glad that arrests had been made but was reluctant to believe that the officer had been diligently carrying out his duties leading up to the arrival of the mob, and was concerned that he may have been sleeping instead. The security company was quick to assure its client that all duties were carried out and on time, by logging on to the Active Track online portal and emailing the automated patrol report and GPS map to the client.
The report showed the location and time-stamp of each scanning event on the officer's patrol route thereby demonstrating to the client that no RFID points were missed or scanned late, as well as of the panic button and shock sensor activations. The GPS map depicted the exact route taken from the start of the shift up until the device was dropped and abandoned onsite.
Credit(s)
Further reading:
30 years of business continuity
May 2019, ContinuitySA, Technews Publishing , Editor's Choice, Security Services & Risk Management
ContinuitySA is celebrating its 30th anniversary this year and Hi-Tech Security Solutions spoke to CEO Michael Davies about the changes he has seen in the business continuity and disaster recovery markets.
Read more...
---
The benefits of background screening
May 2019, iFacts, Managed Integrity Evaluation , Editor's Choice, Security Services & Risk Management
Companies need to be more vigilant about the people they employ by making sure comprehensive background screening checks are conducted.
Read more...
---
Active Track
Securex Preview 2019, Active Track , Products
Active Track is showcasing current and new guard monitoring and visitor management systems, as well as a virtual Active Track and an intelligent messaging system. Come and experience the new applications ...
Read more...
---
Face to face with Suprema FaceLite
May 2019, Suprema , Editor's Choice, Access Control & Identity Management, News, Products
Suprema has announced the launch of FaceLite, the new generation compact face recognition terminal designed for enterprise access control as well as time and attendance applications.
Read more...
---
Moisture detection and the dangers of digital disruption
May 2019 , Fire & Safety, Products
When it comes to protecting businesses against disruption, water damage poses a significant threat, especially in the modern age where electrical systems are ingrained in almost every aspect of daily life.
Read more...
---
Simplifying fire detection system installations
May 2019, Elvey Security Technologies , Editor's Choice, Fire & Safety, Security Services & Risk Management
A fire detection system needs to be selected with extreme care, as is selecting an installer that not only understands the various technologies employed in fire detection, but that also has the necessary accreditations and certifications.
Read more...
---
Security workforce management platform
May 2019, Secutel Technologies , CCTV, Surveillance & Remote Monitoring, Integrated Solutions, Security Services & Risk Management
Secutel Technologies says the South African market is excited about body-cam technology and clearly sees the potential benefits.
Read more...
---
Solar energy storage systems
May 2019, Specialised Battery Systems , Products, Security Services & Risk Management
Specialised Battery Systems has a range of Energy Storage Systems (ESS) available, both standard and custom designed to suit customer requirements.
Read more...
---
Effective intruder detection: more important than ever
May 2019, Powell Tronics , Perimeter Security, Alarms & Intruder Detection, Products
While intruder detection systems abound, not all solutions are created equal. Ensuring that their intruder detection system is with them for the long haul is something that all end-users desire.
Read more...
---
Intelligent ceiling detector
May 2019, Regal Distributors SA , Perimeter Security, Alarms & Intruder Detection, Products, Agriculture (Industry)
The RISCO Industrial LuNAR Grade 3 is an intelligent ceiling detector with bidirectional remote control, a mounting height of up to 8,6 m and a coverage area of up to 18 m in diameter.
Read more...
---