printer friendly version
Why did RDC go on a mission to find ice in Africa?
March 2019
News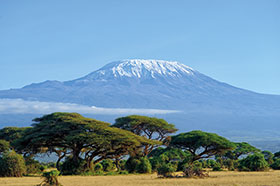 RDC was recently on an urgent mission to find ice in Africa. Why? RDC insists that they were not mad and were not looking for the type of ice you get from the local garage or the stuff that De Beers wants. So, what was the mission about?
RDC MD, Brent Andreka, says they have been watching the rest of the world embrace new technology and seen that they are already working and living in their futuristic smart homes and businesses. Yet in Africa, the 4th Industrial Revolution is frozen with mainly corrupt politicians enjoying these types of luxuries.
RDC questioned whether it was possible for Africa to leapfrog the global IoT gap? And, would it be possible to bring affordable tech to African households and businesses by way of the millions of alarm systems already installed?
RDC engineers had tried every hair-brained technique to find ideas, approaching problems back-to-front and exploring the past, present and future for inspiration. They say that in all honesty, they had come up with nothing.
They wondered if the solution for Africa was perhaps not in the 4th Industrial Revolution. Perhaps the inspiration would come from one of the archaic ages in Africa's history. Finding Stone Age, Bronze Age and Iron Age inspiration proved tricky, but they discovered that there is still ancient ice in Africa. Unbelievably, they discovered that the locations were near the equator, and that Africa even has glaciers.
This is what started their new mission. They decided to send engineering globe-trotter and endurance sport enthusiast, Chris Warwick, to find inspiration from the age-of-ice at the top of Kilimanjaro. RDC invited friends and customers to join them by following his African-Ice-Age blog during his short adventure.
At the time of going to print, expectations were running high with all hoping that Chris would uncover the secrets to Africa's future in the ancient ice. To find out if Chris found anything at all, visit www.radiodata.co.za
Credit(s)
Further reading:
TAPA: The role of an effective treasury function in business risk management
June 2019, Technews Publishing , News
Neil Le Roux, the Founder of Diligent Advisors will speak at the TAPA SA (Transported Asset Protection Association) annual conference on 26 July 2019.
Read more...
---
iLegal 2019: Putting a face on surveillance services
August 2019, Technews Publishing , News, Conferences & Events
iLegal 2019 will be held on 12 September 2019 at The Rosebank Crowne Plaza in Johannesburg. iLegal is the surveillance industry's premier one-day conference hosted jointly by Hi-Tech Security Solutions and Dr Craig Donald.
Read more...
---
Residential Estate Security Conference 2019: Making AI work for you
August 2019, Technews Publishing , News, Conferences & Events
Gerhard Furter will deliver the keynote at the Residential Estate Security Conference 2019, providing a brief introduction into what AI really is and its application in estates.
Read more...
---
From the editor's desk: The difference between potential and skills
August 2019, Technews Publishing , News
This issue of Hi-Tech Security Solutions includes our annual Local Manufacturing feature and it's great to know that local security manufacturers are still going strong, even if the general manufacturing ...
Read more...
---
A customised solution for backup power
August 2019, Specialised Battery Systems , News, Integrated Solutions
Specialised Battery Systems designed and implemented a bespoke solution for Stallion Security Electronics to deploy at almost any site.
Read more...
---
Patient critical – healthcare's cybersecurity pulse
August 2019, Wolfpack Information Risk , News, Cyber Security, Healthcare (Industry)
The healthcare industry has become one of the leading cybersecurity attack vectors worldwide for several reasons.
Read more...
---
Is security broken?
August 2019 , News
New VMware research reveals how South African businesses continue to try to battle sophisticated security threats in a digital age, with the same old tools.
Read more...
---
Milestone partners prove their skills
August 2019, Milestone Systems , News, CCTV, Surveillance & Remote Monitoring, Training & Education
Within the span of one week in mid-May, the Milestone Learning & Performance group celebrated important benchmarks: 200 000 course registrations and tutorial views, and 10 000 certifications.
Read more...
---
ONVIF Hosts 20th Developers' Plugfest
August 2019 , News, CCTV, Surveillance & Remote Monitoring
ONVIF, the global standardisation initiative for IP-based physical security products, hosted its twentieth ONVIF Developers' Plugfest in early June in Tokyo.
Read more...
---
24-hour emergency response for staff
August 2019 , News, Security Services & Risk Management
The FirstRand Group has partnered with PanicGuard to create a 24-hour emergency response programme for staff.
Read more...
---