printer friendly version
Video security for leisure centre
1 February 2019 Retail (Industry), CCTV, Surveillance & Remote Monitoring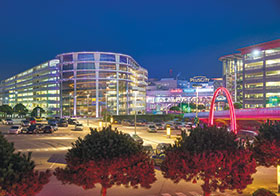 "E2K2 – please take me to the nearest ice cream café." At the moment, this type of exchange is still carried out via a display rather than by voice control, but the speaker is still directed to the correct shop by a small robot called E2K2. The technologies of the future have already begun to establish themselves at Plus City in Pasching near Linz.
Security technology must also keep pace with this progress, and has undergone an important upgrade in recent months: The leisure city has been equipped with the very latest Dallmeier camera systems. So E2K2 is not the only companion dedicated to the safety and comfort of visitors to this deluxe temple to shopping in upper Austria.
The Plus City shopping centre is changing with the times and intends to be more than just a shopping centre for its visitors. The concept 'From shopping centre to leisure city' has been well received, and so in the last few years, Plus City has evolved from a straightforward shopping centre into a deluxe temple to shopping and leisure.
The combination of unusual architecture and recreational variety has turned the centre into a major public attraction. Besides the expansion to include over 200 shops, Plus City offers an immense range of leisure activities: from Pirate Land for children, a Skybeach, evening events and even the IMAX cinema and 4DX with the largest screen in Austria. Another eye-catcher is the largest glass dome in a shopping centre anywhere in the world, guaranteeing a light-filled, friendly atmosphere.
From analogue to IP
Plus City owes its state of permanent evolution to the passion for innovation and futuristic ideas for transformation of Plus City manager, Ernst Kirchmayr. And his passion is not limited to just the area of visitor experience, it applies equally to the security equipment. It is important to him that the public is able to enjoy an untroubled, safe leisure experience.
With the expansion of the shopping centre and the increasing numbers of visitors, it follows that the security element should also be raised to the latest standard. As a long-standing customer of Dallmeier and its Austrian sales partner, G4S Security Systems GmbH, the facility has relied on video equipment from the Regensburg-based manufacturer since 2005 (in those days it was still analogue), and has expanded and upgraded its system progressively over the years, consisting of its latest manifestation of a networked IP video security system with over 200 cameras.
"The downward compatibility and flexibility of the Dallmeier solutions is ideal for us," explains Michael Pechmann, Plus City's security and technology manager, "we can extend and modernise the system in any direction, at whatever time suits us.
"Video technology is a permanent element of the work we do every day to guarantee the safety of the visitors," explains Pechmann. It is very important to monitor high-traffic centres, such as the escalators in the shopping centre, the cinema entrance, the large courts and building entrances in order to avoid accidents.
Cameras have also been installed not only to monitor the car parks, but also in the Plus City tram station, which was built by Plus City for the express purpose of making access easier and more environmentally friendly. And particular attention has even been paid to the safety of the smallest visitors, children play in the Pirate Land children's playground under the watchful eye of several cameras.
Architectural marvels pose lighting challenges
The largest glass dome in Austria is undoubtedly an architectural masterpiece, but at the same time, it places exceptional demands on the camera and sensor equipment, because the high light incidence causes reflections in glass dividing surfaces and reflective floor tiles. These light patterns are pretty to look at, but the uneven lighting conditions they create must be rendered consistent by the camera sensors.
With the special sensor and encoder technology and outstanding low-light properties of Dallmeier cameras, the operators still receive images with optimum contrast, clarity and highest resolution.
The names of two attractive courts and rest areas lend a southern charm to the interior of Plus City: Palmenplatz and Markusplatz (Palme Square and St Mark's Square). To keep these two areas safe, this year, for the first time, Dallmeier multifocal sensor technology will be used. With the Panomera, the wide area around these courts can be monitored in uniform resolution and consistent depth of field, and with no blind spots, so just a few Panomera systems are sufficient for a job which previously required many megapixel cameras.
SmartFinder and mobile app
From the user's point of view, the Dallmeier DMVC mobile app and Dallmeier SmartFinder are the most important features used by Pechmann in his day-to-day business. "With the SmartFinder, a system which searches intelligently for motion in the image, we can look for incidents in the video recordings very rapidly", he explains.
And live access via mobile device while he is between locations is also essential for him. A problem can be detected and verified quickly and easily with a corresponding alert to his smartphone in case of urgency. The smartphone can then be used to ensure an equally quick and efficient response. That is imperative to ensure the smooth running of the shopping centre.
No attempts are made to conceal the video surveillance effort. On the contrary, an open communication policy and transparency regarding the entire subject is extremely important for the operators, which in turn engenders a positive feeling among customers. Because on the precarious subject of data protection, open, candid behaviour is imperative.
The corresponding data protection and data security modules which Dallmeier offers in the context of the EU GDPR also inspire the necessary confidence that the subject of video surveillance will be handled professionally and sensitively. Pechmann's comment on the subject: "We are completely candid about the topic. Our visitors appreciate that, and we don't have to hide anything. In fact, visitors can view our control room."
Plus City has been a loyal customer of Dallmeier for decades now. Kirchmayr declares: "We don't want anything that is not Dallmeier. Not only because we think the products are good. In addition to all that, the quality of our cooperation with the manufacturer and the on-site partner is immensely important. Fast, uncomplicated support from Dallmeier and G4S at all stages of the process make all the difference for us."
For more information contact Dallmeier Southern Africa Office, +27 11 510 0505, [email protected], www.dallmeier.com
Further reading:
Be aware of privacy and cybercrimes issues
Security Services & Risk Management Cyber Security Retail (Industry)
Artificial intelligence (AI) is being deployed to help shoppers make better choices, but retailers must be aware of their obligations under personal privacy and cybercrimes laws.
Read more...
---
Sustainability, trust and predictability
Technews Publishing Bosch Building Technologies Conferences & Events CCTV, Surveillance & Remote Monitoring News Integrated Solutions
The future for Bosch Building Solutions is focused on predictive solutions based on sustainability and trust in an AIoT world of cloud services.
Read more...
---
Duxbury awarded Axis SA Distributor of the Year
Duxbury Networking News CCTV, Surveillance & Remote Monitoring
Axis Communications held its Annual Partner Awards on 1 July 2022 to celebrate and acknowledge the efforts of Axis' partners by awarding them for key projects and achievements throughout the year.
Read more...
---
Passion, drive and hard work
Technews Publishing Editor's Choice CCTV, Surveillance & Remote Monitoring Security Services & Risk Management
Colleen Glaeser is a leader in the security market, having made her mark in the male-dominated security industry through determination and hard work, along with a vision of making the world a safer place.
Read more...
---
Cybersecure surveillance cameras
HiTek Security Distributors News CCTV, Surveillance & Remote Monitoring Cyber Security
Provision-ISR builds customer trust and opens up new opportunities with Check Point Quantum IoT Protect Firmware built into Provision-ISR cameras.
Read more...
---
Cathexis releases Carbon, a new user-friendly GUI
Cathexis Technologies News CCTV, Surveillance & Remote Monitoring
Cathexis has launched its latest user interface, Carbon 3.1, with an enhanced feature set, offering improved performance.
Read more...
---
Maintaining security and CCTV functions in difficult economic times
Leaderware Editor's Choice CCTV, Surveillance & Remote Monitoring
To avoid being seen as "just another overhead", Dr Craig Donald says security needs to demonstrate its relevance and importance to organisational survival.
Read more...
---
Next-level manufacturing with smart cameras
Industrial (Industry) CCTV, Surveillance & Remote Monitoring Logistics (Industry)
New technology offered by smart cameras provides an entirely new way of monitoring and controlling safety measures and optimising process flow within the manufacturing and logistics operations.
Read more...
---
Security BIS named AxxonSoft's Distributor of the Year 2021
News CCTV, Surveillance & Remote Monitoring
With its focus on AxxonSoft solutions and technical support, Security BIS secured the title of AxxonSoft Distributor of the Year again for 2021.
Read more...
---
New full-colour Smart Dual Illuminators camera series
Dahua Technology South Africa Products CCTV, Surveillance & Remote Monitoring
Using deep learning to accurately detect targets, the cameras can intelligently switch between the IR mode when there is no target, and full-colour mode when a target is detected.
Read more...
---