printer friendly version
One bridge links three major cities
February 2019 CCTV, Surveillance & Remote Monitoring, Integrated Solutions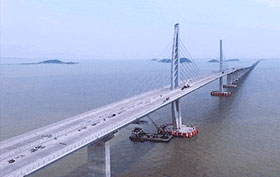 The three most famous bay area cities in the world have one thing in common: They all have at least one well-known bridge of their own.
• The San Francisco Bay Area boasts the Golden Gate and San Francisco-Oakland Bay bridges.
• New York is home to the Verrazano-Narrows and Brooklyn bridges.
• Tokyo has the Great Seto Bridge and the Tokyo Gate Bridge.
And now, the Guangdong-Hong Kong-Macao Greater Bay Area has opened the world's longest sea bridge in China, which is 55 km long, connecting Hong Kong, Macau and Mainland China, cutting travel time from 3 hours to 30 mins.
Designed to withstand earthquakes and typhoons, it was built using 400 000 tonnes of steel, enough to build 60 Eiffel Towers. The functions of the bridge are to meet the demand of passenger and freight land transport among Hong Kong, the Mainland (particularly the region of Pearl River West) and Macao, to establish a new land transport link between the east and west banks of the Pearl River, and to enhance the economic and sustainable development of the three places.
The developers introduced an auxiliary facility for the Hong Kong-Zhuhai-Macao Bridge system project, supported by Hikvision – the vehicle monitoring and inspection system. It is a pivotal support system of the project, which applied license plate recognition technology, intelligent information collection system, and the under-vehicle surveillance system.
Licence plate recognition
Usually, licence plate information is collected using high-resolution video cameras for snapshots and recognition. The traffic on the Hong Kong-Zhuhai-Macao Bridge includes vehicles from Mainland China, Hong Kong and Macao. This means that the video cameras have to support high-precision recognition of the licence plates from all three regions.
After years spent accumulating experience and optimising technologies, the recognition algorithm for the licence plates from Mainland China is relatively mature. However, as the licence plate systems in Hong Kong and Macao are different from that in Mainland China, the recognition success rate has been suffering for some time.
Aiming to re-establish effective plate recognition and maintain security, Hikvision set up an algorithm task force. In six months, Hikvision provided hardware to support the operation of the new algorithm and conducted an on-site simulation test using a sample of more than 30 000 passing vehicles.
The recognition success rates of the improved video camera on licence plates from Hong Kong and Macao, as well as the cross-region licence plates (where both sets of plates must be recognised correctly), have reached and even surpassed the design benchmarks.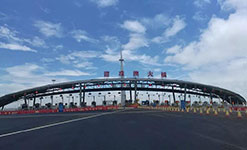 Intelligent information collection system
Considering the different types of vehicles that will pass through the Hong Kong-Zhuhai-Macao Bridge (drivers sit on the left in Mainland China, for example, but on the right in Hong Kong and Macao), Hikvision has customised the functions of the system, so that it can flexibly switch among various cameras to provide images with the best angle of view.
Hikvision cameras with intelligent capabilities complete intelligent information sensing quickly and easily. In this way, not only is the driver's identity verification process shortened, but is also more efficient for data management. Moreover, large parts of the verification process that traditionally relied solely on manpower can be eliminated as well.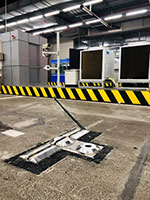 The under-vehicle surveillance system
One of the most crucial parts of inspection is determining whether people or contraband are concealed underneath a vehicle. Relying solely on inspectors searching manually would take too much time and effort, holding up traffic and the whole inspection process. Additionally, due to the variety of motor vehicle chassis types, perfecting this element of the process is crucial.
Each traffic passage at the Hong Kong-Zhuhai-Macao Bridge Zhuhai Port is installed with a system from Hikvision to guard against under-vehicle smuggling. With the high-speed scanning and imaging features of the line-scan cameras, these systems conduct real-time and high-definition image acquisition, along with accurate imaging of the underbody of vehicles.
This system is equipped with 180-degree FOV, providing no-dead-zone inspection for all types of vehicles, so that the whole picture comes through in just one image. Also, high-level waterproof and dust-proof capabilities (IP68) enable the system to withstand wind and rain. Moreover, professional software makes checking and searching vehicles much more convenient.
According to the statistics, it takes an average of three minutes for each vehicle to get inspected manually, but only several seconds with this system.
In addition, Hikvision has a number of other products and solutions being used in other systems in the Hong Kong-Zhuhai-Macao Bridge, such as the on-board security system to safeguard the drivers, the intelligent cargo inspection system specifically designed for the customs office, the integrated video security system deployed for the disposition of artificial islands, the thermal imaging dual-spectrum products used by the ports for all-weather perimeter early warning and precaution, the thermal imaging system for high-altitude patrols on embankments, and more.
For more information contact Hikvision South Africa, Janis Roux, +27 10 035 1172, support.africa@hikvision.com, www.hikvision.com
Credit(s)
Further reading:
Shorten your checkout lines to enhance customer experience
September 2019, Hikvision South Africa , Retail (Industry), CCTV, Surveillance & Remote Monitoring
Hikvision's queue detection technology is purpose-built to offer cutting-edge flow analysis to retail outlets and any situation where waiting to pay is required.
Read more...
---
Constructive CCTV contributions to research
September 2019, Leaderware , Editor's Choice, CCTV, Surveillance & Remote Monitoring
Study leads to understanding that we need more recognition and reward for constructive participation in society.
Read more...
---
Managing staff effectively
September 2019, dormakaba South Africa, iPulse Systems , Integrated Solutions, Access Control & Identity Management
Workforce management solutions allow organisations to track the relationship between productivity and the cost of employment, incorporating issues such as health and safety, T&A, rostering and more.
Read more...
---
New Africa sales manager for Axis Communications
September 2019, Axis Communications SA , News, CCTV, Surveillance & Remote Monitoring
Axis Communications has appointed Brendon Hall, previously the founder and MD of Pentagon, as its new sales manager, Africa.
Read more...
---
Hikvision helps secure African Union Summit
September 2019, Hikvision South Africa , News, CCTV, Surveillance & Remote Monitoring
Hikvision established a complete intelligent video solution to ensure the security of the thirty-third African Union (AU) Summit held on 7 July in Niamey, the capital of Niger.
Read more...
---
Genetec to integrate CylancePROTECT
September 2019, Genetec , Editor's Choice, CCTV, Surveillance & Remote Monitoring, News
Genetec has announced it is partnering with Cylance, a business unit of Blackberry, to bring AI-based antivirus protection to its appliance customers.
Read more...
---
Dashcams useful for more than social media
September 2019, Graphic Image Technologies , CCTV, Surveillance & Remote Monitoring, Transport (Industry)
Logistics companies need to make sure that they have a complete solution that allows real-time driver monitoring and event notifications as they happen.
Read more...
---
Best in class at sea and ashore
September 2019, Axis Communications SA , Transport (Industry), CCTV, Surveillance & Remote Monitoring
Thermal network cameras support the guard tour function that can be used for continuous monitoring of a particular area according to the pre-set guard tour.
Read more...
---
Increase security efficiency, decrease costs
September 2019 , Security Services & Risk Management, Integrated Solutions
Trackforce offers customisable mobile and web applications to increase security operational efficiency and lower costs.
Read more...
---
Improving operational efficiency through surveillance
September 2019 , CCTV, Surveillance & Remote Monitoring, Products
Today?s surveillance systems are no longer just about monitoring, but more so the intelligence that sits on the camera and what businesses can do with that information proactively.
Read more...
---