printer friendly version
Wireless video surveillance system for yacht haven
February 2019 CCTV, Surveillance & Remote Monitoring, Products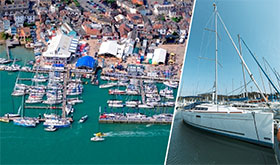 Cowes is a name synonymous with yachting, the Isle of Wight's fabled international maritime epicentre since 1800. And Cowes Yacht Haven is the very heart of the sailing world, describing itself as "the gateway to sailing in the South Coast, Solent and Isle of Wight", welcoming yachting enthusiasts from across the globe.
The Marina boasts 260 fully serviced berths, a 400 seat events centre, a media centre, more than 20 retail units, and a modern boatyard. World-renowned regattas including Lendy Cowes Week, Panerai British Classic Week, Round the Island Race, Coutts Quarter Ton Cup and Etchells World & European Champions are all held at Cowes Yacht Haven. As you might expect, this is a round-the-clock operation.
In 2018, Cowes Yacht Haven management decided the time was right to replace their existing security system. They needed video surveillance which would provide extensive coverage of the full facility – and the ability to provide high quality images during the hours of darkness was vital. Security staff on-site needed to be able to monitor and investigate vessels moving and berthing within the harbour, as well as residents' berths and the foot traffic around the marina at all hours of the day and night, particularly during events such as Lendy Cowes Week, when the marina operates at full capacity.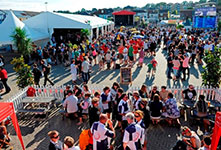 Expanded video coverage
Andrew Bamford, financial controller and director at Cowes Yacht Haven said the marina's needs went beyond just this 24x7 wide scale coverage. "One of the most important elements to us was to have future-proofing, and to allow temporary expansion of the system for events such as Round the Island, Lendy Cowes Week, Fastnet and Power Boat racing events.".
A tender was advertised for the design, installation and commission of a new CCTV system, which was won by Isle of Wight specialist firm Lifeline Alarms and Security Services. "We selected Lifeline following product demonstrations and first-class documentation and system designs," Bamford said.
The system designed by Lifeline consisted of 29 cameras including fixed, PTZ, panoramic and dome-style models, said Lifeline's managing director Mark Lee. "There were a number of obstacles and challenges to overcome," he said. "The site itself is large and complex, and features a broad range of both marine and land-based operations. There were time pressures too thanks to the event and race schedules which were fixed in the calendar."
The marine location posed its own challenges, not the least of which was the instability of the working platforms Lifeline's engineers would have to utilise when implementing the system. All the while, this highly active marina also saw vessels moving in to dry dock and around the marina for maintenance, while necessarily large objects were constantly being transported across the site; all of which presented significant logistical challenges, not to mention health and safety headaches.
"While some cameras provide landscape views of berths and docks others were to be located on sea walls and at height," Lee explained. "Some of the locations we had to position cameras meant that using physical cabling was almost impossible."
As Bamford outlined, the new system was required to be temporarily extendable during high profile events, in order to provide additional camera positions. These major events also meant there would be a need to work closely with the manned security companies operating the system during those exceptionally busy periods.
"Failure to deliver this solution in time would result in Cowes being unable to host pre-planned sailing competitions, regattas and events, with a significant detrimental effect on its reputation and commercial standing," Lee said. "And a busy yacht haven presents a challenging environment in which to work."
Lifeline's planning had to take into account factors such as tides, the sea state and prevailing weather conditions. Lifeline's engineers had to work at unusual times of the day, outside of the busy conventional marina operating hours. Engineers working on jetties and pontoons donned buoyancy aids – not their usual working attire.
"Pre-planning identified the need for additional cables and power to be installed at strategic locations in order to have that ease of temporary expandability for high profile events," Lee said. "Several wireless transmission systems were deployed, in order to deliver effective and reliable coverage across the site. Obstacles such as yachts in dry dock and cranes were fully considered, too, with line of sight tests conducted to ensure that these did not interfere with signal transmission. This was tricky, and made more complicated because these obstacles were mobile by their very nature."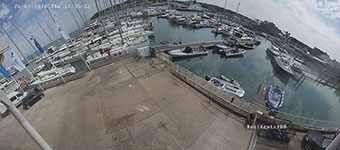 Night-time visibility
Lifeline calculated that installing five-metre high columns to sea walls would provide the necessary height and scope of view for marina surveillance. This was supported by the use of Hikvision PanoVu panoramic cameras, equipped with Darkfighter technology allowing it to capture images in the darkest conditions. The PanoVu camera uses four different lenses to provide HD pictures, enabling operators to interrogate and zoom into wide angle images using the other equipped lenses.
The PanoVu cameras were complemented by Hikvision Darkfighter-equipped pan-tilt-zoom cameras, dome cameras, turret cameras, and motorised zoom bullet-style cameras. Wireless transmission of images utilised equipment from Ligowave, sent to a Hikvision 4K decoder.
Lifeline even went as far as to install a secondary control room to allow security staff to operate from multiple locations during events. And those manned security providers are glowing in their assessment of the Hikvision system Lifeline has provided.
Simon Rann is Managing Director of Blueline Security Management. "We specialise in the provision of supervised security staff, medical and event safety, which includes Lendy Cowes Week," Rann said. "We control crowds of thousands of visitors and party goers at our base for this event, which is Cowes Yacht Haven. And we cannot fault the CCTV system here. The installation and the support services provided by Lifeline have been superb.
"The CCTV has made our job easier and is one of the best systems we have worked with. We easily monitor all entrances. A control room was set up for our use with access to all cameras. This is a first class set up."
The final proof, of course, is in the experience of the customer. Bamford echoes this positive assessment of the new Hikvision video surveillance system provided by Lifeline. "The installation implemented by Lifeline was expertly completed within time and budgets," he said, "with little or no disruption to our busy Haven routines. Images are of high quality and exceeded all of our expectations."
For more information contact Hikvision South Africa, Janis Roux, +27 10 035 1172, support.africa@hikvision.com, www.hikvision.com
Credit(s)
Further reading:
Shorten your checkout lines to enhance customer experience
September 2019, Hikvision South Africa , Retail (Industry), CCTV, Surveillance & Remote Monitoring
Hikvision's queue detection technology is purpose-built to offer cutting-edge flow analysis to retail outlets and any situation where waiting to pay is required.
Read more...
---
Constructive CCTV contributions to research
September 2019, Leaderware , Editor's Choice, CCTV, Surveillance & Remote Monitoring
Study leads to understanding that we need more recognition and reward for constructive participation in society.
Read more...
---
New Africa sales manager for Axis Communications
September 2019, Axis Communications SA , News, CCTV, Surveillance & Remote Monitoring
Axis Communications has appointed Brendon Hall, previously the founder and MD of Pentagon, as its new sales manager, Africa.
Read more...
---
Hikvision helps secure African Union Summit
September 2019, Hikvision South Africa , News, CCTV, Surveillance & Remote Monitoring
Hikvision established a complete intelligent video solution to ensure the security of the thirty-third African Union (AU) Summit held on 7 July in Niamey, the capital of Niger.
Read more...
---
Genetec to integrate CylancePROTECT
September 2019, Genetec , Editor's Choice, CCTV, Surveillance & Remote Monitoring, News
Genetec has announced it is partnering with Cylance, a business unit of Blackberry, to bring AI-based antivirus protection to its appliance customers.
Read more...
---
LanDynamix helps secure Michael Mount campus
September 2019 , IT infrastructure, Products
LanDynamix has implemented Fortigate, Fortinet's firewall appliance, at Michael Mount Waldorf School in Bryanston, Johannesburg.
Read more...
---
New AlproMAX7 secures maximum rating
September 2019 , Access Control & Identity Management, Products
Alpro has launched a new range of ultra-secure mechanical mortice deadlocks, the AlproMAX7 which comply with BS EN 12209.
Read more...
---
Dashcams useful for more than social media
September 2019, Graphic Image Technologies , CCTV, Surveillance & Remote Monitoring, Transport (Industry)
Logistics companies need to make sure that they have a complete solution that allows real-time driver monitoring and event notifications as they happen.
Read more...
---
Best in class at sea and ashore
September 2019, Axis Communications SA , Transport (Industry), CCTV, Surveillance & Remote Monitoring
Thermal network cameras support the guard tour function that can be used for continuous monitoring of a particular area according to the pre-set guard tour.
Read more...
---
ViRDI UBio Tab 5
September 2019 , Access Control & Identity Management, Products
ViRDI Distribution SA (ViRDI Africa) has announced the release of its long-awaited UBio Tablet to the South African market.
Read more...
---