printer friendly version
Protecting quality in the cold
February 2019
Fire & Safety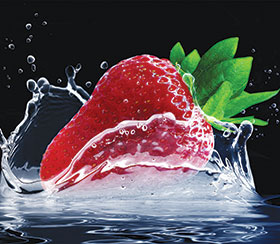 Woolworths is one of the top 100 companies listed on the JSE. Its core business focus is the provision of retail products and services to upper and middle-income customers in the southern hemisphere. All perishables are stored in a cold storage warehouses, thereby ensuring consumers are offered fresh produce at all times.
The Woolworths Distribution Centre in Montague Gardens, Cape Town, extended its existing freezer store by converting an existing warehouse and FS-Systems was tasked with providing a fire detection solution for their cold storage warehouses.
It might not be easy to imagine a fire starting in a cold store, but if one considers the conveyer belts, forklifts, wooden pallets and highly combustible packaging materials in this area, it becomes more plausible that a fire could actually occur. Cold stores form part of the production and delivery processes and any fire damage could severely disrupt the business supply chain, not to mention the loss in revenue.
After careful investigation, a Vesda Aspirating Smoke Detection System (ASD) was deemed to be the most effective solution for this unique environment. ASD consists of a central detection unit that continuously draws and samples the air through a network of pipes in order to detect smoke. The air in the space being monitored is sucked in for precise analysis by the scattered-light smoke detector located in the sampling chamber. If it detects smoke particles beyond a pre-set threshold, it triggers an immediate alarm, allowing the time needed to deal with the fire before it has time to break out and spread.
Despite the harsh environmental conditions, ASD provides reliable and efficient detection. The ASD units are a central point of maintenance and offer the lowest cost of total ownership. When servicing the ASD units there is no need for additional hosting equipment, and service and maintenance does not interrupt client operations.
A total of 11 Vesda Aspirating Smoke Detection units, connected with over 460 metres of sampling pipe, now protect the cold storage facilities that span more than 4200 m². The Vesda ASD System has become a Woolworths standard for all their cold storage facilities.
Credit(s)
Further reading:
Local manufacturing – challenges and opportunities
August 2019, Centurion Systems, Technoswitch, ZYTEQ Fire , Integrated Solutions
Local companies manufacture a diverse range of products for the security industry, and although they face challenges, there are opportunities out there too.
Read more...
---
Choosing the right fire detection system
August 2019, FDIA (Fire Detection Installers Association) , Fire & Safety
Charles Thiong'o from the FDIA highlights important factors to consider when choosing a fire detection system.
Read more...
---
Local security technology manufacturer
August 2019, Technoswitch , Fire & Safety
Technoswitch, a South-African manufacturer, importer and distributor of fire detection and suppression equipment turned 45 this year.
Read more...
---
Fire detection and suppression for server cabinets
August 2019, Technoswitch , Fire & Safety
The TEC601, designed and manufactured by Technoswitch, is an all-in-one fire and extinguishing rack-mountable control system designed to protect electronic equipment in 19-inch server room cabinets.
Read more...
---
ORYX conventional fire panel range
August 2019, Technoswitch , Fire & Safety
The ORYX range of conventional panels from Technoswitch offers 2, 4 and 8 zone options, including weatherproof versions (with or without DIN rail) specifically suited to industrial applications.
Read more...
---
Next generation BlazeCut T-series
August 2019, Technoswitch , Fire & Safety
Designed to protect small enclosed spaces with greater risk of fire, the BlazeCut T-series system is easy to install.
Read more...
---
Emergency lighting and fire detection combination
August 2019 , Fire & Safety, Products
Hochiki Europe has launched FIREscape+, a system which combines emergency lighting, fire detection and wayfinding technology.
Read more...
---
Introducing Gulf Security Technology
August 2019, UTC Fire & Security SSA , Fire & Safety
Gulf Security Technology manufactures more than 16 million detectors and modules and more than 120 thousand control panels per year, making it one of the largest fire detection manufacturers in the world.
Read more...
---
Visual alarm devices enable effective, lifesaving evacuation
August 2019, Johnson Controls , Fire & Safety
Visual alarm devices are used to supplement audio alarms, providing an effective means of alerting and evacuating occupants when a fire emergency occurs.
Read more...
---
Condensed aerosol fire suppression
August 2019, Technoswitch , Fire & Safety
] The Stat-X condensed aerosol fire suppression product, distributed by Technoswitch, is one possible solution for fires in battery energy storage systems.
Read more...
---