printer friendly version
Data security sits at the heart of democracy
February 2019 Cyber Security, Security Services & Risk Management
A recent report found that even the Pentagon's latest advanced military systems are vulnerable and can be 'easily hacked'. The consequences for citizens of rogue military assets is unthinkable. But that fear is not reserved for fighter jets and frigates: the hacking of a nation's tax collection system, for example, would have a crippling effect on the economy, global investor confidence, disbursement of social and public services, and citizen trust in government institutions.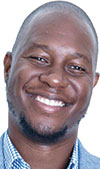 Thomas Mangwiro: public sector security specialist, Mimecast
South African cyber resilience in the spotlight
A succession of high-profile government data breaches both locally and abroad has cast a stark light on the importance of effective public sector cybersecurity policies and protections. Without fully functional public institutions such as revenue collection, freight handling, military defence, and social grant disbursement, governments will find it hard to instil confidence among its various stakeholders and service delivery to citizens, businesses and public institutions will be impeded.
The rise of the smart city – a catch-all phrase for cities that utilise emerging technologies such as IoT to improve service delivery and enhance the citizen experience – further complicates matters. With the digitisation of government in full swing, any exploitation of cybersecurity vulnerabilities of the operational technologies that power our electricity generation or freight handling capabilities could cripple essential government services and leave millions without much-needed public or social services.
The South African government has taken note: the Cybersecurity Hub established by the Department of Telecommunications and Postal Services is a positive step toward improved cybersecurity awareness and information sharing across the South African public and private sectors. And Defence Minister Nosiviwe Mapisa-Nqakula's recent commitment to collaborate with other countries to effectively deal with the challenge of modern cybersecurity is a timely acknowledgement that South Africa is as vulnerable to cyber threats as its more developed peers.
I would argue that Minister Mapisa-Nqakula and her colleagues should prioritise cyber resilience within the public sector as a first line of cyber defence. Cyber resilience refers to an organisation's ability to continue to operate or deliver services despite adverse cyber events. And its first port of call in this regard should be greater awareness among its hundreds of thousands of employees regarding the different types of cybersecurity threats, how to spot them, and how to prevent them.
Action plan for improved cybersecurity awareness
In a global study by Mimecast and Vanson Bourne, more than a third of global public sector companies lacked confidence in their employees' ability to identify impersonation fraud asking for sensitive company data such as HR or financial information. And yet, only 14% train their employees continuously to ensure they have the awareness and knowledge to identify potential cyber threats.
Awareness training, a process of ensuring employees have the knowledge and insight to identify potential cyber threats, is an indispensable part of any effective cyber defence strategy. But government should look beyond defence-only cybersecurity to a cyber resilience strategy built on three key principles:
1.) Ensuring the correct security measures are in place prior to an attack;
2.) Implementing a durability plan to keep email and business operations running during an attack; and
3.) Ensuring they have the ability to recover data and critical IP after an attack.
The ability to adapt to continually evolving and escalating cyber threats is critical, but it's a task made immensely challenging by a global shortage of skilled security professionals. This places the spotlight on end-user training: without the relevant security skills in place, it becomes even more important for cybersecurity to be a shared responsibility across the organisation. Government-led education initiatives in collaboration with private sector companies can significantly improve the awareness of staff at all levels of the public service to identify and combat emerging cybersecurity threats.
The concept of cyber awareness training should play a starring role in any government-led cyber defence initiative. Public sector employees that display risky behaviour – such as opening emails from unknown senders, clicking on links without validating them first, opening attachments without care and using work devices for personal activities – should undergo regular training to ensure they understand the risks associated with such activities.
According to a Google Consumer Research report commissioned by Mimecast, nearly one in four employees aren't even aware of the most basic cyber threats to their organisation, including phishing and ransomware. Imagine the dire consequences of a successful ransomware attack on a government department providing medical services to vulnerable citizens. Cybercriminals are constantly innovating and finding new ways to infiltrate organisations' defences. So, without adequate awareness and understanding of the various ways cybercriminals could penetrate government systems, no amount of investment in technology will safeguard our public institutions.
Further reading:
Social media and intelligence-led surveillance
July 2019, Leaderware , Editor's Choice, Integrated Solutions, Security Services & Risk Management
Social media has become a major feature of most people's lives in the last few years and they can be invaluable as a source of information for companies and security organisations.
Read more...
---
The 4th Industrial Revolution
July 2019, Wolfpack Information Risk , Editor's Choice, Cyber Security, Security Services & Risk Management, Industrial (Industry)
Most major industries have turned to and are reliant on technology to run their operations. This is a time of great promise, but also one of frightening peril.
Read more...
---
Four essential cloud security concepts
July 2019 , Cyber Security, IT infrastructure
Security is a critical a component of any cloud environment, but to be effective, it needs to be as agile and dynamic as the cloud infrastructure being protected.
Read more...
---
Cyber-attacks target operational technology
July 2019 , Editor's Choice, Cyber Security, Industrial (Industry)
Focus on operational technology security increasing as around 74% of OT organisations come under attack in the past year, finds a new Fortinet report.
Read more...
---
Fear of the unknown
July 2019, Kaspersky Lab , Cyber Security, Security Services & Risk Management
Fear of the unknown: while there's still interest in cryptocurrencies, just 19% locally understand how they work.
Read more...
---
New generation password manager
July 2019 , Cyber Security
NordVPN will release two new cybersecurity solutions this year - NordLocker and NordPass.
Read more...
---
Industrial cybersecurity delivers ROI
July 2019, Kaspersky Lab , Industrial (Industry), Cyber Security
Industrial company achieves 368% ROI with Kaspersky Industrial CyberSecurity reveals global research and advisory firm.
Read more...
---
Change your birthday
July 2019 , Cyber Security
How unique are the PIN codes that we choose to stop cybercriminals from getting into our phones and their eyes onto our most precious accounts?
Read more...
---
Johnson Controls launches Technology Contracting in Africa
July 2019, Johnson Controls , Editor's Choice, News, Security Services & Risk Management
To address the growing challenge of planning, integrating and maintaining a multitude of different, highly connected systems, Johnson Controls is launching Technology Contracting in Africa.
Read more...
---
A new method for data destruction
July 2019 , News, Security Services & Risk Management
Xperien is now able to professionally erase data on retired IT assets in compliance with the Protection of Personal Information Act (PoPIA).
Read more...
---