printer friendly version
Cross-campus Wi-Fi connectivity
1 February 2019 Education (Industry), IT infrastructure, Products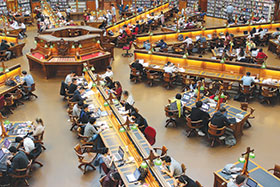 Charles Telfair Campus has selected Ruckus Networks, an ARRIS company, to deploy its campus-wide wireless network, providing learners and staff with quality Wi-Fi experience for the digital age.
"The Internet is an absolute necessity as it forms an integral part of our curriculum," said Surendra Sewlall, IT manager at Charles Telfair Campus. "However, we had a significantly negative user experience and received numerous complaints, especially when lectures were interrupted or when students weren't able to submit or work on their assignments. The students were impatient and the IT department frustrated."
In fact, some of the lectures are being simultaneously conducted with Curtin University in Australia – meaning campus-wide Wi-Fi and connectivity is a mandatory criterion. As a result, the campus needed a solution that would not only resolve the unsteadiness of the current Wi-Fi connectivity, but also provide visibility over the wireless network for better monitoring and troubleshooting.
"We needed a solution with the right capacity to meet the demand for high user concurrent connections without performance degradation, while still being reliable and providing flexibility for the management of the network," added Sewlall. Following a tender process, Ruckus distribution partner Westcon and integration partner Infosystems, headed by Souryanand Narroo, was appointed to design, install, and manage the project.
Notably, the expectation from the customer regarding the new setup of the wireless infrastructure at the campus was very high. "It was very challenging for us to position Ruckus on this project since they did not have any past experience with the brand," said Narroo.
The campus compared the performance of the proposed Ruckus access point (AP) with a competitor product to determine which was best suited for their requirements. They also requested an RF plan to ensure better coverage across the campus before making a final decision. Following this, 68 Ruckus APs - R310 and R610 - were deployed to cover four floors, 62 locations including the classrooms and lecture theatres, auditorium, canteen, library and staff rooms providing capacity for up to 900 concurrent users, managed by the Ruckus Virtual SmartZone.
"Busy indoor locations such as classrooms and learning campuses can be the most challenging Wi-Fi environments. Dozens of users share the same crowded RF spectra, all expecting fast, reliable connectivity. This solution delivered the right combination of performance, affordability and ease of management needed for the learning environment of today," said Riaan Graham, sales director for Ruckus Networks, sub-Saharan Africa.
Impressive progress has been achieved in the education system in Mauritius in terms of compulsory primary education, free secondary education and more tertiary institutions providing quality education. In fact, with a new ICT Strategy for Mauritius's Education Sector, it is clear that access and digital technologies are becoming critical to not only making education more accessible, but also providing better services and enhancing the learning experience and teaching processes.
"We are now in an era where most of the education-related materials for tertiary education are online. Classrooms have become more collaborative and technology and access is playing a critical role here where reliable connectivity is no longer a 'nice-to-have', but a strategic component. We have experienced significantly improved Wi-Fi performance and user satisfaction since the successful implementation of the Wi-Fi network with steady connectivity, even during peak time periods. In fact, sometimes I even forget we have a wireless system as everything works and I get no complaints. It was difficult to explain why we did not opt to go for a traditional big brand – but I think everyone now sees we definitely made the right choice. I do not think I would have been more satisfied with another brand," concludes Surendra.
Further reading:
Enabling safety in communities
Security Services & Risk Management Products
Many Hytera devices are equipped with personal safety features, including emergency calling, Man Down and Lone Worker alerts, and GPS to enable users to be monitored and tracked.
Read more...
---
Solving coworking front-desk drama
Access Control & Identity Management Products
Flexible, shared and coworking offices have taken off with great success, but because occupational churn is high, the front-desk can be a difficult place to manage.
Read more...
---
Citrix App Protection helps secure remote workers
Cyber Security IT infrastructure
Many organisations are implementing a zero-trust security model with data protection as a top priority. This is largely due to the increase in remote work and unmanaged personal devices playing a growing role in the enterprise.
Read more...
---
Video technology can improve crowd management
CCTV, Surveillance & Remote Monitoring Entertainment and Hospitality (Industry) Products
Stadium operators can use video technology to implement effective crowd management in different areas, avoiding fines, reputational damage and injury or loss of life.
Read more...
---
Kaspersky invests in development of neuromorphic processors
News IT infrastructure
Neuromorphic processors' field of application is acceleration of the hardware used in the latest generation of artificial intelligence systems, which are based on spiking neural networks (SNN) training, which is more akin to biological interactions.
Read more...
---
Infinidat enhances channel support
News IT infrastructure
Infinidat drives go-to-market strategy with new global partner portal and expands channel sales with Storage-as-a-Service in ArrowSphere.
Read more...
---
2022 Cloud Security Report
Cyber Security IT infrastructure
The 2022 Cloud Security Report reveals how security executives and practitioners are using the cloud, how their organisations are responding to security threats in the cloud, and the challenges they are facing.
Read more...
---
Securing business information more important than ever
Cyber Security Products
SMBs need to operate safely within the physical and virtual boundaries created by work-from-home business practices, as well as in-office operations.
Read more...
---
LucidLink Filespaces 2.0 cloud NAS offering
Products IT infrastructure
Drive Control Corporation (DCC) has announced the availability of LucidLink's new cloud NAS product, Filespaces 2.0, which forms part of the distributor's StorVault value proposition to its channel partners.
Read more...
---
Leaning into the edge
Technews Publishing Axis Communications SA Forbatt SA Hikvision South Africa Editor's Choice CCTV, Surveillance & Remote Monitoring Integrated Solutions IT infrastructure
Video storage and analytical processing, with the help of artificial intelligence on the edge, is simple today with the powerful and advanced camera technology we have available.
Read more...
---