printer friendly version
Cross-campus Wi-Fi connectivity
February 2019 Education (Industry), IT infrastructure, Products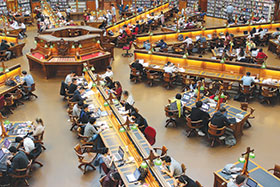 Charles Telfair Campus has selected Ruckus Networks, an ARRIS company, to deploy its campus-wide wireless network, providing learners and staff with quality Wi-Fi experience for the digital age.
"The Internet is an absolute necessity as it forms an integral part of our curriculum," said Surendra Sewlall, IT manager at Charles Telfair Campus. "However, we had a significantly negative user experience and received numerous complaints, especially when lectures were interrupted or when students weren't able to submit or work on their assignments. The students were impatient and the IT department frustrated."
In fact, some of the lectures are being simultaneously conducted with Curtin University in Australia – meaning campus-wide Wi-Fi and connectivity is a mandatory criterion. As a result, the campus needed a solution that would not only resolve the unsteadiness of the current Wi-Fi connectivity, but also provide visibility over the wireless network for better monitoring and troubleshooting.
"We needed a solution with the right capacity to meet the demand for high user concurrent connections without performance degradation, while still being reliable and providing flexibility for the management of the network," added Sewlall. Following a tender process, Ruckus distribution partner Westcon and integration partner Infosystems, headed by Souryanand Narroo, was appointed to design, install, and manage the project.
Notably, the expectation from the customer regarding the new setup of the wireless infrastructure at the campus was very high. "It was very challenging for us to position Ruckus on this project since they did not have any past experience with the brand," said Narroo.
The campus compared the performance of the proposed Ruckus access point (AP) with a competitor product to determine which was best suited for their requirements. They also requested an RF plan to ensure better coverage across the campus before making a final decision. Following this, 68 Ruckus APs - R310 and R610 - were deployed to cover four floors, 62 locations including the classrooms and lecture theatres, auditorium, canteen, library and staff rooms providing capacity for up to 900 concurrent users, managed by the Ruckus Virtual SmartZone.
"Busy indoor locations such as classrooms and learning campuses can be the most challenging Wi-Fi environments. Dozens of users share the same crowded RF spectra, all expecting fast, reliable connectivity. This solution delivered the right combination of performance, affordability and ease of management needed for the learning environment of today," said Riaan Graham, sales director for Ruckus Networks, sub-Saharan Africa.
Impressive progress has been achieved in the education system in Mauritius in terms of compulsory primary education, free secondary education and more tertiary institutions providing quality education. In fact, with a new ICT Strategy for Mauritius's Education Sector, it is clear that access and digital technologies are becoming critical to not only making education more accessible, but also providing better services and enhancing the learning experience and teaching processes.
"We are now in an era where most of the education-related materials for tertiary education are online. Classrooms have become more collaborative and technology and access is playing a critical role here where reliable connectivity is no longer a 'nice-to-have', but a strategic component. We have experienced significantly improved Wi-Fi performance and user satisfaction since the successful implementation of the Wi-Fi network with steady connectivity, even during peak time periods. In fact, sometimes I even forget we have a wireless system as everything works and I get no complaints. It was difficult to explain why we did not opt to go for a traditional big brand – but I think everyone now sees we definitely made the right choice. I do not think I would have been more satisfied with another brand," concludes Surendra.
Further reading:
Does your control room add value?
May 2019, Fidelity Security Group, G4S South Africa, Progroup , Editor's Choice, CCTV, Surveillance & Remote Monitoring, Integrated Solutions, IT infrastructure, Commercial (Industry)
Whether on- or offsite, control rooms are a critical aspect of security today and care must be taken in the design and rollout of these nerve centres.
Read more...
---
Face to face with Suprema FaceLite
May 2019, Suprema , Editor's Choice, Access Control & Identity Management, News, Products
Suprema has announced the launch of FaceLite, the new generation compact face recognition terminal designed for enterprise access control as well as time and attendance applications.
Read more...
---
Moisture detection and the dangers of digital disruption
May 2019 , Fire & Safety, Products
When it comes to protecting businesses against disruption, water damage poses a significant threat, especially in the modern age where electrical systems are ingrained in almost every aspect of daily life.
Read more...
---
Effective intruder detection: more important than ever
May 2019, Powell Tronics , Perimeter Security, Alarms & Intruder Detection, Products
While intruder detection systems abound, not all solutions are created equal. Ensuring that their intruder detection system is with them for the long haul is something that all end-users desire.
Read more...
---
Intelligent ceiling detector
May 2019, Regal Distributors SA , Perimeter Security, Alarms & Intruder Detection, Products, Agriculture (Industry)
The RISCO Industrial LuNAR Grade 3 is an intelligent ceiling detector with bidirectional remote control, a mounting height of up to 8,6 m and a coverage area of up to 18 m in diameter.
Read more...
---
Outdoor detector with low false alarm rate
May 2019, Regal Distributors SA , Perimeter Security, Alarms & Intruder Detection, Products
The RISCO wired Beyond detector is the company's next generation in outdoor detection, featuring an updated, sleek design.
Read more...
---
Huawei's Platform + Ecosystem strategy for 2019
May 2019, Huawei Technologies South Africa , News, Integrated Solutions, IT infrastructure, Conferences & Events
The annual Huawei Eco Connect event took place at the Sandton Convention Centre in Johannesburg and saw more than a 1000 attendees and housed exhibition stands from an array of partners.
Read more...
---
KCB Bank Tanzania
May 2019 , CCTV, Surveillance & Remote Monitoring, Products
Uniview delivered a cost-effective and intelligent solution to help KCB Bank to upgrade its CCTV system.
Read more...
---
New Flex Gen2 IR PTZ range
May 2019, Elvey Security Technologies , CCTV, Surveillance & Remote Monitoring, Products
The Illustra Flex Gen2 family of infrared (IR) PTZ cameras is equipped with powerful zoom and control in even the most challenging lighting conditions.
Read more...
---
Illustra Flex IR PTZ
May 2019, Johnson Controls , CCTV, Surveillance & Remote Monitoring, Products
Two new 2-megapixel Illustra Flex IR PTZs from Tyco are packed with functionality which enables them to collectively provide an affordable solution for virtually any video surveillance application.
Read more...
---