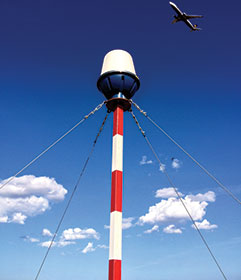 AdvanceGuard radar technology
February 2019, Products, CCTV, Surveillance & Remote Monitoring
AdvanceGuard high-definition radar technology's sensors have a fast update rate and can complete a full 360° scan several times a second. During each scan, up to 200 objects per sensor are accurately positioned and displayed for the operator. The tracking algorithms follow the movement of each object to provide speed and direction information.
The combination of high-definition radar sensors and advanced real-time statistical processing gives AdvanceGuard the ability to more accurately detect, track and identify objects with fewer false alarms than traditional low-frequency radars. Known as Accutrack technology, it allows a user to simply click on a target to obtain precise coordinates, size, direction of travel and track history. This information is continually recorded to AdvanceGuard's database to allow historical analysis or evidence to be produced.
AdvanceGuard's distributed architecture allows multiple radar sensors to be placed anywhere and linked together to form one complete system, for extensive coverage. Installation is not reliant on existing infrastructure as AdvanceGuard can use wireless communication and renewable energy, such as solar panels, to run the low power sensors.
For more information contact Future Digital Communications, +27 10 110 1005, rod@future-digital.co.za, www.future-digital.co.za