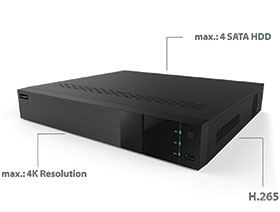 TeleEye launches new AHD DVR
February 2019, CCTV, Surveillance & Remote Monitoring, Products
TeleEye has introduced the Analogue HD DVR, the JN6916 to its latest analogue product line. Although the JN6916 is compatible with 4K, it is very low latency. When users monitor their sites through the JN6916, they can get the information and the pictures in real time (the gap of the latency is much lower than IP-based surveillance systems).
The new series also includes H.265 video compression technology. As a result, up to 50% in bandwidth is saved for longer recordings compared to standard H.264. The JN6916 is able to include up to four SATA hard drives storing up to 8 TB per drive.