Integrating perimeter protection
February 2019, Products, CCTV, Surveillance & Remote Monitoring
Dahua Technology has launched three new AI XVR products – the DH-XVR8208A-4K-I, DH-XVR8216A-4KL-I, and XVR8816S-4KL-I. Offering perimeter protection, face recognition and metadata search technology, they are applicable to numerous industries ranging from retail to banking and real estate.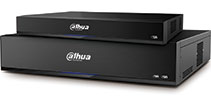 Dahua AI XVRs aim to create more value for users. With 8/16-channel perimeter protection, the XVR intelligently avoids false alarms for less important objects such as falling leaves and rain, and sends alarms only when identifying humans or vehicles, therefore hostile intrusion can be contained, potential losses can be reduced, and manpower can be saved.
Metadata search
Using the 4-channel metadata search functions, the new XVR ­products are smart-search enabled, capable of automatically extracting face feature attributes, including gender, age, glasses, masks, beard, facial expressions, and target object modelling. Furthermore, the new products offer enhanced process efficiency as well as reduced time and labour costs with the integration of a multicore CPU.
Expanding the HDCVI family
Using Dahua's patented HDCVI technology, these new AI XVR products offer long distance transmission, seamless upgrading, and IoT into analogue monitoring – all while maintaining 4K resolution over coax. Dahua has already launched several series of cameras, recorders, and network video servers.
Integrating intelligent perimeter protection, advanced face recognition, metadata search and HDCVI technology, Dahua Technology's AI XVRs are designed to bolster video security to offer a safe, efficient, and intelligent environment.
For more information, contact Dahua Technology South Africa, +27 72 628 6810, sales.za@dahuatech.com, www.dahuasecurity.com