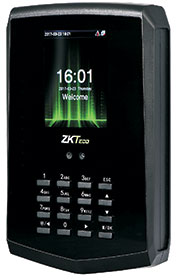 Facial biometrics
February 2019, Products, Access Control & Identity Management
The KF460 is a terminal for the management of employee attendance and basic access control functions. The user verification function is performed using facial recognition or ID cards, with the one-to-many verification process taking less than one second to complete on a database of up to 800 faces.
The intuitive user interface is displayed on a 2.8-inch TFT screen and multiple communication options provide customers with a user-friendly, easy to use and feature rich product. Standard features include: 800 faces (1:N), 1000 cards, 100 000 transactions, bell-schedule, self-service query, automatic status switching, T9 input, photo ID, 12 V output, camera and multi-verification.