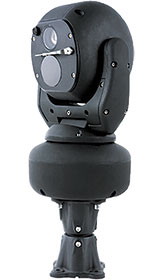 Rugged thermal PTZ
February 2019, CCTV, Surveillance & Remote Monitoring
Silent Sentinel's Oculus Ti RC3 is a vandal-resistant, high-speed continuous rotation PTZ dual-head thermal camera. The camera offers thermal detection of intruders at long range, day or night, in any weather, with simultaneous optical video output for video verification. As a thermal/optical unit it can also be used to provide temperature indication of fire or thermographic applications. The camera is capable of detecting a vehicle from up to 5.5 km away.
Oculus Ti is fully rated to IP67 with IP68 option, ready to handle the harshest of environments with proven un-cooled 320x240 (DA) or high resolution 640x480 (DB), 17 m VOx thermal imaging technologies. The glass can be kept clean and clear at all times with the use of the integrated compact silicone wiper blade, with an optional washing system.
The yoke can also be offset to eliminate potential blind spots. The unit has a full 360° continuous rotation with a rotation speed of 180° per second. The tilt rotation limit is +90° to -30° upright and when inverted this is +30° to -90°.
For more information contact Future Digital Communications, +27 10 110 1005, rod@future-digital.co.za, www.future-digital.co.za