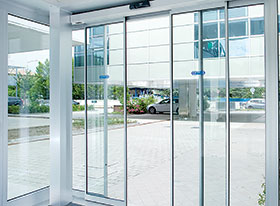 Centurion opens doors
February 2019, Access Control & Identity Management, Products
Centurion Systems has added a range of door automation solutions to its product stable. Blending aesthetics, whisper-quiet operation and innovative technology, Centurion automatic doors deliver futuristic functionality.
Not only do these premium operators offer an elegant and wholly unobtrusive automation solution for both swing and sliding doors, and they are practically indefatigable thanks to the use of quality electrical and mechanical components, with certain models rated for up to 2 million maintenance-free cycles.
Available models
A1400: The first automated system for sliding doors designed to meet the needs of the market as well as protect the environment. Thanks to the system's energy saving technology, it identifies the direction of transit and optimises opening/closing times to avoid unnecessary air dispersion, even in the event of sideways transit.
A1000: This compact model for sliding doors can be adapted to suit virtually any type of architectural environment, and boasts an intelligent microprocessor that controls door movement in real-time.
A950N: With its integral spring system, the A950N opens and closes doors elegantly and silently.
For more information contact Centurion Systems, +27 11 699 2400, charl.mijnhardt@centurionsystems.co.za, www.centsys.co.za