printer friendly version
Explosive-detecting dogs at Securex
February 2019
News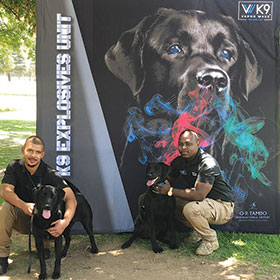 Vapor Wake K9 SA will be showcasing the Vapor Wake method of training working dogs in the detection of explosives and other illicit substances – the first organisation outside the US to offer this advanced type of canine technology – as the official sponsor of the Vapor Wake K9 SA demo area at the upcoming Securex South Africa 2019 expo.
Securex takes place from 14 to 16 May this year at Gallagher Convention Centre in Midrand, Johannesburg.
Robbie Roberts, operational director of Vapor Wake K9 SA, explains that the Vapor Wake approach is unlike any other canine training available locally. "Traditionally, explosive-detection dogs (EDDs) are trained to view static objects or people. With Vapor Wake trained K9s, the major difference is that they are able to detect body-worn explosives on a moving target. This effectively allows them to accurately screen hundreds of people passing through a high-flow entry point – such as in an airport or a stadium – in a way that is non-intrusive."
Patented by Auburn University in Alabama (US) as the only patented technology to detect body-worn explosives in transit, Vapor Wake is the product of many years of research, breeding and testing at the university's Canine Performance Sciences (CPS) programme, the largest K9 detection research programme in the United States.
According to the VWK9 K9 Training Academy, one of the fastest growing canine companies in the industry today and partner of Auburn University's Auburn's CPS programme, "scent particles are carried behind a person in a 'thermal plume' produced by the body's natural heat. A person's natural thermal plume goes upwards when they are standing still, but as soon as they begin moving, the thermal plume extends behind them, much like the wake behind a boat in the water (thus the name, 'Vapor Wake').
"Vapor Wake K9 Detection Teams will work through a crowd by sampling the cross-section of people moving within. As soon as a Vapor Wake dog detects an explosive odour, it will follow the source: a person, a bag left behind, something carried inside and then hidden – a Vapor Wake dog will always follow the threat to its source."
The Vapor Wake K9 SA mobile explosive detection team works locally with the likes of the Airports Company South Africa (ACSA), in order to provide these specialised K9 security capabilities in areas such as airport terminals and stadiums. In addition, the company provides canine screening of cargo. Cargo Screening K9 Alliance K9s are tested every 12 months in South Africa by Tim Baird (assessor) and Ashley Beard (trainer) from Vapor Wake America.
"Vapor Wake K9 SA will use Securex this year as a platform to communicate our status as the only local company on the African continent, and indeed outside the US, to provide this type of service," says Roberts. "Our offering shows that Africa is at the forefront of this type of security technology advancement, and we want to show the market exactly what we can do."
Other highlights of Securex 2019 will include a Cybersecurity Pavilion, sponsored by 4Sight Holdings, the Cyberlab seminar theatre, more than 190 security-focused exhibitors showcasing a full range of security-related products and services, as well as a security-focused free-to-attend seminar theatre with more than 20 highly relevant sessions.
For more information on the expo, please contact Specialised Exhibitions Montgomery on +27 11 835 1565.
Credit(s)
Further reading:
TAPA: The role of an effective treasury function in business risk management
June 2019, Technews Publishing , News
Neil Le Roux, the Founder of Diligent Advisors will speak at the TAPA SA (Transported Asset Protection Association) annual conference on 26 July 2019.
Read more...
---
From the editor's desk: Of sore feet and new websites
June 2019, Technews Publishing , News
I hope everyone has recovered from the hustle and bustle of Securex. This year was once again an exhausting event and now we're left with following up. For Hi-Tech Security Solutions it was a good show ...
Read more...
---
Does green cost more?
June 2019 , News, Commercial (Industry)
GBCA, ASAQS and UP launch the 2019 edition of Green Building in South Africa: Guide to Costs & Trends.
Read more...
---
Partnership to reduce farm violence and agricultural crime
June 2019, Fidelity ADT Security , News, Security Services & Risk Management, Agriculture (Industry)
Agri SA has partnered with Fidelity ADT, a subsidiary of the Fidelity Services Group, to offer a range of services and products to its members and the rural community.
Read more...
---
Centurion announces new board of directors
June 2019, Centurion Systems , News, Access Control & Identity Management
After more than 30 years at the helm of access automation manufacturer, Centurion, co-founder Pat Dickens stepped down as the company's MD at the end of March, with current sales and marketing director Richard Rohman being named as his successor.
Read more...
---
Kaspersky Lab to open office in Kigali, Rwanda
June 2019, Kaspersky Lab , News, Cyber Security
Kaspersky Lab has announced plans to open a new office in Kigali, Rwanda, to support the rapid growth of its business in East Africa.
Read more...
---
Fully automated cash logistics
June 2019 , News, Security Services & Risk Management
Cash management company, Izicash, announced its adoption of Transtrack, a software solution, supported by a South African company, AllCash, which streamlines the cash logistics process.
Read more...
---
Throwing the book at qualification fraud
June 2019, LexisNexis , News, Security Services & Risk Management
Until now, qualification fraud has not been punishable by law. However, this is set to change with the introduction of the National Qualifications Amendment Bill.
Read more...
---
TAPA 2019 conference to be held in July
June 2019, TAPA (Transported Asset Protection Association) , News
The South African branch of TAPA (Transported Asset Protection Association) will be holding its annual conference at Emperor's Palace, Gauteng on 26 July 2019. The theme of this year's event is 'A Layered ...
Read more...
---
Siemens relaunches fire safety division in SA
June 2019 , News
Siemens Building Technologies has relaunched the company's Fire Protection Systems Portfolio Segment in South Africa, distributing its products nationwide through OTN Systems South Africa.
Read more...
---