printer friendly version
News in brief: A round-up of some of the news happenings of the past month.
February 2019
News
Delta introduces new portable beam barricade
Delta Scientific has announced its new DSC1500 portable beam barricade that sets up quickly and temporarily to block vehicles. The new portable barricade secures locations during short-term events and anywhere a beam barricade is needed for interim security. With a clear opening of 4.8 m, the DSC1500 is M30 certified, able to stop a 15 000 pound (66.7 kN) vehicle going 48 km/h.
The DSC1500 tows into position to control vehicle access within ten minutes. No excavation or sub-surface preparation is required. Once positioned, the mobile barricades unpack themselves using manual hydraulics to raise and lower the barriers off their wheels. A self-deploying trailer with integrated lifting device facilitates rapid installation. The process is simply reversed when the event is over or the time comes to deploy the beam barrier at another location.
For more information, contact Delta Scientific, greg@deltascientific.com
Qognify completes acquisition of OnSSI
Qognify has completed the acquisition of the IP video management software (VMS) company On-Net Surveillance Systems (OnSSI), including the pioneer of IP video technology – SeeTec GmbH. Backed by the global investment firm Battery Ventures, Qognify announced the agreement on December 22, 2018 and the deal closed on December 28, 2018.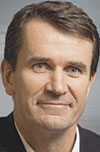 Steve Shine
With Qognify, OnSSI and SeeTec operating under one umbrella, the company is one of the largest VMS, Video Analytics, PSIM and Critical Incident Management companies in the world, serving mid-market and enterprise organisations. Steve Shine, CEO and President of Qognify states: "Following the swift closing of the deal, we look forward to focusing on 2019, supporting all Qognify, OnSSI and SeeTec partners and customers, whilst substantially expanding our geographic reach and market penetration."
Qognify's VisionHub, NiceVision, FAST and Situator solutions are trusted by financial services companies, mass-transit infrastructure, large international airports and seaports, as well as smart and safe city projects around the world. The OnSSI Ocularis and Cayuga VMS solutions are deployed across education, gaming, government, healthcare, logistics, manufacturing, retail, public safety, transportation and utilities organisations, in more than 100 countries.
Milestone Systems releases new device pack
Milestone Systems has released Device Pack 10.1a for partners and customers using Milestone XProtect video solutions. The latest Device Pack offers new firmware support for partners Axis, FLIR Systems, Hanwha Techwin, Honeywell and MOBOTIX.
New features include support for SRTP (Secure Real-time Transport Protocol), a feature that ensures that camera video streams are received via secure end-to-end encrypted transportation method only by authorised clients, for an increased number of Axis devices. Also, Device Pack 10.1a carries implemented support for 'Driver Command with Response' on all Axis drivers, as well as bug-fixing for connecting through HTTPS and appropriate handling of the speaker device of M1065-LW.
Device Pack 10.1a has implemented support for thermal events for MOBOTIX M16 Series and new driver support for SonyGenX, including bug-fixing for failure on Edge retrieval for SNC-VB630 and Multicast Settings issues for Sony G7.
The new Device Pack offers support for the ONVIF specification 18.06. This includes a number of major enhancements and minor clarifications for better interoperability among ONVIF conformant clients and devices.
For more information contact Milestone Systems, +27 82 377 0415, arms@milestonesys.com, www.milestonesys.com
Hikvision joins FIRST
Hikvision announced that its Hikvision Security Response Centre (HSRC) is now a member of the Forum of Incident Response and Security Teams (FIRST, www.first.org), a global leader in incident response.
FIRST is an international confederation of trusted computer incident response teams who cooperatively handle computer security incidents and promote incident prevention programs. Full membership in FIRST will augment Hikvision's ongoing efforts to enhance its incident response and communicate best practice, and enable HSRC to collaborate with more than 400 FIRST member teams from 90 countries. FIRST members include companies such as CISCO, Intel, IBM and Microsoft.
In October HSRC participated in the FIRST Regional Symposium Asia-Pacific in Shanghai. Wan Li, head of HSRC, shared a case study on IoT Botnet in Post-Mirai Age and called for collaborative actions of equipment manufacturers, security communities, regulators and other stakeholders to address the new challenges.
Hikvision products meet industry leading standards for safety and security that include ISO 270001, ISO 9001:2008, CMMI Level 5, and AICPA SOC. Additionally, Hikvision encryption module of IPCs and NVRs has been granted certification for Federal Information Processing Standard (FIPS) 140-2, a US government standard established by the National Institute of Standards and Technology (NIST).
For more information contact Janis Roux, Hikvision South Africa, +27 10 035 1172, support.africa@hikvision.com, www.hikvision.com
Suprema partner awards
Suprema recently hosted its 9th Suprema Global Partner Program (SGPP) conference at Alpensia Convention Centre, Pyeongchang, South Korea. Over 100 executive-level participants from 45 countries attended the conference including Suprema's key regional distributors, system integrators and strategic partners. This year's programme covered exclusive showcases of upcoming technologies, pre-launching prototypes, technology roadmap and best practice presentations from partnering companies.
At the Partner of the Year Awards, AAM Systems from Russia was named '2018 Best Partner of the Year' for its excellence in delivering major customer wins and new product sales. Suprema also recognised the achievements of its key channel partners for their growth, co-marketing, strategic focus and project wins. Specifically, neaMetrics from South Africa won the Best Marketing award for 2019.
For more information contact Suprema, +27 11 784 3952, enquiry@suprema.co.za, www.suprema.co.za
Further reading:
TAPA: The role of an effective treasury function in business risk management
June 2019, Technews Publishing , News
Neil Le Roux, the Founder of Diligent Advisors will speak at the TAPA SA (Transported Asset Protection Association) annual conference on 26 July 2019.
Read more...
---
From the editor's desk: Of sore feet and new websites
June 2019, Technews Publishing , News
I hope everyone has recovered from the hustle and bustle of Securex. This year was once again an exhausting event and now we're left with following up. For Hi-Tech Security Solutions it was a good show ...
Read more...
---
Does green cost more?
June 2019 , News, Commercial (Industry)
GBCA, ASAQS and UP launch the 2019 edition of Green Building in South Africa: Guide to Costs & Trends.
Read more...
---
Partnership to reduce farm violence and agricultural crime
June 2019, Fidelity ADT Security , News, Security Services & Risk Management, Agriculture (Industry)
Agri SA has partnered with Fidelity ADT, a subsidiary of the Fidelity Services Group, to offer a range of services and products to its members and the rural community.
Read more...
---
Centurion announces new board of directors
June 2019, Centurion Systems , News, Access Control & Identity Management
After more than 30 years at the helm of access automation manufacturer, Centurion, co-founder Pat Dickens stepped down as the company's MD at the end of March, with current sales and marketing director Richard Rohman being named as his successor.
Read more...
---
Kaspersky Lab to open office in Kigali, Rwanda
June 2019, Kaspersky Lab , News, Cyber Security
Kaspersky Lab has announced plans to open a new office in Kigali, Rwanda, to support the rapid growth of its business in East Africa.
Read more...
---
Fully automated cash logistics
June 2019 , News, Security Services & Risk Management
Cash management company, Izicash, announced its adoption of Transtrack, a software solution, supported by a South African company, AllCash, which streamlines the cash logistics process.
Read more...
---
Throwing the book at qualification fraud
June 2019, LexisNexis , News, Security Services & Risk Management
Until now, qualification fraud has not been punishable by law. However, this is set to change with the introduction of the National Qualifications Amendment Bill.
Read more...
---
TAPA 2019 conference to be held in July
June 2019, TAPA (Transported Asset Protection Association) , News
The South African branch of TAPA (Transported Asset Protection Association) will be holding its annual conference at Emperor's Palace, Gauteng on 26 July 2019. The theme of this year's event is 'A Layered ...
Read more...
---
Siemens relaunches fire safety division in SA
June 2019 , News
Siemens Building Technologies has relaunched the company's Fire Protection Systems Portfolio Segment in South Africa, distributing its products nationwide through OTN Systems South Africa.
Read more...
---