printer friendly version
Integrated security at new JD premises
August 2013 Integrated Solutions, CCTV, Surveillance & Remote Monitoring, Access Control & Identity Management, Perimeter Security, Alarms & Intruder Detection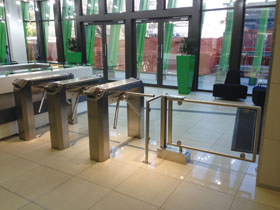 Jasco Security has recently completed the installation and implementation of an integrated video surveillance and security solution for JD Consumer Finance, a division of the JD Group, as part of the construction of its new premises in Randburg, Johannesburg. The project began in December 2012 and installation was completed in time for the company to move in on schedule on 1 May 2013.
JD Consumer Finance is one of a group of more than 70 companies operating in South and southern Africa across mass consumer finance, furniture, household appliance, consumer electronic goods, home entertainment, office automation and building supplies, and motor vehicles, vehicle servicing and parts. JD Consumer Finance currently partners with 12 retail brands, comprising a footprint of 1143 retail stores and 84 motor dealerships in its regions of operation. The new office block, necessary for its growing operations, consists of three basement levels and four floors of offices, with access ramps to link the original offices to the new office block, creating one campus.
Given the nature of the operations conducted within the buildings, surveillance forms an integral part of an holistic security solution. Building contractors NMC Construction worked closely with Jasco Security to ensure that the security solution was tailored to deliver optimum functionality in line with the design and structure of the office block, as well as the flow of people through the buildings. The solution implemented by Jasco Security also integrates into fire systems and includes a public address system for use in the event of an emergency. A custom control room was also built, with all solutions integrating into this centralised hub. All solutions work together to provide JD Consumer Finance with an holistic view of security from the control room.
"Solutions implemented include an Impro access control and management platform, a Bosch Video Management System as well as Bosch IP cameras and a Bosch Public Address system. In addition we delivered a full control room and video wall system for security monitoring, as well as integration of all of these solutions along with fire and intrusion detection on the Impro platform. These solutions were chosen for their robust, high quality characteristics as well as their interoperability and ease of integration with third-party solutions," says Kobus le Roux, national sales & marketing executive at Jasco Security Solutions.
The Bosch Video Management System is an enterprise-grade IP video security system that provides seamless management of digital video, audio and data across an IP network. It is designed to work specifically with Bosch CCTV products as part of a total video security management system and allows for the integration of existing components and third-party systems. Bosch IP cameras produce sharp, detailed CCTV images, delivering the highest standards of performance and availability. The Impro platform brings all of these solutions together for optimal management and control of various security and surveillance solutions.
"Our new campus will house more than 1000 people and the safety and security of our staff is a top priority. Jasco's team was chosen because of their understanding of our specific requirements and knowledge of integrated solutions in a campus environment," says Corne Rawlins, the new campus's building manager.
As a green-field site, the JD Consumer Finance office block enabled Jasco Security to design a solution that precisely meets the needs of the customer, without the design and infrastructure of an existing building dictating the technology that needed to be used. The JD Consumer Finance Division can now benefit from the latest in security surveillance technology, with networks and cabling designed to deliver optimal functionality.
Adds Rawlins, "Our new systems allow us to have control over the security of the building and our people, not only can we proactively manage our staff but also create a safe environment for them to work in."
Implementing a security solution from the ground up in a new building has many advantages, including the ability to ensure that all solutions have adequate conduits and cabling, that there is sufficient access to power outlets for all systems, and that all peripherals can be planned from the outset. This also enables the aesthetics of the solution to be integrated with the design of the building, and to this end Jasco Security commissioned custom manufactured brushed stainless steel access control systems to complement the modern interior of the building.
"While there are many benefits to green-field sites, they also present challenges, including ensuring that all relevant parties are involved in the planning process. The enrolment of employees onto the system is also critical, as all staff needed to be given the correct levels of access before they moved into the building. We supplied trained personnel to assist with this process, as it needs to be planned carefully, and ensured that the entire commissioning process ran smoothly and worked correctly from the start," Le Roux adds.
Following the success of this implementation, Jasco Security has also been appointed to deliver a turnkey security solution for the original JD Consumer Finance office building, as part of a project to revamp the facility. This solution will be a replica of the system implemented at their new premises, and will link up to the state of the art control room, creating a campus environment for JD Consumer Finance's two office blocks.
"The Jasco Group has an existing relationship with the JD Group, having worked together for many years with the implementation and ongoing management and maintenance of the Group's contact centre and telephony solutions through Jasco Enterprise. The Jasco Security implementation is a natural progression of this longstanding relationship, and is fully in line with the Jasco Group's strategy of leveraging synergies within its ICT, industry and energy vertical and cross selling solutions to our existing customers and partners. We look forward to embarking on the next stage of this journey with them, to deliver complete security across all of their buildings," Le Roux concludes.
For more information contact Jasco Security Solutions, +27 (0)11 894 7127, kleroux@multivid.co.za, www.jasco.co.za
Credit(s)
Further reading:
Building a nervous system for smart cities
Issue 1 2020, Pinnacle Instruments SA , Integrated Solutions
Build a central nervous system for smart cities, by employing real-time situation reporting and analysis that unites the powers of cloud computing, AI, IoT and big data.
Read more...
---
The secret to 5G security? Turn the network into a sensor
Issue 1 2020 , Integrated Solutions
We are about to make the leap from being a civilisation that uses networks to one that runs on them in a fundamental and inextricable way.
Read more...
---
The move to services and RMR
Issue 1 2020, Merchant West, G4S South Africa, Technews Publishing , Integrated Solutions
Project work used to be the staple diet for system integrators, but that was before the services model changed the way businesses buy and use their security systems.
Read more...
---
Global security industry adopts servistisation models
Issue 1 2020 , Integrated Solutions
New as-a-service business models are gaining traction because they reduce capital expenditure and cost of ownership, finds Frost & Sullivan.
Read more...
---
Looking ahead with mobile access technologies
Access & Identity Management Handbook 2020, Technews Publishing, HID Global, dormakaba South Africa, Salto Systems Africa, Suprema, Gallagher , Access Control & Identity Management, Integrated Solutions
Given the broad use of smartphones around the world and the numerous technologies packed into these devices, it was only a matter of time before the access control industry developed technology that would ...
Read more...
---
Scalable access solution
Access & Identity Management Handbook 2020 , Access Control & Identity Management, Integrated Solutions
Bosch Building Technologies makes access management simple, scalable and always available with Access Management System 2.0.
Read more...
---
Visitor management for estates
Access & Identity Management Handbook 2020, Powell Tronics , Residential Estate (Industry), Access Control & Identity Management
Residential estates and business parks around South Africa have installed access control systems that aim to streamline access for both pedestrians and vehicular traffic.
Read more...
---
Securing perimeters of secure locations
November 2019, Axis Communications SA, Modular Communications, Hikvision South Africa, Nemtek Electric Fencing Products, Technews Publishing, Stafix , Government and Parastatal (Industry), Perimeter Security, Alarms & Intruder Detection, Integrated Solutions
Hi-Tech Security Solutions asked a number of companies offering perimeter security solutions for their insights into protecting the boundaries of national key points.
Read more...
---
What are the cybersecurity issues in video surveillance?
November 2019, Axis Communications SA , Editor's Choice, CCTV, Surveillance & Remote Monitoring, Cyber Security
he importance of the data captured by surveillance cameras – and what can be done with it – has led to a new breed of cybercriminals, looking for insights to steal and sell.
Read more...
---
The safe city and its need for interoperability
November 2019 , Integrated Solutions, CCTV, Surveillance & Remote Monitoring
Interoperability continues to present one of the greatest challenges, particularly with video management systems, video recording devices and cameras.
Read more...
---