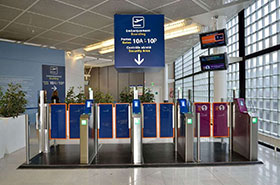 Accessing the air
November 2018, Access Control & Identity Management, Products
Security and access control technology provider dormakaba has made its Self Boarding Gates (SBG) and Boarding Pass Control (BPC) solutions available in Ghana, Kenya and South Africa.
Airport/aviation travel is dormakaba's most active vertical says Hannes Nortje, EAC and project manager at dormakaba.
"dormakaba has installed more than 2000 SBGs and over 100 BPC gates globally, backed by service through 16 000 employees and numerous cooperation partners in over 130 countries ready to assist. Turnstiles and barrier systems are a high growth market on the continent," says Nortje.
dormakaba's SBG system consists of a sensor barrier with automatic swing panels. The unit features an integrated boarding pass reader, an LCD display for passenger instruction and a device for printing seat assignment changes. Industry standard barcodes can be scanned from boarding passes printed by airlines or self-service kiosks, personal printers and smartphones.
The company's Automated Boarding Pass Control system provides single-file access for passengers with space allowance for carry-on luggage.
Nortje says the systems offer several benefits including speeding up the boarding process, supports gate agents, informs the passenger of last minute seating changes with a printed acknowledgment, prevents misuse of boarding passes, provides passengers with updated messages, improves passenger flow and provides operators with detailed reporting on passage, tailgating or attempt of passage in the wrong direction.
He adds that frequency and security are the most important factors to keep in mind before procuring these systems. "The lower the frequency, the higher the level of security on product," Nortje continues.
The need for security, for the protection of assets and need to optimise operations within customer-facing, high volume environments like airports, is driving the rate of adoption of this technology.
"We also have one of the best reporting systems in the world," Nortje adds. "All units can be combined with the time recording systems and ID readers, including contactless and biometric systems. This results in reliable access without the need for monitoring by personnel. All turnstiles can be customised with a wide range of materials, housings and finishes."