printer friendly version
Wireless student access
1 November 2018 Access Control & Identity Management, Education (Industry), Products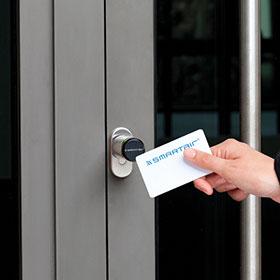 Protecting thousands of students, with irregular hours, and multiple block and campus access needs isn't easy. Student accommodation blocks are usually large, with high traffic moving from bedrooms to common areas, canteens and libraries.
A single student moving between her room, a study area, the fitness centre and a couple of trips off-site could use secure doors easily 15 times a day. And student turnover puts a further admin burden on security managers. Hundreds of students leave and start in any given semester.
Physical keys and mechanical locks lack flexibility and don't offer the control that managers need. It can also become expensive with the continuous loss of keys and replacement of cylinders. And how can you know if one has been copied?
Much of our student accommodation is also housed in older buildings, meaning a full retrofit which can be tougher than working from scratch on a greenfields site.
Mechanical security is not the answer. Mechanical locks don't provide a security manager the information on who accesses which areas, and it's tough to control who has keys. There's no real-time monitoring and you can't generate detailed audit trails for locks or users, meaning there's no easy way to track unauthorised access in cases of a theft, for example.
Students thrive in a more open and easy access environment, so security managers need to combine convenience with the security they need to keep the students safe. The SMARTair wireless access system is built to meet the challenges of securing a student residence:
• A system needs the product and software robustness to handle high traffic, many users, and fast student turnover.
• A system should make student life easier with cards or a PIN code system, rather than keys.
• A system should secure more than just doors, and include cabinet and cupboard locks, or student lockers.
• A system must be easy to upgrade as buildings are upgraded, adding new doors and upgrading the functionality of the devices already installed. SMARTair is battery operated and wireless, meaning incredibly easy installation on each door.
• A system should be able to handle additional student services like the vending machines or canteen on the same access card as the room door lock.
SMARTair, from ASSA ABLOY, provides a flexible, easy to upgrade, scalable system which is easy to install on older buildings where cabling a full access control system can be tough. Improve access control, and keep students safe with SMARTair.
For more information, contact ASSA ABLOY, Hayley Elwen, +27 11 761 5000, [email protected], www.assaabloy.co.za
Credit(s)
Further reading:
Enabling safety in communities
Security Services & Risk Management Products
Many Hytera devices are equipped with personal safety features, including emergency calling, Man Down and Lone Worker alerts, and GPS to enable users to be monitored and tracked.
Read more...
---
Is the smoke beginning to clear for password security?
Access Control & Identity Management Security Services & Risk Management
The password problem is the result of bad habits, and they can be hard to break. But ask anyone that has done it and they will not tire of telling you the benefits.
Read more...
---
Solving coworking front-desk drama
Access Control & Identity Management Products
Flexible, shared and coworking offices have taken off with great success, but because occupational churn is high, the front-desk can be a difficult place to manage.
Read more...
---
Video technology can improve crowd management
CCTV, Surveillance & Remote Monitoring Entertainment and Hospitality (Industry) Products
Stadium operators can use video technology to implement effective crowd management in different areas, avoiding fines, reputational damage and injury or loss of life.
Read more...
---
Powder coating provides durable finish
Turnstar Systems Access Control & Identity Management Industrial (Industry)
Turnstar's powder coating line provides corrosion resistance, high-quality surface finishing and a long-term environment-friendly impact for all access control components the company manufactures.
Read more...
---
Securing business information more important than ever
Cyber Security Products
SMBs need to operate safely within the physical and virtual boundaries created by work-from-home business practices, as well as in-office operations.
Read more...
---
Turnkey data loss prevention solution
IT infrastructure Cyber Security Products
Acronis's expertise in data protection and the managed service provider market yields an innovative, fast-track approach for the prevention of catastrophic data leaks.
Read more...
---
Brewing a surveillance solution
CCTV, Surveillance & Remote Monitoring Integrated Solutions Products
VIVOTEK architects a surveillance enhancement solution for a century-old Japanese brewery comprising 260 devices, including 10 PoE network devices managed using the VAST 2 video management system.
Read more...
---
Axis to create explosion-protected cameras
Axis Communications SA CCTV, Surveillance & Remote Monitoring News Products
Axis Communications has announced its plans to develop its own explosion-protected surveillance cameras and devices across the Axis product portfolio through a new subsidiary, Axis Ex AB.
Read more...
---
Salient Systems manages campus security
Education (Industry) CCTV, Surveillance & Remote Monitoring Access Control & Identity Management
The University of Massachusetts Amherst relies on Salient Systems for video, access control operations for flagship campus as it standardises on IP surveillance.
Read more...
---