printer friendly version
Full of stuff you need to know
August 2013
News
If you're feeling weighed down, it's because we have a huge issue this month. We have 120 pages of all the stuff you need to know about security, including a few interesting case studies (and one about the software that manages 175 000 cameras. Wouldn't it be nice to have clinched that contract?
We also have an article with a quick review of IFSEC SA 2013, we can't do a show of that size much justice in three pages, but we gave it a shot. It's always interesting to talk to people about a show the size and expense of IFSEC. There are those who say it's too expensive and think they can get better traction by hosting smaller, more personal and focused events themselves.
Then there are those who don't want to be there, but say they can't afford not to be seen on the floor. Many of us remember when Norbain mysteriously vanished from IFSEC UK, which gave rise to all the speculation about how the company was finished, only to have it return in size and style for a couple of years before it really did go under.
And then there are those who, despite the cost, come away from every show with positive reviews about the people they met, the leads they got and the positive branding they managed to do. It's difficult to tell from the outside which of these is more accurate. Perhaps it depends on the company and how it approaches the show.
What are your opinions on IFSEC and similar security shows? Worth it or not? Let me know on andrew@technews.co.za, or write a comment on the Hi-Tech Security Solutions LinkedIn group at securitysa.com/*LinkedIn.
I think smaller companies feel the financial bite of IFSEC and often end up thinking they have been relegated to the sidelines because they don't have a big budget to spend on significant floor space and funky looking stands. Perhaps the organisers can take a more SMB-friendly approach to their smaller customers and try to promote them more? Although I'm sure it is impossible to run a show like this and end up pleasing everyone.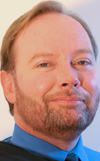 Correction
It seems it's also impossible to run a magazine without some stupid mistake slipping through. In our July issue we ran a case study about a residential estate named Lord's View occupying an area of "two million square kilometres". In hindsight, that's a tad large for an estate – it would have to be about 1400 km long and 1400 km wide. It should have been metres not kilometres. Our apologies for the error and thanks to the reader who pointed it out – that's the last time we use the company that runs the Zimbabwe elections to do our measurements.
If you find any errors in this issue, we're blaming the printers.
Enjoy the magazine
Andrew
Credit(s)
Further reading:
Vodacom IoT Solutions get people back to business safely
Issue 4 2020 , News
Vodacom has created specific digital solutions to support businesses as they navigate their return to work post-lockdown.
Read more...
---
Post-lockdown employee management
Issue 4 2020 , News
Kenai has adapted its visitor management solution to cater to the COVID-19 regulations governing employees going back to work.
Read more...
---
Global Comms donates R1,6 million of technology
Issue 4 2020, Global Communications (Member of Hudaco Group) , News
SPARK Schools security enhanced with large surveillance technology donation from Global Communications.
Read more...
---
Cyber Security South Africa appoints Simon Perry as CTO
Issue 4 2020 , News
Cyber Security South Africa has appointed Simon Perry as its chief technical officer.
Read more...
---
Securex postponed to June 2021
Issue 3 2020 , News
Following COVID-19 developments, Specialised Exhibitions is postponing the Securex, A-OSH and FM expos to June 1 -3, 2021.
Read more...
---
XtraVision under new management and set for new horizons
Issue 4 2020, XtraVision, Technews Publishing , News
XtraVision, a distributor of electronic security and fire solutions in Africa and South America, has changed hands with founder Anthony Rosenbaum stepping down.
Read more...
---
Mustek expands product portfolio with Molex
Issue 4 2020, Mustek Security Technologies , News
Mustek has announced the expansion of its existing product portfolio with the introduction of the Molex structured cabling brand.
Read more...
---
Fraud detection via voice
Issue 4 2020 , News
SAFPS to collaborate with OneVault to improve fraud detection in call centres without frustrating customers.
Read more...
---
Lianne Mc Hendry joins Bosch
Issue 4 2020, Bosch Building Technologies , News
Bosch Security and Safety Systems appoints new business development manager responsible for the Eastern Cape, Western Cape and KwaZulu-Natal.
Read more...
---
In memoriam: Vivienne Caroline Dorrington
Issue 4 2020, Technews Publishing , Editor's Choice, News
19 June 1958 – 21 April 2020
Read more...
---