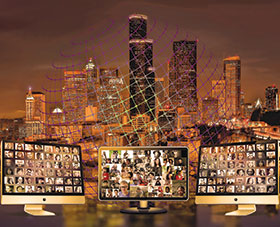 New Provision DVR/NVR OS
November 2018, CCTV, Surveillance & Remote Monitoring
Ossia is the latest operating system (OS) for Provision-ISR's DVR/NVR systems. Ossia is designed to provide unconditional security for homes, offices, banks, schools, supermarkets, petrol service stations, residential quarters, factories, etc. it can be accessed from local or remote locations.
The Ossia OS was designed specifically to fulfil the user's requirements. It's based on the most advanced SOC (security operations centre) technology and adopts a new and intuitive human GUI (graphical user interface).
New capabilities include the following:
• Fish-eye support (supporting NVRs)
• RAID support.
• Analogue analytics.
• Dual IP configuration.
• NVR CMS advanced capabilities.
• POS integration capabilities.
• Facial recognition support for certain devices.
Ossia v1.3.x also offers Smart Search for both IP and analogue cameras. Smart Search performs basic analytics over recorded video (playback). It can only be done locally and is not supported remotely. The system behaviour upon detection and smart search sensitivity can be configured. The available smart search options are:
• Full frame.
• Line crossing (bi-directional).
• Polygon areal search (4 corners).
There is also new and intuitive picture slice search, instant sub-stream playback, one click backup, smart timer-bar view and control, multiple backup tasks.
For more information contact HiTek Security Distributors, +27 21 946 3344, sales@hiteksecurity.net, www.hiteksecurity.net