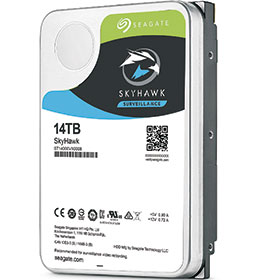 14 TB HDD for surveillance
November 2018, Products, IT infrastructure
The surveillance industry is rapidly evolving and the demand for higher video resolution, analytics, and longer retention requires much greater storage capacities. Seagate's SkyHawk hard disk drives (HDDs) provide the optimum combination of performance, high capacity and reliability, the three most important needs for surveillance customers and integrators.
Regal has launched the newest Seagate SkyHawk 14 TB HDD which offers the ability to store over 9000 hours of HD video and a workload of up to 64 HD camera streams. The SkyHawk 14 TB HDD is optimised for DVRs, NVRs and PC-based storage devices, tuned for 24/7 workloads, and equipped with ImagePerfect firmware to minimise dropped frames and downtime. Supported by a three-year limited warranty, customers can also benefit from the unique SkyHawk Health Management technology that actively monitors and analyses drive health, thus empowering users to prevent, intervene and recover from potential anomalies.
Protect your data with the Seagate Rescue Plan
Protect your most valuable asset (i.e. your data) with the Seagate Rescue Plan which offers a data recovery service (DRS) for any of your Seagate hard disks. The Rescue Plan is designed to help you eliminate the high cost of data recovery in case of data loss due to hard drive failure, viruses, software issues and drive damage from physical or environmental factors.
When it comes to surveillance data storage, the integrity and importance of this data is as fundamental as the reason you have CCTV to begin with. Protecting your data from the risk of data loss should be a critical aspect of every application and more prevalent in high-risk or mission critical environments. The Seagate Rescue Plan gives you that peace of mind.
Enquire about the Seagate Rescue Plan at Regal Distributors, +27 87 802 3800, seagate@regalsecurity.co.za, www.regalsecurity.co.za