printer friendly version
Fire protection for your unique risks
November 2018 Fire & Safety, Products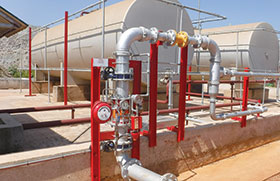 Risk analysis is the first phase in choosing the best fire prevention solution for your company. Early detection and appropriate suppression in identified risk areas, prevent operational stoppages, delays and damage. By installing, monitoring and controlling detection and suppression technologies, safe working and operational conditions can be ensured, even in harsh environments.
An integrated fire prevention strategy should include critical parameter measurements and preventative maintenance. This should include an early detection system, fire suppression methods and real-time management of the system. This can prevent fires from breaking out and resulting in loss of lives and production.
Early detection
AP Sensing's Distributed Temperature Sensing (DTS) reports a change in temperature (or 'hot spots') according to pre-set perimeters. An early warning by this system can prevent loss and damage or can be used as a detection method to activate fire suppression systems. The DTS system uses fibre optic cable of up to 10 km long to sense heat on each 1 m section to 1oC accuracy and is easy to install.
Other available detection tools include infrared temperature scanners and conveyor bearing temperature sensors. Plumber block temperature sensors (analogue or digital) and infrared temperature scanners allow for temperatures to be monitored on the surface by any scada system.
Fire suppression
Fire suppression methods include various technologies such as deluge systems, water and foam mist, sprinkler systems and clean gas agents. These are all non-toxic and environmentally friendly methods.
Water and foam mist systems work well in high risk areas where the cooling off and oxygen displacement combination instantly assist in extinguishing fires. The design of the system should address critical parameters such as belt coverage, flow rate nozzle selection, pipe diameter, as well as the duration and capacity requirements of the fire protection system chosen. (For example, the NPFA 15 requires the system to spray for 30 minutes plus an additional 30 minutes for backup.)
Real-time management
The maintenance of any system is crucial and requires 24/7 real-time management and measuring to ensure the health of the system. Sperosens' Verify System assists with fire system readiness and reporting. This system can report that each component was in working order and armed at the time when an incident occurred.
For more information contact Marihette Hattingh, Sperosens, +27 12 665 0317, marihette.hattingh@spero.co.za, www.spero.co.za
Credit(s)
Further reading:
Extended two-way radio communications
August 2019 , Security Services & Risk Management, Residential Estate (Industry), Products
The two-way radio communication industry has been enhanced by the introduction of Halo PTT radio networks, which are GSM based.
Read more...
---
Outdoor access terminals
August 2019, Suprema , Access Control & Identity Management, Residential Estate (Industry), Products
Rugged, dust- and weather-proof access control solutions that provide exceptional durability in extreme conditions is a strong requirement for many residential estates.
Read more...
---
End-to-end security solutions for residential estates
August 2019, Elvey Security Technologies , Integrated Solutions, Residential Estate (Industry), Products
While there are a multitude of security options available for residential estate body corporates, unfortunately the solutions are not always able to integrate seamlessly, resulting in a hotchpotch of disparate systems.
Read more...
---
Out-of-the-box security command centre
August 2019 , Security Services & Risk Management, Products
Advanced Command Centre helps security companies optimise resources, improve operational capabilities and manage risks.
Read more...
---
Choosing the right fire detection system
August 2019, FDIA (Fire Detection Installers Association) , Fire & Safety
Charles Thiong'o from the FDIA highlights important factors to consider when choosing a fire detection system.
Read more...
---
Local security technology manufacturer
August 2019, Technoswitch , Fire & Safety
Technoswitch, a South-African manufacturer, importer and distributor of fire detection and suppression equipment turned 45 this year.
Read more...
---
Fire detection and suppression for server cabinets
August 2019, Technoswitch , Fire & Safety
The TEC601, designed and manufactured by Technoswitch, is an all-in-one fire and extinguishing rack-mountable control system designed to protect electronic equipment in 19-inch server room cabinets.
Read more...
---
ORYX conventional fire panel range
August 2019, Technoswitch , Fire & Safety
The ORYX range of conventional panels from Technoswitch offers 2, 4 and 8 zone options, including weatherproof versions (with or without DIN rail) specifically suited to industrial applications.
Read more...
---
Remote time management
August 2019, Jarrison Systems , Access Control & Identity Management, Products
Jarrison Systems has announced its JT Clock Myself and JT Clock Team. Both are solutions designed to add value to the Jarrison Time product.
Read more...
---
Next generation BlazeCut T-series
August 2019, Technoswitch , Fire & Safety
Designed to protect small enclosed spaces with greater risk of fire, the BlazeCut T-series system is easy to install.
Read more...
---