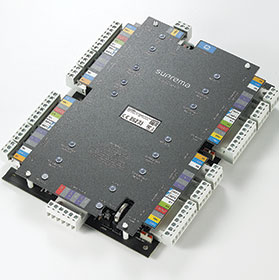 Suprema CoreStation
November 2018, Access Control & Identity Management, Products
In response to the demand for biometric technology within more secure, larger scale access control applications with centralised topology, Suprema offers CoreStation, an intelligent door controller which is so much more than just a controller, it also manages fingerprint matching and biometric data storage under a secure location, providing greater flexibility when designing your security systems.
Suprema CoreStation offers the advantage of biometric-enabled security on centralised access control systems. Designed for mid to enterprise-level systems, CoreStation handles up to 500 000 users with an incredible fingerprint matching speed of up to 400 000 matches per second.
Featuring a multi-port interface for fingerprint/RF readers and support for locks, sensors, release-to-exit and alarm devices, CoreStation delivers comprehensive access control functionalities for up to 132 access points through the company's BioStar 2 security platform and also allows access control manufacturers to take advantage of the same for their platforms. The device interfaces with a complete set of reader technologies including RS-485 (OSDP) and Wiegand, further extending its flexibility and scalability.
On the security side, the CoreStation enhances levels of security over edge-based IP access control topologies. Taking full advantage of centralised access control, CoreStation provides for secure storage of biometric data and secure wiring options. In addition, by featuring secure TLS 1.2 communication and 256-bit (AES-256) encryption, CoreStation offers the most stringent data security available today.