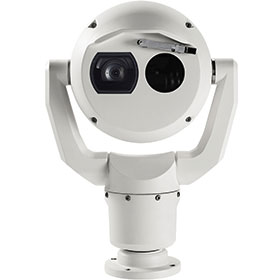 MIC IP fusion 9000i
November 2018, CCTV, Surveillance & Remote Monitoring, Products
No matter how tough conditions get, a video surveillance operation must always go on. That's why Bosch has taken extreme measures to develop its MIC IP family of extremely rugged moving cameras even further. MIC IP fusion 9000i moving cameras are designed to perform in practically any environment.
What makes the MIC IP fusion 9000i stand out is the combination of both an optical and thermal imager in one rugged housing, combined with Intelligent Video Analytics specifically designed for the most demanding environments. This provides full situational awareness and early object detection – even with limited visibility due to smoke, in complete darkness or when objects or people are obscured by foliage.
The camera's unique metadata fusion feature fuses metadata from the camera's built-in optical and thermal imager. This helps users to focus on 'invisible' things that need attention. If an event is detected that is not visible in the video stream being watched, an alarm is triggered anyway and users can simply click the alarm overlay box. The user will then see the video data related to that event.
This type of video analytics stands out from other video content analysis solutions because of its ability to differentiate between genuine security events and known false triggers such as challenging environments with snow, wind (moving trees), rain, hail, and water reflections.