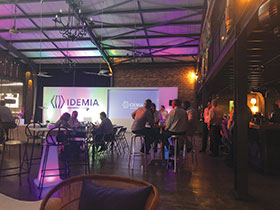 MorphoWave Compact launched in SA
November 2018, This Week's Editor's Pick, Access Control & Identity Management, News
IDEMIA South Africa recently invited partners, consultants and end-users to Katy's Palace in Sandton for the official local launch of its touchless fingerprint reader, the MorphoWave Compact. The Compact is a smaller version of the company's MorphoWave Tower.
The MorphoWave Compact delivers the performance of MorphoWave contactless 3D fingerprint technology in a compact wall-mounted device and is suitable for any location. Users are positively identified with a simple wave of the hand. The patented touchless sensor technology scans in 3D, and captures and matches four fingers on either hand and in any direction.
It is immune to environmental factors (external light, dust), copes with wet and dry fingers, ensures no latent prints are left on the scanner, and mitigates hygiene concerns. The reader's high-speed, touchless acquisition capability allows users to remain in motion while being identified.

Nicolas Garcia.
Nicolas Garcia, regional director of sales at IDEMIA SA explained that in the past there was a trade-off in biometric readers between convenience and security, as defined by the False Acceptance Rate (FAA) and False Rejection rate (FRR). With the MorphoWave, he says this compromise is no longer an issue as the system is very convenient for users, while it offers the required levels of security.
The contactless technology in these new biometric readers also cuts out any concerns about hygiene or having your fingerprint misread because of dirt or other marks on the reader's sensor. There is no touching of the sensor when fingerprints are read, making it faster and more user friendly.
Garcia said the MorphoWave is a combination of the best technology IDEMIA has to offer as well as solutions to many issues customers highlighted about their biometric readers over the years. This includes hygiene, high throughput, difficulty in enrolling some people and other issues, all of which have been effectively dealt with.
For more information contact IDEMIA, +27 11 286 5800, andrina.diedericks@idemia.com, www.idemia.com