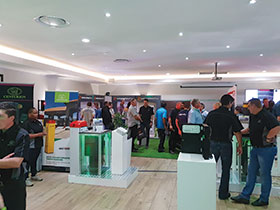 Centurion hosts second Access Automation Expo
November 2018, News, Access Control & Identity Management, Perimeter Security, Alarms & Intruder Detection
Centurion Systems has taken its Access Automation Expo national, visiting Durban and Cape Town for the latest events. The solutions on display ran the full gamut of security, from access control and electric fencing to alarm systems and CCTV for a wide cross-section of the developments currently taking place in this arena.
According to Centurion communications coordinator, Charl Mijnhardt, the company made use of the opportunity to highlight its extended industrial and commercial product range.
"We've always been known for the robustness and durability of our products," says Mijnhardt. "Thanks to widespread urban development, there is a rising demand for reliable access automation in high-volume applications such as shopping centres, banks, airports and sports stadiums".
Following the company's acquisition by multinational manufacturer FAAC in 2016, Centurion has added substantively to its commercial product stable, which includes traffic barriers, door automation solutions, bollards, tyre killers and heavy-duty sliding gate motors.
For more information contact Centurion Systems, +27 11 699 2400, charl.mijnhardt@centurionsystems.co.za, www.centsys.co.za