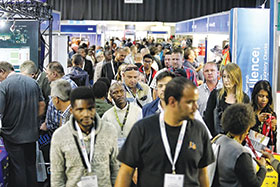 Securex to continue on integrated physical and cybersecurity path
November 2018, Conferences & Events, News, Training & Education
On the back of the most successful Securex South Africa expo to date in 2018, Africa's security and fire trade exhibition will return to Gallagher Convention Centre in Johannesburg for its 26th edition from 14 to 16 May 2019.
"Securex South Africa 2018 drew in over 7000 visitors, a more than 40% jump in attendee numbers year-on-year in comparison to 2017, and over 1400 first-time visitors to the show," says Sven Smit, portfolio director at Specialised Exhibitions Montgomery. "International visitor numbers also grew by a huge 80%, with 46 different countries represented, of which 20 of these were African.
"For 2019, we continue to look for new and exciting ways to reflect the changing needs of the integrated security industry, with plans in place to grow the cybersecurity section of the show, launched in 2018, as well as to expand on topics including fire, transport, non-lethal weaponry, wireless technologies and networking," Smit says.
"Our Securex seminar theatre, which is free for visitors to attend, is in place for 2019 as is the New Product Display area, and we are also looking to include favourites such as the SAIDSA Techman competition, a canine demonstration area, and more."
According to Smit, more than 60% of 2019 show floor space has already been snapped up by exhibiting companies, with long-term sponsors at Securex, including Dahua Technology, HiTek Security Distributors, Suprema and ZKTeco, already confirming their backing for the new year.
Securex South Africa 2019 will once again be co-located with A-OSH EXPO, Africa's occupational safety and health trade exhibition.
Visitor entrance to both shows is free.
For more information, please visit www.securex.co.za, or contact Specialised Exhibitions Montgomery on +27 11 835 1565.