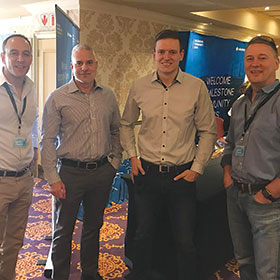 First Milestone Integration Expo
November 2018, News, CCTV, Surveillance & Remote Monitoring, Integrated Solutions
Milestone Systems held its first Integration Expo on the African continent in Johannesburg in October. The purpose of the expo was for attendees to experience how the Milestone VMS platform seamlessly integrates with industry solutions in relevant verticals.
A total of eight partners showcased their latest, innovative solutions with Milestone, namely Axis, Gallagher, Hyperdrive, Cygnetic Technologies, Mobotix, Advancis, ISDS and Quanergy. All partners shared their engaging success stories through live demos and interactive sessions, which were met with great interest from the more than 150 attendees.
The flexible agenda concept allowed attendees to customise their day and join only the sessions they really wanted to see. Feedback was that most attendees found the sessions so engaging they ended up spending the day at the event anyway.
Technology sections that stood out during the day were iSentry from ISDS, the AI based autonomous behavioural analytic which can learn and accurately alert within 24 hours of deployment and reduce the amount of material viewed by operators by up to 97%. Briefcam was also shown as part of the solution offered by ISDS. This was a great way to shrink the footage of the day to a couple of minutes in a synopsis, further enhancing the power video analytics.
Quanergy with its LiDAR smart sensing technology also impressed the crowd, leveraging real-time 3D mapping to track objects and with Milestone activate cameras and other rules to enhance the solution.
Armand Steffens, country manager, Africa, sums up: "This first Integration Expo in Africa was a great learning experience for us. We were impressed with the partner engagements in the live demonstrations and thrilled to see the positive feedback from the interactive sessions. Gallagher even sponsored the event registration allowing people to tag into sessions using the access cards, giving us a true indication of attendance in each session and an overall view of the popularity between sessions. This reporting really proved worthwhile and showcased the power of access control linked to video. This event really proved the true innovation power of our Milestone community."
Steven Patteeuw from longtime Milestone partner Advancis added: "Advancis was very pleased to showcase how VMS and CCTV technologies are greatly enhanced by WinGuard PSIM, which provides security control rooms with next-generation features in system integration, real-time control, and operator workflow guidance as well as the flexibility of custom requirements that can evolve as a client needs them to. The individual sessions of the Milestone event in South Africa allowed us to highlight these advantages in a perfect presentation environment."
For more information contact Milestone Systems, +27 82 377 0415, arms@milestonesys.com, www.milestonesys.com