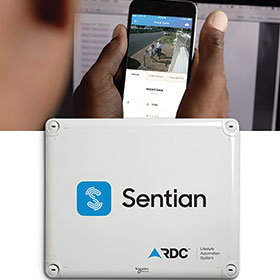 Smart security hub
November 2018, Products, Integrated Solutions, IT infrastructure
In a security market with shrinking margins on traditional hardware and a wave of new self-install 'smart' security products, there are few (profitable) reasons for installers to revisit past clients. Add to this the ever-present frustration and inefficiency our 99% false alarm rate and the official launch of the Sentian 3i in 2018 offered game-changing relief.
A smart hub, which integrates off-the-shelf alarm systems (like DSC, Paradox and Texecom), CCTV camera solutions (almost all ONVIF IP and analogue HD solutions) with automation (like gate, garage, lights, geyser etc.), bringing them into the digital world, and pulling them together to solve our most pressing security problems.
With Sentian, commercial users can upgrade their installed security assets, and installers can upsell smart security to their existing clients, at a significant cost advantage because it builds off existing, installed security solutions. The installer and client have the benefit of working with tried and tested solutions, but can now benefit from:
Alarm video verifications – 12-second videos (6 seconds before, 6 seconds after the alarm), showing exactly what triggered the alarm.
The ability to respond – Panic the alarm to escalate the call to armed response, activate a threat response, open the gate to allow them to enter, turn on the outside lights, disarm the alarm, watch live as they inspect, bypass that troublesome sensor and more. All from on-site, a central control room, or from the other side of the world on a smartphone, tablet or PC.
Other features – include remote event-based archive video search, user generated live video notifications etc.
For more information contact Sentian, +27 21 492 0777, info@sentian.co.za, www.sentian.co.za