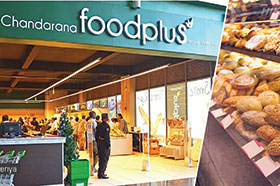 Fresh supermarket surveillance
November 2018, CCTV, Surveillance & Remote Monitoring, Products
Food Plus Supermarkets operate 18 locations in and around Nairobi, Kenya, as well as offering online shopping and a delivery service. In early 2018, this supermarket business needed to add new surveillance equipment at a number of stores, as well as upgrade some existing systems.
Nairobi is a dense, fast-paced, international and cosmopolitan city, bustling with commerce, tourism, family life, and much more. One of the most important regions on the continent, this lovely 'green city in the sun' of 6.5 million people added several massive critical infrastructure projects in the last few decades. With constant activity day and night, business owners must remain vigilant at all times to protect their assets and investments. And with advanced surveillance equipment becoming more affordable, it's becoming easier to do that.
Food Plus stores feature entrances and exits that are welcoming to the public. To shoppers, the entryways make stores look inviting and appealing. To the security staff, however, this makes them vulnerable to clandestine opportunists. The staff must be aware of anything from petty theft to fraudulent activity. While expansion of the business has been exciting for the owners of the supermarket chain, shoplifting and other security breaches have challenged security. And monitoring 18 locations with all their critical points and nodes is a big job.
Food Plus contacted fellow Nairobi business AUA Industria, which boasts a broad repertoire of successful high-tech solutions and integrated systems – not just in Kenya but in neighbouring African countries as well. The request to AUA was to establish a cutting-edge surveillance system across all retail locations and create a single command centre for centralised monitoring at Food Plus's main office in the Kilimani neighbourhood of the city.
Hikvision solution selected
AUA chose Hikvision cameras, NVRs and its VMS. A total of 450 compact outdoor dome cameras with 4 mm lenses were ordered and installed. These small and powerful cameras pack high performance into relatively discreet housings. Features like 1/2.8-inch progressive scan CMOS sensors, infrared lighting up to 30 metres, and wide dynamic range make them a good choice for what this supermarket chain needed.
They also include IP67 and IK10 ratings, which are critical for the grocery stores' outdoor installation areas. Add to that the ability to render colour imaging under extremely low lighting conditions – and of course black and white imaging in complete darkness with IR lighting – and these cameras are well-equipped for the job.
Hikvision's NVRs provide the flexible and intelligent back-end support needed for this multi-site operation. The 64-channel Pro Series NVRs boast up to 4K resolution. The Food Plus staff appreciate these NVRs for their ease of use and generous amounts of data storage, along with Hikvision's tech support, which is always there to resolve any speedbumps along with way.
HikCentral offers centralised management
The Kilimani control office uses Hikvision's home-grown HikCentral Cloud Platform. The newly released HikCentral V1.2 integrates more advanced products and technologies to make centralised management more effective, bringing together a convenient, efficient, and unified security system. It centralised and expanded Food Plus's extensive system, and enhanced control to achieve maximum security. The management reports a noticeably higher streaming speed from the store sub-streams to the central monitoring station, enabling much more effective security.
Based on a client-server model, HikCentral provides a video management system for Food Plus to manage and run daily security tasks. Surveillance-related functions are simple to operate, such as live viewing, recording, and playback on the platform, along with other integrated functions, such as access control, alarm management, and more. And with the ability to manage up to 100 000 cameras, there's plenty of room to grow.
By March of 2018, the installation across all Food Plus stores was complete, much to the approval and appreciation of the chain's executive management. Mark Kavita is the systems administrator for Chandarana Supermarkets, Ltd. He reported that, since installation, Food Plus has been able to reduce and control pilferage (shoplifting) and that the system is easy to use, provides a good alert system, and reaches higher streaming speeds from the stores to a central location than their previous equipment. Additionally, Hikvision was found to be the most cost effective solution available with the best on-going support after completing the installation.
For more information contact Hikvision South Africa, Janis Roux, +27 10 035 1172, support.africa@hikvision.com, www.hikvision.com