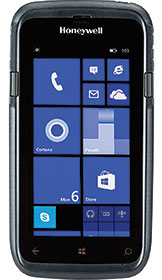 EXID's Dolphin CT50
October 2018, Asset Management, EAS, RFID, Products
For enterprises that require anywhere, anytime, real-time connectivity to business-critical applications and data capture capabilities to maximise efficiency and serve customers more effectively, the Dolphin CT50 is Honeywell's most advanced enterprise-ready 4G/LTE mobile computer.
Available from EXID, with support for either Windows or Android, the Dolphin CT50 mobile computer targets highly mobile frontline employees in scan-intensive workflows such as on-demand delivery, field service and customer engagement.
The Dolphin CT50 mobile computer is designed to support the most advanced connected mobile user experiences, facilitating large file transfers, video streaming and remote access to business applications quickly, so workers can more effectively manage a wide variety of tasks throughout the sales cycle. Plus, it offers enough battery life to last a full shift and beyond, keeping mobile workers always connected to crucial information to place orders, check stock, look up order status or scan items as they are removed for delivery.
For more information contact ExcellentID, 086 107 7776, riaan@exid.co.za, www.exid.co.za