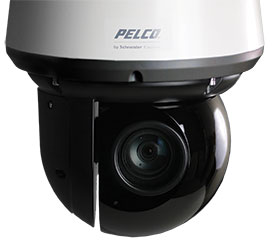 Rugged professional IR PTZ
October 2018, Products, CCTV, Surveillance & Remote Monitoring
Pelco by Schneider Electric has released the Spectra Professional IR, a rugged camera ideal for transportation, city surveillance, airports, seaports and commercial markets. The Spectra Professional IR features 'above the horizon' viewing capability, providing greater coverage of bridges, overpasses and building exteriors without mounting additional cameras. The camera also provides built-in IR illumination on areas of interest such as roadways, ports, parking lots and building perimeters up to 150 metres away, offering a solution for customers who are frustrated with the inability of typical PTZ cameras to capture key image details in poorly lit environments.
Key features
Lookup: The Spectra Professional IR can view 15 degrees above the horizon that enables customers to see areas that are difficult to view when using typical mounting locations, including bridge supports and cables, higher floors of commercial buildings, as well as ships at a distance from seaport.
Smart Compression Technology: Featuring H.265 and Pelco's Smart Compression Technology, the Spectra Professional IR lowers bandwidth and storage requirements between 30 and 70%, depending on the amount of motion in the scene, especially important for 24/7 surveillance.
Digital image stabilisation: Reducing blurring associated with camera motion, this feature allows the camera to maintain a smooth image ideal for surveilling areas affected by high vehicle traffic or strong winds, like bridges and light poles.
Simple installation: Using only one wire to connect, the Spectra Professional IR comes with three power options and an embedded hinge design, making it easy to connect to and providing greater flexibility during installation.
For more information contact Yvette Venter, Pelco by Schneider Electric, +27 11 254 6400, yvette.venter@schneider-electric.com