printer friendly version
J2 offers enterprise-grade security for SMEs
October 2018 Cyber Security, News
Rising levels of cybercrime, and its increasing sophistication, threaten businesses of all sizes but SMEs are particularly vulnerable, says John Mc Loughlin, CEO of J2.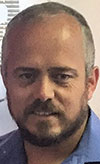 John Mc Loughlin CEO J2 Software.
"SMEs operate on tight budgets (both in terms of money and time), must manage cash flows carefully and keep overheads down. Hiring a specialised security professional is simply not an option for them – even if they could find one, given the extreme skills shortage in this area," he says. "At the same time, modern SMEs are hugely dependent on the Internet, which gives them the opportunity to compete effectively, but of course this reliance puts them directly in the sights of cybercriminals."
While cybercrime statistics for SMEs in South Africa are non-existent, PwC's 2018 Global Economic Crime and Fraud Survey found that respondents expect cybercrime to be the most disruptive to their organisations over the next two years.
"We launched the J2 SME Secure offering because it was so apparent that SMEs are simply not being served by traditional managed cyber-security providers, and it's now too risky to rely solely on the basic security provided by an Internet service provider or IT provider,"
Mc Loughlin says. "SMEs need the same levels of security as big corporates because they are being targeted by the same syndicates."
To plug the gap, J2 offers a fully managed cybersecurity service for businesses of any size. J2 SME Secure offers end-point protection and Internet security to protect from online threats and illicit material. The company also provides professional remote installation support as required to protect client employees, no matter how they access the Internet.
J2 SME Secure also includes protection against financial loss through cybercrime up to the value of R100 000. This offering includes third-party breaches, phishing, online banking fraud and refund scams – all of which are on the rise.
The offering also covers the provision of acceptable use and cybersecurity policies to help drive security-conscious behaviour across the company.
J2 SME Secure also allows clients to buy a range of optional value-adds covering secure online backup with ransomware protection and simple data recovery in the event of a disaster, secure hosted mailboxes and advanced security options to protect against evolving threats, and managed encryption to ensure compliance with data regulations.
For more information, contact J2 Software, 086 100 5896, john@j2.co.za, www.j2.co.za
Credit(s)
Further reading:
Patient critical – healthcare's cybersecurity pulse
August 2019, Wolfpack Information Risk , News, Cyber Security, Healthcare (Industry)
The healthcare industry has become one of the leading cybersecurity attack vectors worldwide for several reasons.
Read more...
---
Building a Human Firewall
August 2019, Kaspersky Lab , Cyber Security, Training & Education
Riaan Badenhorst, general manager of Kaspersky in Africa answers some questions on the role of people in cybersecurity risks.
Read more...
---
Inundated with cyberattacks from all directions
August 2019 , Editor's Choice, Cyber Security, Security Services & Risk Management
IT managers are inundated with cyberattacks coming from all directions and are struggling to keep up due to a lack of security expertise, budget and up-to-date technology.
Read more...
---
Under cyberattack
August 2019, Kaspersky Lab , Cyber Security, Residential Estate (Industry)
Cybersecurity is not something one usually associates with residential estates, but the threats from cybercriminals apply equally to estates as they do to businesses and the individual homeowner.
Read more...
---
Cyber tools and solutions
August 2019, Technews Publishing , Editor's Choice, Cyber Security, IT infrastructure, Residential Estate (Industry)
Hi-Tech Security Solutions looks at the various options we have when it comes to protecting yourself from the ever-growing scourge of cybercrime?
Read more...
---
Understanding the data protection requirements and how to comply for POPI or GDPR
July 2019 , Cyber Security, Security Services & Risk Management
For many companies that must comply with these legislations, the best way to prepare is to implement a solid data protection strategy that guards against loss of data.
Read more...
---
Going safely into the brave new world of 4IR
July 2019 , Industrial (Industry), Cyber Security
Put cybersecurity at the heart of industrial digitisation on the journey to 4IR.
Read more...
---
It's not wise to go SIEMless
August 2019 , Cyber Security, Security Services & Risk Management
As with every other aspect of security today, information security, while the popular child in a dysfunctional family, is no longer enough.
Read more...
---
A one-size-fits-all approach won't secure the IoT
August 2019 , News, Cyber Security
Securing the Internet of Things (IoT) is something which cannot be done with a one-size-fits-all approach, and every kind of connected object must be assessed individually.
Read more...
---
Cloud advantage or cost?
August 2019 , Cyber Security, IT infrastructure
No matter how you look at it, security in the cloud is as important as security in traditional data centres.
Read more...
---