printer friendly version
J2 offers enterprise-grade security for SMEs
October 2018 Cyber Security, News
Rising levels of cybercrime, and its increasing sophistication, threaten businesses of all sizes but SMEs are particularly vulnerable, says John Mc Loughlin, CEO of J2.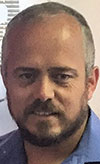 John Mc Loughlin CEO J2 Software.
"SMEs operate on tight budgets (both in terms of money and time), must manage cash flows carefully and keep overheads down. Hiring a specialised security professional is simply not an option for them – even if they could find one, given the extreme skills shortage in this area," he says. "At the same time, modern SMEs are hugely dependent on the Internet, which gives them the opportunity to compete effectively, but of course this reliance puts them directly in the sights of cybercriminals."
While cybercrime statistics for SMEs in South Africa are non-existent, PwC's 2018 Global Economic Crime and Fraud Survey found that respondents expect cybercrime to be the most disruptive to their organisations over the next two years.
"We launched the J2 SME Secure offering because it was so apparent that SMEs are simply not being served by traditional managed cyber-security providers, and it's now too risky to rely solely on the basic security provided by an Internet service provider or IT provider,"
Mc Loughlin says. "SMEs need the same levels of security as big corporates because they are being targeted by the same syndicates."
To plug the gap, J2 offers a fully managed cybersecurity service for businesses of any size. J2 SME Secure offers end-point protection and Internet security to protect from online threats and illicit material. The company also provides professional remote installation support as required to protect client employees, no matter how they access the Internet.
J2 SME Secure also includes protection against financial loss through cybercrime up to the value of R100 000. This offering includes third-party breaches, phishing, online banking fraud and refund scams – all of which are on the rise.
The offering also covers the provision of acceptable use and cybersecurity policies to help drive security-conscious behaviour across the company.
J2 SME Secure also allows clients to buy a range of optional value-adds covering secure online backup with ransomware protection and simple data recovery in the event of a disaster, secure hosted mailboxes and advanced security options to protect against evolving threats, and managed encryption to ensure compliance with data regulations.
For more information, contact J2 Software, 086 100 5896, john@j2.co.za, www.j2.co.za
Credit(s)
Further reading:
Work from home securely
Issue 5 2020 , Cyber Security
First Consulting provides enterprise-level IT security to working-from-home employees at more than 40 South African organisations.
Read more...
---
Agility, meticulous alignment and testing
Issue 5 2020 , Cyber Security
Data loss can put the nails in the coffin for unprepared businesses. Investing in cyber resilience is key to succeed in the age of digital transformation.
Read more...
---
Cybersecurity comment: A holistic approach to threat vulnerability
Issue 5 2020 , Cyber Security
Any organisation, whether large or small, public or private, should follow an established framework in order to protect itself against cyber threats.
Read more...
---
Email security in COVID-19 times
Issue 5 2020 , Cyber Security
MJ Strydom, MD of cybersecurity specialist company, DRS, takes a look at email security in the era of COVID-19 and beyond.
Read more...
---
June 2020's most wanted malware
Issue 5 2020 , Cyber Security
Check Point Research finds sharp increase in attacks using the Phorpiex Botnet delivering new 'Avaddon' ransomware via malspam campaigns.
Read more...
---
60% in SA victim to public cloud cybersecurity incidents
Issue 5 2020 , Cyber Security
Ransomware and malware, exposed data, compromised accounts, and cryptojacking to blame; GDPR shows promise with Europeans suffering least.
Read more...
---
Vodacom Business enhances cyber resilience
Issue 5 2020 , Cyber Security
Partnership with Cloudflare will allow Vodacom Business to offer DDoS protection and traffic acceleration for all network infrastructure — whether on-premise, cloud-hosted, or in a hybrid environment.
Read more...
---
Tax season often equals tax scams
Issue 5 2020 , Cyber Security
While many of us cannot wait for our refunds, this is also a time of the year when cybercriminals are waiting to attack.
Read more...
---
Cybersecurity comment: Cyber threats remain relentless
Issue 5 2020, CA Southern Africa , Cyber Security
Over 80% of email-based threats in Q1 2020 leverage COVID-19 in some form to feign legitimacy to the end user.
Read more...
---
11 essential steps to reinforce cybersecurity
Issue 5 2020 , Cyber Security
Wayne Olsen has compiled a guideline to ensure that businesses and their employees are protected while working remotely.
Read more...
---