printer friendly version
Data highways of a networked ­industry
October 2018 Editor's Choice, IT infrastructure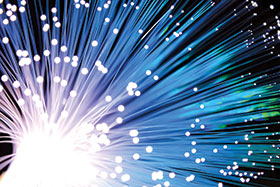 Data cables are the unsung heroes of Industry 4.0 and digitalisation. Without them, everything would come to a halt – literally and physically. However, like typical C parts with low purchasing costs and relatively long delivery times, they lead a rather unspectacular existence. Is this compatible with the key role they play in a smart factory?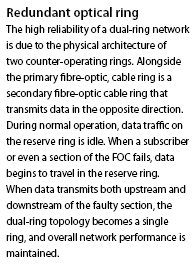 In order to meet the highest requirements of machine availability, Coperion trusts in redundant optical ring networks. When it comes to choosing the right fibre-optic cable, the mechanical and system engineers rely on the expertise of Helukabel, an international manufacturer of cable, wires and cable accessories.
The Stuttgart-based company is a leader in extrusion and compounding machines, as well as bulk material handling systems for the plastic, chemical, food and aluminium industries. Its main products are twin screw extruders for the production of plastics. They achieve a throughput of up to 100 tonnes per hour.
Although the extruder is the centrepiece, the overall plant spans – from the upstream plastic polymerisation reactor to the homogeneous compound storage silos – an area containing several multi-storey factory buildings. It's not unusual to find cable paths over a kilometre long in the plant, which make them ideal candidates for fibre-optic cables. The longer the data transmission paths, the more a fibre-optic cable's (FOC) long distance properties come to the fore.
In copper-based data transmission, segment lengths are limited to 100 metres. Beyond that, repeaters are needed to compensate attenuation losses.
Hence, the space taken up by a machine is often the determining factor as to whether copper or fibre-optic cable should be used, particularly if other components, such as post-pressing, conveyor or storage equipment will follow. The general rule for data cables in plant and machinery applies if bus communication takes place over long distances, i.e. FOCs must be used to guarantee fast and fault-free data transmission. The fact that potential differences play no role in FOC is an advantage, especially in plant construction.
The diva of data cables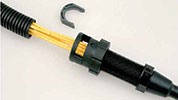 Detailed view of a sealed distributor. It is fitted with a compatible screw joint for installation in Helukabel splice boxes. Additionally, the kit can be used again after reassembly.
Compared with copper-based electrical transmission, the outstanding features of a fibre-optic cable are its far superior transmission rate over very long distances and the absence of crosstalk between neighbouring fibres. Being optical conductors, glass fibres exhibit resistance to electromagnetic interference, and are electromagnetically compatible (EMC) with electric power cables installed beside them – as long as the FOC does not have a metal sheathing.
The purely glass fibre permits unsurpassed signal transmission, but at a price – the 'diva' of data cables must be handled with great care. Depending on the bending radius, high bending losses can develop very quickly in the cable when light power leaks from the core into the cladding with its lower refractive index. In particular, FOCs assembled by less-experienced manufacturers are much more prone to signal attenuation. This is because the connectors or splices made to join the fibres are potential sources of significant insertion and coupling losses. While simple connectors can be used to quickly adapt copper cable to the respective application, FOC assembly requires expensive equipment, expertise and experience.
Helukabel can supply bespoke 'ready-to-use' FOCs, together with connection equipment from their extensive Helucom Connecting Systems range. Depending on the application, the cables are connected to a suitable distributor that, without splicing, feeds the fibres in the buffered-fibre cable into individual simplex cables terminated by factory-assembled connectors.
Finally, polyamide is used to seal the joint between the cable sheath and distributor to strengthen a typical weak point more effectively than commonly used shrink-wrap. The test report shipped with the factory-assembled cable provides information about the joint loss.
Credit(s)
Further reading:
The year resilience paid off
Issue 8 2020 , Editor's Choice, Security Services & Risk Management
Hi-Tech Security Solutions spoke to Michael Davies about business continuity and resilience in a year when everything was put to the test.
Read more...
---
Retail solutions beyond security
Issue 8 2020, Axis Communications SA, Technews Publishing, Hikvision South Africa , Editor's Choice, CCTV, Surveillance & Remote Monitoring
The need for security technology to deliver more than videos of people falling or stealing from retail stores is greater than ever.
Read more...
---
The future of face recognition
Access & Identity Management Handbook 2021, Suprema, Hikvision South Africa, Technews Publishing , Editor's Choice
Is the current move to using face recognition in access control a result of the pandemic or will we see continued growth in the coming years?
Read more...
---
Face recognition: the good, the bad and the not-so-pretty
Access & Identity Management Handbook 2021, Fulcrum Biometrics , Editor's Choice
Dave Crawshay-Hall, chief technology officer of Fulcrum Biometrics Southern Africa, offers some insights into the facial recognition and temperature measuring devices in use today.
Read more...
---
Advances in UV technology for biometric disinfection
Access & Identity Management Handbook 2021, Ideco Biometrics, Technews Publishing , Editor's Choice
Ideco Biometrics has a new solution for disinfecting biometric sensors by using ultraviolet technologies to destroy most known viruses and bacteria.
Read more...
---
No hackers!
Access & Identity Management Handbook 2021 , Editor's Choice
Observing the world where everything is connected, Scott Lindley, general manager of Farpointe Data offers a few cybersecurity tips for securing access control systems.
Read more...
---
Wireless access at The Leonardo
Access & Identity Management Handbook 2021, Salto Systems Africa , Editor's Choice
The luxurious Leonardo in the heart of Sandton City has chosen Salto technology to provide for wireless access control as well as upmarket aesthetics.
Read more...
---
The slow-motion AI explosion
Issue 9 2020 , Editor's Choice
What the slow and incremental shift into the artificial intelligence gear has meant for business and industry.
Read more...
---
Looking ahead
Access & Identity Management Handbook 2021, Technews Publishing , Editor's Choice
Hi-Tech Security Solutions takes a brief look at some of the trends we can expect in the physical access and identity management market going forward.
Read more...
---
The best DJ in biometrics
Access & Identity Management Handbook 2021, Technews Publishing, iPulse Systems , Editor's Choice
From a DJ to South Africa's security industry disruptor, Gary Chalmers is leading the market into the 'as-a-service' business model.
Read more...
---