printer friendly version
Data highways of a networked ­industry
October 2018 Editor's Choice, IT infrastructure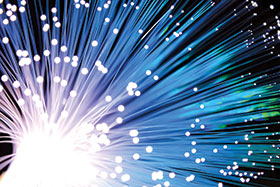 Data cables are the unsung heroes of Industry 4.0 and digitalisation. Without them, everything would come to a halt – literally and physically. However, like typical C parts with low purchasing costs and relatively long delivery times, they lead a rather unspectacular existence. Is this compatible with the key role they play in a smart factory?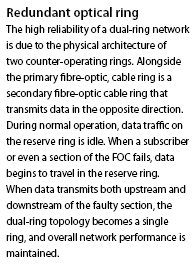 In order to meet the highest requirements of machine availability, Coperion trusts in redundant optical ring networks. When it comes to choosing the right fibre-optic cable, the mechanical and system engineers rely on the expertise of Helukabel, an international manufacturer of cable, wires and cable accessories.
The Stuttgart-based company is a leader in extrusion and compounding machines, as well as bulk material handling systems for the plastic, chemical, food and aluminium industries. Its main products are twin screw extruders for the production of plastics. They achieve a throughput of up to 100 tonnes per hour.
Although the extruder is the centrepiece, the overall plant spans – from the upstream plastic polymerisation reactor to the homogeneous compound storage silos – an area containing several multi-storey factory buildings. It's not unusual to find cable paths over a kilometre long in the plant, which make them ideal candidates for fibre-optic cables. The longer the data transmission paths, the more a fibre-optic cable's (FOC) long distance properties come to the fore.
In copper-based data transmission, segment lengths are limited to 100 metres. Beyond that, repeaters are needed to compensate attenuation losses.
Hence, the space taken up by a machine is often the determining factor as to whether copper or fibre-optic cable should be used, particularly if other components, such as post-pressing, conveyor or storage equipment will follow. The general rule for data cables in plant and machinery applies if bus communication takes place over long distances, i.e. FOCs must be used to guarantee fast and fault-free data transmission. The fact that potential differences play no role in FOC is an advantage, especially in plant construction.
The diva of data cables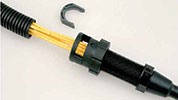 Detailed view of a sealed distributor. It is fitted with a compatible screw joint for installation in Helukabel splice boxes. Additionally, the kit can be used again after reassembly.
Compared with copper-based electrical transmission, the outstanding features of a fibre-optic cable are its far superior transmission rate over very long distances and the absence of crosstalk between neighbouring fibres. Being optical conductors, glass fibres exhibit resistance to electromagnetic interference, and are electromagnetically compatible (EMC) with electric power cables installed beside them – as long as the FOC does not have a metal sheathing.
The purely glass fibre permits unsurpassed signal transmission, but at a price – the 'diva' of data cables must be handled with great care. Depending on the bending radius, high bending losses can develop very quickly in the cable when light power leaks from the core into the cladding with its lower refractive index. In particular, FOCs assembled by less-experienced manufacturers are much more prone to signal attenuation. This is because the connectors or splices made to join the fibres are potential sources of significant insertion and coupling losses. While simple connectors can be used to quickly adapt copper cable to the respective application, FOC assembly requires expensive equipment, expertise and experience.
Helukabel can supply bespoke 'ready-to-use' FOCs, together with connection equipment from their extensive Helucom Connecting Systems range. Depending on the application, the cables are connected to a suitable distributor that, without splicing, feeds the fibres in the buffered-fibre cable into individual simplex cables terminated by factory-assembled connectors.
Finally, polyamide is used to seal the joint between the cable sheath and distributor to strengthen a typical weak point more effectively than commonly used shrink-wrap. The test report shipped with the factory-assembled cable provides information about the joint loss.
Credit(s)
Further reading:
Axis gives a brighter future for children
Issue 1 2020, Axis Communications SA , Editor's Choice
Fully networked camera solution provides visibility and accountability, letting orphanage focus on what's important – its children.
Read more...
---
SFP Security & Fire becomes ISF SFP
Issue 1 2020, ISF SFP , Editor's Choice
SFP Security & Fire was sold to ISF in 2019, becoming ISF SFP and attaining Level-1 BEE status.
Read more...
---
Janu-worry or Twenty-Plenty?
Issue 1 2020 , Editor's Choice
If the available security spend right now is somewhere between limited and non-existent, here are just a few suggestions.
Read more...
---
CCTV surveillance needs are critical in defining types of camera deployment
Issue 1 2020, Leaderware , Editor's Choice
Cameras by themselves do not reduce crime; they need to be implemented as part of a considered strategy of crime prevention and detection.
Read more...
---
Trends 2020
Issue 1 2020, Technews Publishing , Editor's Choice
Hi-Tech Security Solutions asked a few people from diverse companies to join us in a round-table discussion about what they expect to see happening in their environments in the coming year.
Read more...
---
Seven key trends for 2020
Issue 1 2020, Hikvision South Africa , Editor's Choice
Hikvision looks at a few trends that will affect the security industry in 2020 and beyond.
Read more...
---
Hundreds of millions to reskill
Issue 1 2020 , Editor's Choice
By 2022 alone, 75 million jobs will probably be displaced across 20 major economies, while 133 million new ones will spring up in industries that are only just gaining traction.
Read more...
---
Slow and steady wins the access race
Issue 1 2020, ZKTeco, Technews Publishing , Editor's Choice, Commercial (Industry)
The commercial sector is slow in migrating to new access control technologies, with the majority of companies remaining with card and fingerprint solutions.
Read more...
---
Client property access integrity
Issue 1 2020 , Editor's Choice
Blind or unquestioned trust is something that we all seem to willingly and unconditionally give our security service providers and their reaction officers.
Read more...
---
2020 Residential Estate Security Conference in KZN
November 2019, Technews Publishing , Editor's Choice
Meeting the residential security challenges in 2020 and beyond: Hi-Tech Security Solutions will host the Residential Estate Security Conference 2020 in Durban on 12 March 2020.
Read more...
---