printer friendly version
Keeping an eye on luxury cars
October 2018 Editor's Choice, CCTV, Surveillance & Remote Monitoring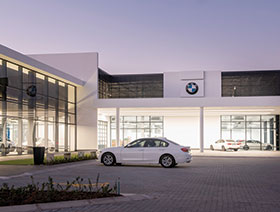 Auto Bavaria Midrand is one of the largest privately owned BMW dealerships in South Africa with a reputation for business performance and consistently high service levels.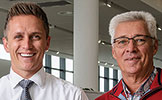 Luke & Andre Dreyer.
The original dealership was started in 1971 and was acquired for private ownership by Andre Dreyer in 1998. A partnership deal in 1999 with Pamodzi Investment Holdings turned Auto Bavaria Midrand into the first black-empowered dealership in South Africa. Auto Bavaria's notable milestones include becoming just one of 10 dealerships nationwide to take on the Mini franchise, the acquisition of Auto Body Specialist in 2016, and the grand opening of its brand-new premises in Waterfall, Midrand in June 2018.
Auto Bavaria Midrand now operates from a state-of-the-art facility opposite the Mall of Africa. It's clear that a deep passion for the brand, the quality of the establishment's facilities, and consistently delivering high levels of customer service are important to the dealership's shareholders, management team and its employees.
Auto Bavaria is also the recipient of numerous local and global accolades, including the Excellence in Sales Award and Manager of the Year Award for Dealer Principal, Luke Dreyer, as recognised by BMW AG at its International Awards Ceremony held in Munich.
TVT solution installed
When the management team at Auto Bavaria Midrand identified the requirement for a surveillance system at its new premises, TVT was the brand selected. The TVT surveillance solution is represented exclusively by South African agent Forbatt SA and distributed via its registered channels.
"Our product range is designed to meet both security and operational requirements," says Vaughn Tempelhoff, product marketer at Forbatt SA. "TVT represents a welcome alternative for residential and commercial end users, providing them with a reliable and high-quality solution which is easy to install and maintain."
The dealership can service up to 80 vehicles per day, while retailing upward of 100 vehicles per month. This goes to show why consistently high levels of service and the security of the establishment's assets are of paramount importance at Auto Bavaria. The entry and exit points are constantly monitored by CCTV cameras. The dealership reception area and showroom floor have become the centre point of the CCTV solution. In addition to obvious security reasons, the system also monitors sales and retail behaviour patterns.
In the service reception area all vehicles are subjected to CCTV surveillance as they enter. Cameras are mounted at strategic points throughout the service area as well as at the exit. The same applies to the wash bays. This type of intense CCTV monitoring ensures that any management or customer queries regarding the progress of the vehicle, or the condition of the vehicle after a service can be thoroughly investigated. In addition, all high-volume areas including parts, storage and passageways throughout the dealership are monitored by CCTV on a 24/7 basis.
Auto Bavaria Midrand is monitored by a total of 111 IP cameras, including fixed bullet cameras, fixed dome cameras, IP PTZ cameras, motorised zoom bullet cameras, and motorised zoom dome cameras. The application also includes the TVT 32-channel embedded Linux NVR.
"We've been very pleased with the results provided by the surveillance solution supplied and installed at Auto Bavaria," says Luke Dreyer, dealer principal. "The increased levels of security as well as the peace-of-mind it offers both us and our customers is essential to providing the service we pride ourselves on."
Benefits to the client
Protection of dealership assets: The CCTV solution plays a vital role in protecting the dealership's major assets, including retail stock on the showroom floor and equipment and vehicles in the service areas and wash bays.
Protection of dealership's reputation: Every dealership can find itself on the wrong side of a customer complaint. These can be as simple as a customer saying that they did not receive efficient service, or something more serious like a customer claiming that their car was damaged while at the dealership for a service. The ability to easily review the CCTV footage and determine the facts can assist the dealership in addressing the client's concerns quickly and effectively.
Loss prevention: In addition to the high-ticket items on the showroom floor, dealerships also hold high volumes and values of stock in the parts stock room and service bays. CCTV monitoring ensures that no items leave the dealership without being accounted for.
Looking ahead
BMW Auto Bavaria has been so pleased with the results of its initial installation that it is now considering expanding this installation to include CCTV as a people monitoring solution. Surveillance in the workplace can lead to increased productivity, loss prevention, and improved employee performance. Once again Auto Bavaria will be turning to TVT to find the ideal solution for this new application.
Credit(s)
Further reading:
How encryption can protect sensitive data
Issue 6 2020 , Editor's Choice
Here's how encryption can help keep your data safe from prying eyes – even if your device is stolen or your cloud account is hacked.
Read more...
---
More than just compliance
Issue 6 2020, IACT-Africa , Editor's Choice
SA is one year away from the Protection of Personal Information Act (POPIA) D-Day.
Read more...
---
Security risk mitigation on a budget
Issue 6 2020 , Editor's Choice
Security estates often fall well short in terms of adequate protection when being assessed by an independent, experienced threat, risk and vulnerability assessor.
Read more...
---
Digital means managing your risk
Issue 6 2020, AVeS Cyber Security , Editor's Choice
Digital transformation in mining companies has become a business imperative to drive efficiencies, optimise competitiveness and reduce risks associated with human error.
Read more...
---
Face recognition and temperature measurement
Issue 6 2020, Suprema , Editor's Choice
Purpose built for FaceStation 2, Suprema's new thermal camera enhances safety by measuring skin temperature.
Read more...
---
What, how and why of security
Issue 6 2020, Alwinco , Editor's Choice
As a security advisor, it's a continuous challenge to change the existing perceptions of CEOs/MDs and nowadays the procurement departments.
Read more...
---
A life jacket for buildings
Issue 6 2020 , Editor's Choice
The EAV is a purpose-designed vest which provides the user with on-demand air supply and other safety gear to help them escape from hazardous incidents.
Read more...
---
Overview of contactless identification technologies
Issue 6 2020, Suprema , Editor's Choice
A guide to two of the best available contactless identity confirmation technologies, along with some tips on choosing the right one.
Read more...
---
Key criteria in the selection of CCTV control room operators
Issue 5 2020, Leaderware , Editor's Choice
Some people are better at aspects of the job of CCTV operator than others, and some companies put in a lot more effort in choosing their operators than others.
Read more...
---
Leaders in risk and security: As long as there are people, there will be risk
Issue 5 2020, iFacts, Technews Publishing , Editor's Choice
Jenny Reid is a self-made success, focusing on people, the risks they create and the potential they have.
Read more...
---