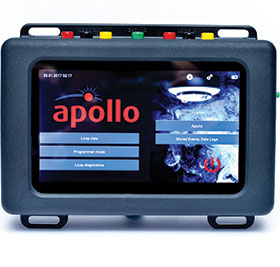 Apollo Test Set
October 2018, Products, Fire & Safety
The new Apollo Test Set is a portable testing device, designed to assist commissioning and system maintenance engineers, and guarantees that the correct loop configuration is in place before an active control panel is installed. It can interrogate and control all units connected to the device, either as individual units or complete circuits. The test set is compatible with Apollo XP95, Discovery and CoreProtocol (Soteria) protocols and carries a 10-year warranty.
With a user-friendly seven-inch LCD touchscreen display, the test set comes in a robust carry case, complete with universal charger, connector cables, XPERT 8 intelligent mounting base and carry strap.
The test set is designed for indoor use only and should not be subject to harsh environments. It is not suitable for use in hazardous areas (those containing explosive vapour or dust), or in places where temperatures and/or humidity are high or go through rapid changes.
For more information contact Technoswitch Fire Detection, +27 11 794 9144, info@technoswitch.co.za, www.technoswitch.co.za