printer friendly version
Integrated alarm and video
October 2018 Editor's Choice, CCTV, Surveillance & Remote Monitoring, Perimeter Security, Alarms & Intruder Detection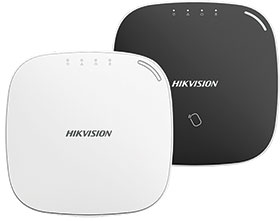 Hikvision has released news of the AXHub intruder alarm system. Part of the Hikvision AX-Series, the new wireless system caters for any residential and small commercial applications by seamlessly connecting security and video on one platform.
Combining Hikvision's capabilities with over 30 years of Pyronix' intrusion expertise, the new range of alarm solutions supplies professional installers with reliable security systems for every requirement.
"Hikvision is pioneering the one-platform revolution for security systems that enables HD video verification of events, remote control to arm and disarm the alarm, as well as the ability to switch between alarm system and video like never before," said Jiang Feng Zhi, head of Hikvision's alarms division.
This advanced synergy of technologies is delivered in a compact panel that delivers multi-configuration methods, full control and setup via the Hik-Connect smart device application and iVMS, as well as video verification through Intruder Verification as a Service (IVaaS).
Integration is at the core of the AXHub, using cloud technology to combine intrusion and video. Where other video verification methods on the market are reliant on sending low-quality static imagery to confirm events, IVaaS links previously separate video and intruder systems to one platform, providing a seven second clip in the event of an alarm; five seconds pre-alarm, and two seconds post alarm.
To achieve this, there are two options: via the cloud, or connecting up to two cameras directly to the AXHub for on-board video verification.
This enables Hikvision's video and intrusion systems to deliver video footage directly to the user through Hik-Connect or iVMS, or directly to a central monitoring station (CMS).
Once delivered to users or a CMS via email, smart device and desktop applications, they can switch to full-HD live streams to verify the event and ensure action can be taken faster and more reliably.
Hik-Connect compatibility also allows full control of the system from anywhere; enabling users to remotely arm, disarm and monitor, as well as check history and receive push notifications of any events.
"When one manufacturer provides the components for each part of the system, we don't need to try and make things work together; we aren't 'integrating' systems," said Jiang. "The video and intruder systems are designed to work seamlessly with each other, and this is what we have achieved in the AXHub."
The system supports up to 32 wireless inputs from a wide range that includes internal and external detectors, contacts, keyfobs, life safety sensors and much more.
The AXHub also utilises 3EasyFit, a technique to speed up initial installation, and supports voice-guided setup for configuration and operation, making the entire installation process fast and efficient. The local voice prompts will also alert the user to any events on the system, while voice calls for alarms can be configured as well.
The variety of communication pathways available with the AXHub includes LAN, Wi-Fi, GPRS and 3G/4G connections with on-board communication modules and connectors for a simpler and more cost-effective installation. With multiport IP communications, the AXHub can also communicate simultaneously with multiple devices, to ensure alarm messages are sent to all that need them.
For more information contact Janis Roux, Hikvision South Africa, +27 10 035 1172, support.africa@hikvision.com, www.hikvision.com
Credit(s)
Further reading:
Key criteria in the selection of CCTV control room operators
Issue 5 2020, Leaderware , Editor's Choice
Some people are better at aspects of the job of CCTV operator than others, and some companies put in a lot more effort in choosing their operators than others.
Read more...
---
Leaders in risk and security: As long as there are people, there will be risk
Issue 5 2020, iFacts, Technews Publishing , Editor's Choice
Jenny Reid is a self-made success, focusing on people, the risks they create and the potential they have.
Read more...
---
XProtect available on AWS
Issue 5 2020, Milestone Systems, Technews Publishing , Editor's Choice
Milestone recently announced the availability of XProtect on Amazon Web Services. Hi-Tech Security Solutions asked Keven Marier for more information.
Read more...
---
From data centre to edge, from one source
Issue 5 2020 , Editor's Choice
First Distribution (FD) is better known in South Africa as an ICT distributor with an enterprise focus. Its offerings in this regard range from client solutions through to hosted solutions, data centre ...
Read more...
---
Paxton launches access and video management
Issue 5 2020, Paxton Access , Editor's Choice
Paxton's next-generation access control and video management system, Paxton10, officially launched in South Africa on 2 July 2020. Paxton10 is the next step in complete security solutions and combines ...
Read more...
---
The evolution of security in residential estates
Residential Estate Security Handbook 2020 , Editor's Choice, Integrated Solutions, Security Services & Risk Management
Two large estates discuss their security processes and the ever-expanding scope of responsibilities they need to fulfil.
Read more...
---
The COVID test for estate business continuity planning
Residential Estate Security Handbook 2020, Technews Publishing , Editor's Choice
Many estates were caught unaware when the COVID-19 pandemic and subsequent lockdown hit. Helderberg Village was ready for the challenge.
Read more...
---
Bang for your security buck(s)
Residential Estate Security Handbook 2020, Alwinco , Editor's Choice, Security Services & Risk Management
Hi-Tech Security Solutions asks how estates can maintain a good security posture in the time of the ever-shrinking budget.
Read more...
---
Local or remote management
Residential Estate Security Handbook 2020, Xone Integrated Security, Vox Telecom, Fidelity ADT , Editor's Choice
Hi-Tech Security Solutions asked three companies well versed in offering control room services – either remote, local, or both – what's happening in the estate monitoring and/or management market.
Read more...
---
Hikvision alarms improve protection
Residential Estate Security Handbook 2020, Hikvision South Africa , Perimeter Security, Alarms & Intruder Detection
Hikvision has created a broad portfolio of innovative alarm solutions that are sophisticated, automated, and always fit for purpose.
Read more...
---