Aura Ai-2
October 2018, Products, Perimeter Security, Alarms & Intruder Detection
Aura Ai-2 is the next generation controller from FFT, offering perimeter intrusion detection solutions. Aura Ai-2 provides detection for both fence intrusion applications, together with covert buried capabilities. Aura Ai-2 can effectively monitor optical lengths of up to 110 km per controller for buried, and 80 km for fence.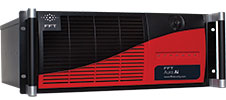 Aura Ai-2's signal and data processing, combined with new ultra-low noise detection electronics, produces distance and accuracy capabilities. This solution can detect, locate and report disturbances to within ±2 m on fences and ±5 m when buried.
Aura Ai-2 leverages over 15 years of real-world experience in perimeter security and can operate in a range of environments. Using the latest advanced signal processing algorithms, combined with artificial intelligence, Aura Ai-2 automatically adjusts controller settings to discriminate between intrusions, nuisance alarms and other causes of fence disturbances and increases the probability of detection.
In addition to fully redundant internal power supplies, Aura A-2 can be configured for continued intrusion detection, even when the sensing fibre optic cable is cut or damaged. When cables are connected to the two channels of the controller in a redundant loop configuration, intrusions are reliably detected up to 10 m either side of the cut.
Aura Ai-2 is tested to rigorous cybersecurity standards based upon National Institute of Standards & Technology (NIST) cybersecurity framework, combined with Underwriters Laboratories (UL) 2900 cybersecurity standards.