printer friendly version
Enhancing home automation with IoT
October 2018 Integrated Solutions, Products
It is common knowledge that security has traditionally been regarded as a grudge purchase. This, says Ingo Mutinelli, business development director at Elvey, is changing as homeowners recognise the power of security solutions to enhance both their control of home automation systems and visual verification.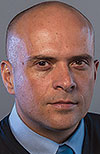 Ingo Mutinelli.
The driving force behind this switch in mindsets, he believes, is the accelerated uptake of household devices and appliances that leverage the Internet of Things (IoT), combined with the desire of the system owner to have more control.
Elvey is a strong adopter of technology solutions that provide a faster return on investment for end-users. With a multitude of elements being driven by the cloud or apps, there has been a growing demand from end-users to have some form of control over their security and the nice-to-have systems that fit into security.
"Security system manufacturers have integrated many of these platforms into their control panels to offer this functionality. Let's consider a traditional alarm system that can be disarmed and armed through an app on a smart device. This app now also allows control of the other household elements, with the provision of video footage and push notifications," he explains.
By automating elements which are electronically driven, homeowners are given the power to improve their quality of life by implementing these enabling technologies and controlling them via a smart device. "Devices and building elements that can be activated, deactivated and adjusted include gates, doors, windows, thermostats, geysers, access control systems, lighting, window blinds and shutters, ovens, surveillance cameras, locks and alarm systems. In fact, anything that can be driven with a relay can be controlled from an IoT platform," he adds.
Augmenting security
IoT and all devices on the security system augment the security element. "We can geofence a homeowner's property and through the IoT platform that products like iotega and ZeroWire offer, when a person enters this area, the system will recognise the entry via a smart device app and the cloud. It will then sequentially activate pre-programmed scenarios that one wishes to happen, for example: 'open the front gate, open the garage doors, close the gate, activate lights on the pathway, activate light at front door, unlock the mag lock on the front door', and so forth. This all happens automatically once the homeowner has selected a specific programme choice."
If the homeowner adds on video capabilities, then video clips can be automatically sent to them when, for instance, a child returns home, or when somebody is breaking in to the property. The bi-directional audio on cameras allows the homeowner to talk directly to the intruder or the child, in these instances.
Not only do home automation systems offer increased convenience, security and safety, but there is a further environmental stewardship aspect. "By only switching on lighting systems, thermostats and geysers when they are actually required, less energy will be used. The home's passive infrared (PIR) motion sensors can be programmed to alert the control system when they identify the house as being empty (no movement) which can then deactivate lighting and heating to preserve energy. This benefits both the country, in terms of reducing the use of non-renewable resources, and furthermore decreases energy usage costs for the homeowner."
Mutinelli says that the iotega and ZeroWire brands are the best-of-breed end-to-end IoT home automation products on the market, providing professional security together with complete home automation and video options. All of the devices run on one platform in the background and allow end users to have complete control and to receive push notifications on everything that happens in the home.
Wireless and secure
The Fibaro range of IoT devices that iotega and Zero Wire employ on their platform includes a number of interoperable elements that include gateways, actuators, remotes/fobs and sensors. All devices are designed to provide a comprehensive environment that adapts to the needs of the entire family and ensures personal security in case of a fire, flooding, or burglary.
All product ranges are wireless, providing ease of installation and labour savings. The devices are unobtrusive and easy to remove and then reinstall at a new property. The wireless connection is fully encrypted and the cloud servers are secure, for complete peace of mind. Added security benefits are the anti-jamming, frequency hopping, fully supervised, and two-way communication (online, offline, battery low, jamming attempt) features.
He cautions that although these systems can be used by the homeowner to control devices and appliances, they are not DIY and it is therefore advisable to contract a certified installer to set up the system for maximised operability and functionality.
"Any platforms used should be fully secure with the required encryption formats, providing the assurance that hacking and interference will not occur. Apps offered to provide the homeowner with control need to be reputable, encrypted and secure. As we see more connected devices becoming available on the market and the barriers to entry coming down, it is important to align oneself with a reputable supplier and service provider with a pedigree in professional security," says Mutinelli.
Credit(s)
Further reading:
Multi-tenant access control
Issue 5 2020, Suprema , Smart Home Automation
Suprema controls access to mixed-use development that is an icon of sustainable environmental growth.
Read more...
---
The evolution of security in residential estates
Residential Estate Security Handbook 2020 , Editor's Choice, Integrated Solutions, Security Services & Risk Management
Two large estates discuss their security processes and the ever-expanding scope of responsibilities they need to fulfil.
Read more...
---
Home-grown, cloud-based safety and security solutions
Residential Estate Security Handbook 2020 , IT infrastructure, Integrated Solutions
BeSecure has taken security and communications technologies and turned them into what is best described as care and safety solutions for the estate community in South Africa.
Read more...
---
Long-distance UHF readers
Residential Estate Security Handbook 2020 , Access Control & Identity Management, Products
The U1000 and U2000 are long-distance RFID access control systems with an IP66 protection certification.
Read more...
---
Integrated security management system
Residential Estate Security Handbook 2020, Protoclea Advanced Image Engineering , Products, CCTV, Surveillance & Remote Monitoring, Integrated Solutions
Phorcas is a security information system developed by Protoclea designed to integrate multiple sub-systems into a powerful crime fighting solution.
Read more...
---
Serverless ANPR solution
Residential Estate Security Handbook 2020, XtraVision , CCTV, Surveillance & Remote Monitoring, Products
Serverless ANPR automatically controls the movement of up to 1000 listed cars through barriers and provides carpark management information.
Read more...
---
Collaborative security in communities
Issue 5 2020
Want to change the dialogue around security in South Africa? Work together. Communities can fundamentally change the face of crime.
Read more...
---
Financing for the systems integrator
Issue 3 2020, Elvey Security Technologies , Integrated Solutions
Financing your security project through your technology distributor can benefit both the systems integrator and the end user.
Read more...
---
Elvey exclusive Aiphone distributor
Issue 3 2020, Elvey Security Technologies , Access Control & Identity Management
Aiphone has appointed the Elvey Group as its official distributor in South Africa with effect from 1 April 2020.
Read more...
---
Technology and new systems
Issue 3 2020, Fidelity ADT , Smart Home Automation
The SA crime profile, along with its unique socio-economic landscape, means that South Africa's security industry is one of the oldest bespoke private security industries in the world.
Read more...
---