printer friendly version
IoT needs access management
October 2018 Editor's Choice, IT infrastructure, Security Services & Risk Management
IoT is a digital enabler that enhances business value through growth and promotes a better customer experience in the commercial world, but also generally has a positive impact on daily living.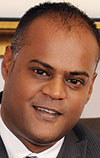 Sagan Pillay.
With any Internet device, there will always be an external threat. The threat of a device being hacked to gain network access and then pivot to another device until critical information is obtained. If your IoT devices are in the workplace, you may have issues that are different.
Devices such as printers that retain copies of scanned documents and, in some instances, have domain credentials, can become a significant risk. The more devices that are linked the greater the possible spread of the breach. There are many different use cases we can review, from light bulbs to air conditioners to electric blinds – all these devices have an operating system and require updates and patches. And if we access these devices wirelessly, so can a hacker.
The disruption of IoT devices can escalate from a minor incident to a mass scale disruption. Protecting access to control these devices is crucial if we are to ensure that administration accounts for them are locked down. These accounts must be treated as privileged and should have the necessary controls in place to isolate any one device in case of a breach attempt.
Data breaches are rapidly and alarmingly on the rise. IoT opens up even more avenues for this to happen. Typically, it all starts with password breaches to get into privileged accounts and then access the data. Last year, global research indicated that password breaches happen every 30 seconds – a frightening statistic.
Cybersecurity companies will always be advancing in this area to protect all devices on the network; unfortunately there is no failsafe solution. The greatest risk is acknowledged to be the insider threat and with IoT this provides a platform for large-scale automated attacks that can be devastating. Cybersecurity companies provide great advice on the preventative controls and I believe with a combination of tools and appropriate behaviour we can avoid a large number of IoT device breaches.
In implementing IoT devices, the principle of least privileged must be applied as well as security by design. This would mean accounts that access the device and its software will be restricted to specific functions only. This also applies to usage of APIs to reduce distributed denial-of-service (DDoS) attacks.
Logical and physical access has become more advanced than ever, although key issues are not being addressed. A lack of awareness and behaviour shows this. We need to promote the right behaviour in the workforce and educating them regarding cyber threats. In businesses, this usually emanates from the company leadership, but for the general population we need government to drive this strongly. IoT is growing, but unfortunately, we will not be ready for it until we can ensure everyone is playing his or her role and are au fait with the application of basic secure behaviours.
Credit(s)
Further reading:
The same security assessment for different reasons
Issue 7 2020, Alwinco , Editor's Choice
Like everything else in life, a security risk assessment also has two sides: one is the proactive approach, and the other is the approach taken 'after the fact'.
Read more...
---
Risk intelligence the key to a sustainable future
Issue 7 2020 , Editor's Choice
Only by building risk intelligent organisations will leaders be able to overcome six distinct global threats identified by the Institute of Risk Management South Africa (IRMSA).
Read more...
---
Profile D for access control peripherals
Issue 7 2020 , Editor's Choice
Profile D provides interoperability for devices such as locks, credential/biometric readers, PIN pads, LPR cameras, door phones, sensors and displays.
Read more...
---
Security investments and culture
Issue 7 2020 , Editor's Choice
Organisations must embed security into the culture of the company and approach security investments with this culture in mind.
Read more...
---
Elastic storage pricing
Issue 7 2020 , Editor's Choice
With elastic pricing, users can switch from one storage model to another without having to pay a premium or a penalty, and without having to physically move any data.
Read more...
---
Use technology as a differentiator
Issue 7 2020 , Editor's Choice
Juni Yan, director of Transport, Logistics and Automotive at BT, shares her insights on how logistics companies can leverage digital transformation to become a real market differentiator – no matter the state of the pandemic.
Read more...
---
Management of PPE allocation made simple
Issue 7 2020, Powell Tronics, Technews Publishing , Editor's Choice
Of all the roadblocks and challenges COVID-19 has introduced us to over the past few months, one of the tasks organisations have to manage is the issuing of PPE to staff.
Read more...
---
Robots in warehousing and freight, a security perspective
Issue 7 2020, FSK Electronics , Editor's Choice
The logistics industry needs support from technology to meet its ongoing demands and ongoing security concerns.
Read more...
---
The new training normal
Issue 7 2020, Leaderware , Editor's Choice
Insights from running my first CCTV Surveillance Skills and Body Language and Advanced courses at physical training venues since COVID-19 started.
Read more...
---
An exciting journey in security
Issue 7 2020, Technews Publishing, BTC Training Africa , Editor's Choice
Errol Peace describes his 40-plus year career in the security industry where he was and is a great proponent of training as an "exceptionally exciting journey".
Read more...
---