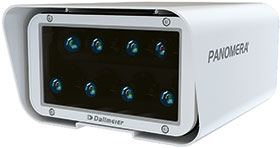 Security in the green and red areas
October 2018, Mining (Industry), CCTV, Surveillance & Remote Monitoring, Products
The main purpose of mine operators is not only to prevent losses during the mining process and the sorting procedure, but also to protect the health and safety of the mine workers. Dallmeier supplies video management solutions that not only give operators an exhaustive overview of security-relevant events, but also allow the video data to be analysed with a view to optimising business processes
The most secured area within a mine is the so-called red area, where the mined material is sorted, but unfortunately it is subject to a shrinkage due to theft. The relevant video recording is the only way to prove a theft by viewing the individual images.
IR cameras are a key component of any video security system that must provide around-the-clock monitoring capabilities under low light conditions, and the Dallmeier line of advanced IR cameras is suited for that. They help also to identify anyone entering the outdoor area of the mine, the so-called 'green area'. Furthermore, vandal-resistant variants, which are extremely robust and resistant, are available.
In regard to the safety of the mine workers, it is easy to monitor whether safety regulations at work are adhered to. It can be quickly checked, for example, if all employees who work with high-temperature machinery, always wear the mandatory garments. Another major area of concern in the mining industry is the effective monitoring of the perimeter fences. Dallmeier multifocal sensor technology, Panomera, was specially developed for the all-encompassing video surveillance of expansive areas and the Nightline series is aimed at 24/7 perimeter protection.
Owing to its open and flexible system architecture, Dallmeier systems can be easily integrated into third-party systems, e.g. kinetic systems, fibre intrusion detection, access control.
Proactive video monitoring as is enabled by the Dallmeier video information systems, instead of passive surveillance, is the way forward across different industries – including the mining industry.
For more information contact Dallmeier Southern Africa Office, +27 11 510 0505, dallmeiersa@dallmeier.com, www.dallmeier.com