printer friendly version
Cam Era launches security franchise
October 2018 Editor's Choice, CCTV, Surveillance & Remote Monitoring, News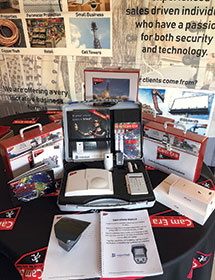 If you have the ability to sell and are an independent operator, Bill Sandham and Cam Era have a franchise opportunity you may be interested in. The franchise focuses on visual verification as a means to protect homes and businesses.
Sandham says the franchise model has been nine years in the making and offers a simple manner in which individuals can build their own security business. He says the only qualification required is the ability to sell yourself and work inter-dependently. All the technicalities are taken care of by the franchise partners.
Sandham refers to the franchise opportunity as a Business-in-a-Box due to its simplicity. Everything the franchisee needs is in a box, including the legal documentation, training manuals, sales approaches, how to conduct a scientific risk assessment for potential clients, and so on.
Cam Era also supplies direct training to its franchisees, ensuring they are able to ascertain whether a potential customer is the right fit for the solution. This will ensure a smooth operation with no unhappy clients expecting more than they get.
The franchise is based on a single product, Videofied's visual verification technology. Franchisees will sell verification solutions to clients, get the order and pass it on to Macado who handles the installation and monitoring. The franchisee will receive 70% of the gross profit from the sale and 30% of the monthly subscription fee.
Macado runs the largest Videofied monitoring control room in South Africa and monitors installations around the clock. The benefit of this approach, and the way in which costs are controlled, is that someone isn't watching your cameras all the time. Videofied is a motion detector with a camera built in. When it detects motion, it sends a message to the control room.
Once triggered, it sends a 10-second video clip to the control room and the operators can decide on the next step – call the police, ambulance or a security response company, or cancel the alarm as someone forgot to deactivate the alarm when coming in, for example. This approach will also avoid complications with privacy laws.
What makes the Videofied system applicable for South Africa is that it is Eskom-free. The system runs on batteries, which can last up to four years depending on how many activations occur.
To ensure all the franchisees are able to make a good living from their business, a limited number will be allowed in each area. Sandham says he prefers it if they actually live in the area in order to build a sense of community. If a franchisee sells a solution out of their area, they will still be rewarded, but the amount will be shared with the individual responsible for that area.
The Videofied product is integrated with a number of security management platforms (such as Listener) and users can also connect a mobile app that will alert them and allow them to view their own alarms.
Sandham says the concept is proving popular and two franchises were sold on the launch day. For more information, prospective franchisees can contact Cam Era at franchise@cam-era.co.za or www.cam-era.co.za
Credit(s)
Further reading:
Secure IoT devices and networks
Issue 6 2020, Technews Publishing , Cyber Security
Check Point Software's IoT Protect solution secures IoT devices and networks against the most advanced cyber-attacks.
Read more...
---
How encryption can protect sensitive data
Issue 6 2020 , Editor's Choice
Here's how encryption can help keep your data safe from prying eyes – even if your device is stolen or your cloud account is hacked.
Read more...
---
More than just compliance
Issue 6 2020, IACT-Africa , Editor's Choice
SA is one year away from the Protection of Personal Information Act (POPIA) D-Day.
Read more...
---
Security risk mitigation on a budget
Issue 6 2020 , Editor's Choice
Security estates often fall well short in terms of adequate protection when being assessed by an independent, experienced threat, risk and vulnerability assessor.
Read more...
---
Digital means managing your risk
Issue 6 2020, AVeS Cyber Security , Editor's Choice
Digital transformation in mining companies has become a business imperative to drive efficiencies, optimise competitiveness and reduce risks associated with human error.
Read more...
---
Face recognition and temperature measurement
Issue 6 2020, Suprema , Editor's Choice
Purpose built for FaceStation 2, Suprema's new thermal camera enhances safety by measuring skin temperature.
Read more...
---
From the editor's desk: Covid consolidation
Issue 6 2020, Technews Publishing , News
The global security industry has seen quite a few high-profile mergers and acquisitions over the past year or two, with an even greater number of smaller companies that don't get the headlines also merging, ...
Read more...
---
What, how and why of security
Issue 6 2020, Alwinco , Editor's Choice
As a security advisor, it's a continuous challenge to change the existing perceptions of CEOs/MDs and nowadays the procurement departments.
Read more...
---
A life jacket for buildings
Issue 6 2020 , Editor's Choice
The EAV is a purpose-designed vest which provides the user with on-demand air supply and other safety gear to help them escape from hazardous incidents.
Read more...
---
Overview of contactless identification technologies
Issue 6 2020, Suprema , Editor's Choice
A guide to two of the best available contactless identity confirmation technologies, along with some tips on choosing the right one.
Read more...
---