printer friendly version
Cam Era launches security franchise
October 2018 Editor's Choice, CCTV, Surveillance & Remote Monitoring, News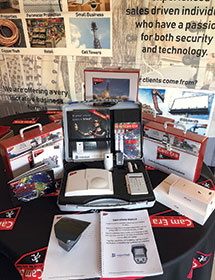 If you have the ability to sell and are an independent operator, Bill Sandham and Cam Era have a franchise opportunity you may be interested in. The franchise focuses on visual verification as a means to protect homes and businesses.
Sandham says the franchise model has been nine years in the making and offers a simple manner in which individuals can build their own security business. He says the only qualification required is the ability to sell yourself and work inter-dependently. All the technicalities are taken care of by the franchise partners.
Sandham refers to the franchise opportunity as a Business-in-a-Box due to its simplicity. Everything the franchisee needs is in a box, including the legal documentation, training manuals, sales approaches, how to conduct a scientific risk assessment for potential clients, and so on.
Cam Era also supplies direct training to its franchisees, ensuring they are able to ascertain whether a potential customer is the right fit for the solution. This will ensure a smooth operation with no unhappy clients expecting more than they get.
The franchise is based on a single product, Videofied's visual verification technology. Franchisees will sell verification solutions to clients, get the order and pass it on to Macado who handles the installation and monitoring. The franchisee will receive 70% of the gross profit from the sale and 30% of the monthly subscription fee.
Macado runs the largest Videofied monitoring control room in South Africa and monitors installations around the clock. The benefit of this approach, and the way in which costs are controlled, is that someone isn't watching your cameras all the time. Videofied is a motion detector with a camera built in. When it detects motion, it sends a message to the control room.
Once triggered, it sends a 10-second video clip to the control room and the operators can decide on the next step – call the police, ambulance or a security response company, or cancel the alarm as someone forgot to deactivate the alarm when coming in, for example. This approach will also avoid complications with privacy laws.
What makes the Videofied system applicable for South Africa is that it is Eskom-free. The system runs on batteries, which can last up to four years depending on how many activations occur.
To ensure all the franchisees are able to make a good living from their business, a limited number will be allowed in each area. Sandham says he prefers it if they actually live in the area in order to build a sense of community. If a franchisee sells a solution out of their area, they will still be rewarded, but the amount will be shared with the individual responsible for that area.
The Videofied product is integrated with a number of security management platforms (such as Listener) and users can also connect a mobile app that will alert them and allow them to view their own alarms.
Sandham says the concept is proving popular and two franchises were sold on the launch day. For more information, prospective franchisees can contact Cam Era at franchise@cam-era.co.za or www.cam-era.co.za
Credit(s)
Further reading:
Key criteria in the selection of CCTV control room operators
Issue 5 2020, Leaderware , Editor's Choice
Some people are better at aspects of the job of CCTV operator than others, and some companies put in a lot more effort in choosing their operators than others.
Read more...
---
Leaders in risk and security: As long as there are people, there will be risk
Issue 5 2020, iFacts, Technews Publishing , Editor's Choice
Jenny Reid is a self-made success, focusing on people, the risks they create and the potential they have.
Read more...
---
Mitigating the human risk
Issue 5 2020, Managed Integrity Evaluation, Technews Publishing, iFacts , CCTV, Surveillance & Remote Monitoring
Hi-Tech Security Solutions asked Jennifer Barkhuizen and Jenny Reid for some information around background screening and vetting of potential new hires.
Read more...
---
XProtect available on AWS
Issue 5 2020, Milestone Systems, Technews Publishing , Editor's Choice
Milestone recently announced the availability of XProtect on Amazon Web Services. Hi-Tech Security Solutions asked Keven Marier for more information.
Read more...
---
Adjusting to a new reality
Issue 5 2020, Technews Publishing , Integrated Solutions
COVID-19 to accelerate adoption of technology-enabled smart city resilience approaches: robotics, digital twins, and autonomous freight.
Read more...
---
From the editor's desk: We're back!
Issue 5 2020, Technews Publishing , News
Welcome to the fifth issue of 2020. If years were people, 2020 would have been hung, drawn and quartered...
Read more...
---
From data centre to edge, from one source
Issue 5 2020 , Editor's Choice
First Distribution (FD) is better known in South Africa as an ICT distributor with an enterprise focus. Its offerings in this regard range from client solutions through to hosted solutions, data centre ...
Read more...
---
Paxton launches access and video management
Issue 5 2020, Paxton Access , Editor's Choice
Paxton's next-generation access control and video management system, Paxton10, officially launched in South Africa on 2 July 2020. Paxton10 is the next step in complete security solutions and combines ...
Read more...
---
From the editor's desk: Sustaining security and sanity
Residential Estate Security Handbook 2020, Technews Publishing , News
Sustainability is a critical component of almost anything in these days of a tanking economy, boosted by COVID-19, which is given further emphasis by the economy being further hammered by the 'cure' for ...
Read more...
---
The evolution of security in residential estates
Residential Estate Security Handbook 2020 , Editor's Choice, Integrated Solutions, Security Services & Risk Management
Two large estates discuss their security processes and the ever-expanding scope of responsibilities they need to fulfil.
Read more...
---