printer friendly version
News in brief
October 2018
News
An app store for cameras
A new Bosch start-up, Security and Safety Things (SAST), is building an IoT platform as the industry's first open and standardised
operating system and global marketplace for security camera applications. Although the open and secure IoT platform is initially aimed at the security camera industry, the platform will be extended to support additional IoT domains in the future. The platform will be launched in mid-2019. SAST will cooperate with the newly announced Open Security and Safety Alliance.
See more at www.sast.io
Mining exploitation in Africa
Kaspersky Lab says USB devices have been harnessed by cyber-attackers as an effective and persistent distribution vehicle for crypto-mining malware. Emerging markets, where USB devices are more widely used for business purposes are the most vulnerable to malicious infection spread by removable media – with Africa, Asia, and South America among the most affected.
Advice for all USB users:
• Be careful about the devices you connect to your computer – where did it come from?
• Invest in encrypted USB devices from trusted brands.
• Make sure all data stored on the USB is also encrypted.
• Have a security solution in place that checks all removable media for malware.
See more at www.kaspersky.co.za
Hudaco acquires TPA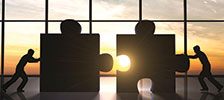 Hudaco's position in the security and surveillance technology sector has been strengthened with the acquisition of TPA (formally known as SecEquip) at the beginning of September 2018. Elvey CEO, Gary Lowe, explains that both Elvey and TPA have built a substantial customer-base in the sector over the years and the acquisition will allow further expansion of Hudaco's offering in this space.
"Any shifts in strategy from here will be with our customers in mind, with convenience being the key driver. John Rogers, TPA's MD, will remain on board for a fixed term to identify and secure any opportunities that may arise from the merging of the intellectual property and resources of both companies. This will reinforce the tangible benefits for both customers and employees," says Lowe.
For more information contact Hudaco, +27 11 657 5000, info@hudaco.co.za, www.hudaco.co.za
No spoofing for Lumidigm
HID Global announced its patented Lumidigm multispectral imaging solution is the first fingerprint technology certified to the ISO/IEC 30107-3 Presentation Attack Detection (PAD) standard, which focuses on anti-spoofing and liveness detection to determine whether fingerprint data captured from the sensor is from a real, living person or from a plastic fake or other artificial copy. Since the specification's release more than a year ago, only the Lumidigm V-Series solution has stopped all fake-finger attacks to receive a perfect certification score in a Level 1 test, which was administered by iBeta Quality Assurance and certified by the National Institute of Standards and Technology (NIST) National Voluntary Laboratory Accreditation Program (NVLAP).
To receive a copy of the iBeta Lumidigm V-300 sensor PAD Certification Test Report, email HID Global at lumidigm@hidglobal.com
Proxyclick visitor management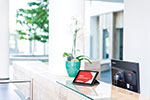 Secutel Technologies installed a Proxyclick Visitor Management System (VMS) at one of South Africa's biggest mobile telecommunications companies' head office in Johannesburg. This multinational mobile telecommunications company selected Proxyclick as the preferred visitor management system after evaluating several potential solutions. With the Proxyclick check-in, visitors get a personalised welcome into the establishment using one of the five iPad Proxyclick kiosks, linked to employees and their calendars.
For more information, contact Secutel Technologies, +27 10 015 1401, www.secutel.co.za
ContinuitySA honoured by Business Continuity Institute Africa
At this year's Africa awards ceremony hosted by the BCI SADC chapter on 21 September 2018, ContinuitySA CEO, Michael Davies, was named Continuity and Resilience Industry Personality of Year, while Movashan Moodley scooped the award for Newcomer of the Year.
The Business Continuity Institute (BCI) is the global membership and certifying organisation for business continuity and resilience professionals. It hosts an annual awards programme to recognise those individuals, teams and companies that lead the industry on the continent. ContinuitySA was inducted into the BCI's Hall of Fame after it won the award for Business Continuity Provider of the Year for three consecutive years in 2014, 2015 and 2016. It will thus only be eligible to compete in this category again in 2019.
Hikvision gets FIPS 140-2 Certification
Hikvision has achieved a US Government Federal Information Processing Standard (FIPS) 140-2 certification. FIPS 140-2 is a US government encryption standard, created by the National Institute of Standards and Technology (NIST), a division of the US Department of Commerce. Used by federal government agencies in the US and Canada, FIPS 140-2 is also widely used in regulated industries such as finance, healthcare, legal and utilities, as well as commercial businesses.
Hikvision is the first company that has achieved FIPS 140-2 certification for IP camera and network video recorder (NVR) products.
IFSS wins CEM award
Johnson Controls has announced the winners of the CEM Systems Business Partner of the Year Awards, EMEA, 2018. Winners were honoured at CEM Systems' annual security conference held at the Galgorm Resort & Spa, Northern Ireland.
For Africa, Integrated Fire & Safety Solutions (IFSS) was awarded in recognition for its project work with Safaricom Telecoms, Kenya. The award marks its continued commitment to growing CEM Systems business in Kenya but also celebrates their work in opening up CEM Systems solutions to Egypt.
Milestone delivers new X series
Milestone Systems announced the Milestone Husky X2 and X8 NVR hardware platform with scalable VMS. These products give the Milestone community the possibility to design small or very large business video solutions using the Milestone Husky X-series NVRs as scalable high-performance building blocks. This keeps the total cost of ownership down as less hardware is needed for a given installation compared to of-the-shelf standard servers. Less hardware means lower operational costs as fewer servers are needed. Reducing the number of servers also saves on power and cooling.
The X series of NVR achieves this high performance thanks to hardware acceleration where system performance can be boosted just by having the graphics processor taking over the heavy lifting in decoding video, leaving room for the system to handle other tasks. Because the X-series are based on industry standard hardware and software these NVRs are easy to keep hardened in a cybersecurity context.
See more at www.milestonesys.com
YMA Security joins Fidelity ADT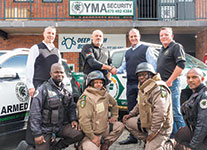 YMA Security has amalgamated with Fidelity ADT. This move now brings an increased number of armed response vehicles in the Cape Town area. Jade Hanning, Cape Town South District Manager at Fidelity ADT says additional support is now at the disposal of YMA clients, such as the Fidelity Specialised Services Unit which provides intelligence and tactical interventions with access to dog units, armoured vehicles and aerial support. Hanning also assured all YMA customers that service will continue as normal during the transition; the YMA control room number +27 21 785 8888 will still be operational for emergencies.
New Security Warehouse branch opens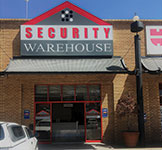 Security Warehouse has opened its latest branch office in Strijdom Park, Randburg. The Strijdom Park branch is Security Warehouse's second branch in the Johannesburg area, but the company has no plans of stopping there.
Security Warehouse is focused on its customers, ensuring it is convenient for them to deal with the company wherever they may be. The distributor is therefore expanding its branch footprint, first throughout Gauteng and then South Africa.
Feel free to visit the newest member of the Security Warehouse family at 123 Malibongwe Drive, Strijdom Park, or call +27 11 791 5563.
R10m automation investment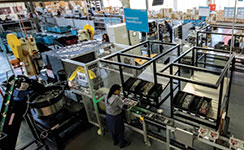 ASSA ABLOY has invested over R10 million in process automation machines at its Roodepoort factory in Johannesburg. This investment saw the recent installation of six robots with the goal to have a fleet of more than 10 before year-end.
ASSA ABLOY elected to use collaborative robotics that work alongside people, and this plays an integral part in the upskilling of workers, providing them with the knowledge and practical experience to manage and work with automation; ongoing training programmes are in place for the entire production team.
In order to successfully specify and implement the automation, ASSA ABLOY has employed an automation engineer to manage these projects. Keeping it local, the company enlisted the services of only South African automation contractors.
Further reading:
SABRIC annual crime stats 2019
Issue 5 2020 , News
SABRIC, the South African Banking Risk Information Centre, has released its annual crime stats for 2019
Read more...
---
From the editor's desk: We're back!
Issue 5 2020, Technews Publishing , News
Welcome to the fifth issue of 2020. If years were people, 2020 would have been hung, drawn and quartered...
Read more...
---
XtraVision moves to new premises
Issue 5 2020, XtraVision , News
Hot on the heels of the company changing hands, XtraVision, a distributor of electronic security and fire solutions in Africa and South America, has relocated.
Read more...
---
20 years of innovation in security and biometrics
Issue 5 2020, Suprema , News
Founded in 2000, Suprema has built a sales network in over 140 countries and has over 1 billion users.
Read more...
---
Fidelity ADT and Vumacam join forces
Issue 5 2020, Fidelity ADT , News
Fidelity-ADT recently partnered with Vumacam to roll out a surveillance network of cameras across a number of southern suburbs in Johannesburg.
Read more...
---
Dahua launches ECO Partner Programme
Issue 5 2020, Dahua Technology South Africa , News
Dahua Technology has launched its new technology partner programme, the Dahua ECO Partner Programme.
Read more...
---
Suprema unveils Suprema G-SDK
Issue 5 2020, Suprema , News
Suprema's latest software development kit (SDK), Suprema G-SDK, allows Suprema devices to be seamlessly integrated with third-party software.
Read more...
---
New smart alarm solution with video verification
Issue 5 2020 , News
IDS has released the 806, a new 8-zone alarm solution based on 20 years of experience and over 1,5 million IDS805 installations.
Read more...
---
From the editor's desk: Sustaining security and sanity
Residential Estate Security Handbook 2020, Technews Publishing , News
Sustainability is a critical component of almost anything in these days of a tanking economy, boosted by COVID-19, which is given further emphasis by the economy being further hammered by the 'cure' for ...
Read more...
---
Gallagher launches Command Centre v8.30
Issue 5 2020 , News
Gallagher's v8.30 release improves operator efficiency with enhancements to Command Centre Mobile and integrated third-party systems, and further supports health and safety obligations.
Read more...
---