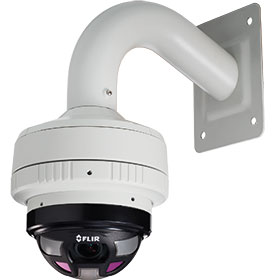 Perimeter security cameras
September 2018, Perimeter Security, Alarms & Intruder Detection, CCTV, Surveillance & Remote Monitoring, Products
FLIR Systems has announced the Saros line of security cameras, its next-generation outdoor security product line that combines multiple traditional perimeter protection technologies into a unified solution. This approach is designed to deliver accurate, actionable alerts and verified alarm data.
The Saros camera line enables commercial businesses to implement outdoor intrusion detection in a cost-effective manner. Traditional perimeter security systems can require substantial investment, both in infrastructure and in ongoing expenses stemming from false alarms. FLIR Saros not only greatly reduces the cost of initial deployment by minimising the amount of equipment required, but also reduces false positives with built-in advanced analytics, expanding the outdoor perimeter protection market for security alarm monitoring companies.
A single FLIR Saros unit combines numerous security technologies, including:
• Multiple FLIR Lepton thermal sensors
• High-definition optical cameras
• IR and visible LED illuminators
• Advanced onboard analytics
• 2-way audio and digital input/outputs
For more information contact Flir Systems, www.flir.com or refer to the http://www.hsbd.co.za for SA distributors.