New walk-through metal detector
September 2018, Transport (Industry), Access Control & Identity Management
The new ZK-D4330 Walk Through Metal Detector has upgraded detection to make your environment safer. With 33 detection zones, it can link with barriers and turnstiles, and optionally includes a transparent rainproof canopy, universal wheels and backup battery. It has a 7-inch LCD HD display interface, IR remote control, simple installation and use. The ZK-D4330 has anti-interference ability and stability, each zone has 300 adjustable sensitivity level, supports various language interfaces, offering higher accuracy and verification speed.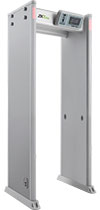 The design not only is more convenient for installation, maintenance and logistics, but also enables higher security level. The device is made from advanced robust and washable panels that produce a high-durability, anti-wearing and weatherproof structure. A stainless-steel metal bracket with adjustable viewing angles provides better viewing and avoids light reflection. In addition, the brightness of the backlight can be adjusted by the program to make the interface clearer.
For more information, contact ZKTeco (SA), +27 12 259 1047, sales@zkteco.co.za, www.zkteco.co.za