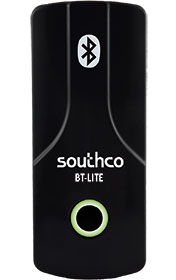 Smartphone access control
September 2018, Access Control & Identity Management, Products
Astra Fasteners has recently expanded its line of electronic access solutions with an access controller that allows Bluetooth-enabled devices, such as smartphones and tablets, to be used as a key. Southco's EA-BT Bluetooth Lock Controller provides a disruptive technology for remotely controlling and monitoring physical access wirelessly, without any physical network connection.
With the new Bluetooth controller, access can be issued to individuals in real time, from anywhere in the world, simply by using a cloud-based web portal to send virtual keys to a smartphone.
The BT Bluetooth Controller provides wireless control and monitoring of intelligent locks without having to physically connect to a network, or install, manage and maintain software. When combined with any of Southco's intelligent electronic locking solutions, the controller provides a completely concealed physical security solution using Bluetooth LE for user access, and a remote web portal for credential management and audit trail monitoring.
The system features multi-level encryption, simple set up and installation, and the ability to read a smartphone from 10 metres away. When combined with the controller, intelligent, concealed electronic locks can protect and secure valuable information and assets with a digital record of access, which can be used to demonstrate compliance with regulations such as the Payment Card Industry Data Security Standard (PCI DSS) and Protection of Personal Information (PoPI) Act.
Virtual keys can be assigned and managed with the VIZpin application, which provides a secure, cloud-based platform for remote management of user access to Southco's controller. Time-based virtual keys can be sent wirelessly to a free smartphone application via VIZpin's portal. When logged into the secure web portal, the admin can add or delete electronic keys in real time, granting access to authorised users – and only during a specified time frame.
For more information, contact Andrew Williams, Astra Fasteners, +27 11 918 6696, andrew.williams@astrafasteners.co.za, www.astrafasteners.co.za